Brighton Festival Final Weekend - with the Family |

reviews, news & interviews
Brighton Festival Final Weekend - with the Family
Brighton Festival Final Weekend - with the Family
A sunny Saturday out at the climax of Brighton Festival 2014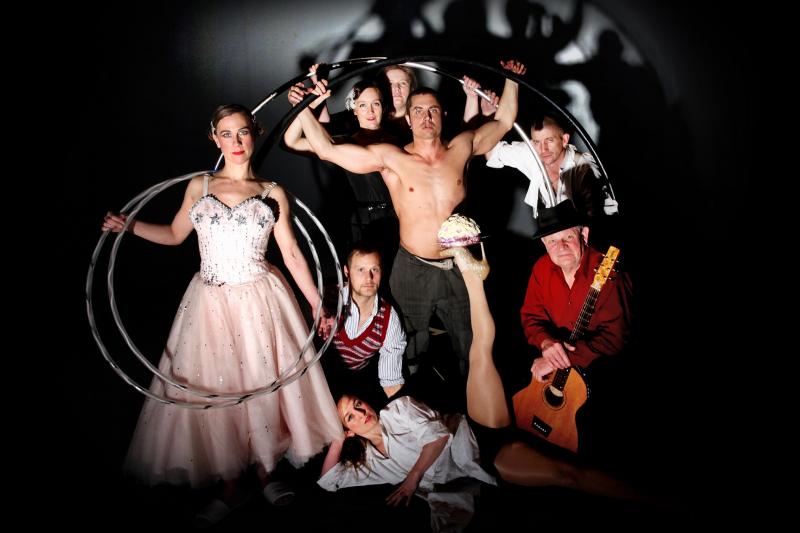 Pirates of the Carabina's Flown, entertaining all ages
Sitting outside Mrs Fitzherbert's, the pub named after George IV's notorious mistress, nursing a pilsner top and a packet of peanuts on a sunny Saturday afternoon, the world is a benevolent place with the Brighton Festival (and Fringe) at the heart of the fun. My daughters, aged 11 and 16, and girlfriend, age unknown, are with me (fizzy lemon, Coca Cola and pilsner, no top, respectively), and in front of the retina-scorching white, grandiose columns of the Unitarian Church opposite a group of men perform acapella songs.
We can't stay long, as we have an appointment a few yards down New Road at the Theatre Royal to see Flown, a circus-ish sort of show by Pirates of the Carabina. This turns out to be a madcap variety extravaganza of physical theatre, such as one might catch at Glastonbury (where this lot came together, apparently). The premise, executed with brilliant precision, is that the show keeps going wrong, catastrophe is never far, with light rigging swinging loose, a ladder crashing down, nearly braining one of the cast, an aerial silk act turning into a ridiculous farce. At the heart of it all is Gloria (Gwen Hales), a narcissistic egomaniac, styled on a Barbie Doll, who's under the impression the show is all about her, but whose moments of glory keep being undermined by accidents or her fellow performers. A band jammed throughout, while everything from madcap hula hooping to a climax involving multiple performers flying about the stage, kept the eye gripped and the audience laughing.
Afterwards, Gloria and the cast wandered about the crowd as they exited the theatre. My daughters were less impressed than I, enjoying the circus skills but dismissing some of the monologues. I got the impression it was teen cool rather than genuine ambivalence that caused this. For me it was a top performance I'd watch again any day. From there we drank more at Mrs Fitzherberts while my girls wandered off down the Laines to buy books and bits, then we all descended on William Forsythe's Nowhere And Everywhere At the Same Time No. 2 in a back street where, 20 years ago, there used to be an all-night café I'd visit after clubbing. Unfortunately the queue was so long we went for a pizza instead. Once again outside in the evening sun, on Jubilee Square, and who should be there, rushing in and out of the restaurant, chasing his toddler daughter, looking very much the holidaying day dad rather than an avant-dance genius? Festival Guest Director Hofesh Shechter, who I pointed out to my girls to much excitement.
Next it was time for Bring The Happy. Throughout the Festival a collective called Invisible Flock have been collecting stories from local people, anecdotes about times they were happiest. It's something they've done all over the UK, from Leeds to Exeter. This culminates in an event where the stories are presented theatrically with live music. Thus we entered the Old Market, laid out with round tables like a dinner dance or cabaret lounge, all very welcoming, even a free bottle of red wine and a goodie bag for the children. Unfortunately what followed was excruciating. At points around the room, in alcoves, members of Invisible Flock began relating biographical tales, before starting a series of song-stories on the main stage, accompanied by a band. There was something unbearably glutinous about them as they dramatized these sagas of war, lost love, etc, a narcissistic self-contentment that made my skin crawl, while the music swelled like the very worst of Coldplay, and performers gave off a glazed, new agey benevolence akin to evangelical Christians at a faith meeting. I passed a note to my girlfriend saying, "This is awful. Shall we leave?" She nodded her enthusiastic assent, as did my daughters. We tiptoed out fast, even leaving the free wine.
Brighton had now grown windy and the clouds were spitting but we headed for Madeira Drive, down to the Black Rock Car park for One Million, a free son et lumière open air event put on by the company Tangled Feet. It concerns the rise in youth unemployment in the UK but consisted of a band jamming while performers clamber round an imposing network of scaffolding and ladders, while a light show illuminated them in different ways. It was, perhaps, not the most user-friendly event for such an occasion, in front of thousands of people, many quite a distance away, but it ended with fireworks and everyone likes them, including my daughters, so we all went home happy. Although we won't be telling Invisible Flock about that for fear of our daytrip being rendered smug sub-Coldplay treacle.
Overleaf: Watch Tangled Feet's One Million at the Brighton Festival