Catch-22, Theatre Royal, Brighton |

reviews, news & interviews
Catch-22, Theatre Royal, Brighton
Catch-22, Theatre Royal, Brighton
A frenetic staging that spills its guts slowly for Joseph Heller's cult World War Two satire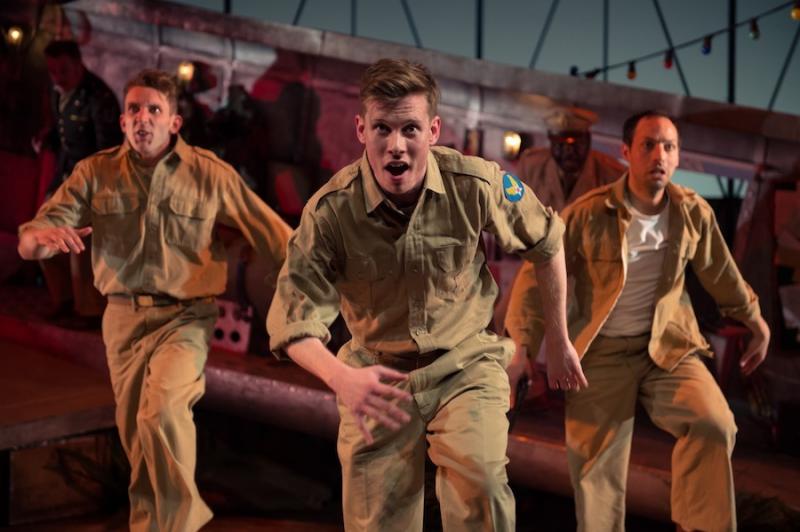 Geoff Arnold, Daniel Ainsworth and Philip Arditti dance with death in Catch-22
There are echoes of Lost in the crashed B-25 bomber that fills this often brilliant production with its rusting corpse. And they're probably intended.
Joseph Heller's cult World War Two satire is, after all, about a kind of purgatory: US Army bombardier Captain John Yossarian is trapped by the absurdities of bureaucracy within a cynically perpetuated war where the ubiquitous Catch-22 states that anyone asking to be declared insane and discharged from duty must be well enough to continue to fly - fear of death being a rational human response.
He is caught, too, by suppressed grief and guilt following the horrific death of a crew member during one of his missions. The 256th squadron's resident psychologist may be a Freud-ulent loon, but Jon Bausor's bold design insists on the serious psychological undertow to the irresistibly smart comedy of illogic.
If this feels like a collection of sketches, that's partly in keeping with Heller's novel
New York director Rachel Chavkin must have done a lot of work tightening up this Northern Stage production since lukewarm reviews at its Newcastle premiere last month. Starting a national tour as part of the Brighton Festival, it's still a two-and-a-half hour scattergun epic that takes a few scenes to find its rhythm. But the frenetic ensemble comedy gains pace as relentlessly as Colonel Cathcart bumps up the men's required number of bombing missions. It climaxes with the whole cast caught in a frenzied 1940s dance.
If this sometimes feels like a collection of revue sketches, that's partly in keeping with Heller's original 1961 novel, and his own rarely staged adaptation. The nine skillfully-cast actors have to cover 40 roles, among them Geoff Arnold's timid Chaplain, whose ears turn as red as the tomato he is accused of stealing, and Michael Hodgson's crankily corrupt Colonel Cathcart, who hopes to blag, bluster and slaughter his way to Generalship. He bellows each syllable of his orders as if it had personally offended him. There are some fantastically funny standalone scenes: Philip Arditti's ever so slightly Jerry Seinfeld-esque Yossarian halfheartedly pretending to be a dying soldier for the benefit of the family who in reality have arrived too late; the guiltless Chaplain's kangaroo interrogation by three CID investigators, who begin by setting a metronome ticking and shining a huge floorlamp in his face.
But the production does, ultimately, add up to more than that, unified in part by Scott Twynholm's subtly circular sound design. Doctors and nurses jitterbug in the margins to '40s records that are left to revolve noisily after they've finished. A live double bass walks in plodding circles. Microphone announcements echo around the metal set. It's no wonder no one can think straight.
Most effective of all is the deafening whir of planes above our heads, which recurs throughout to blow a chill wind through the comic heat. Gradually it dawns on Yossarian that it's his own side that's going to get him killed. This sense of rabidly macho menace is powerfully embodied in a nameless figure in fatigues and aviators (Simon Darwen). He snarls the men away on their missions with a cigar behind his back and, in a fit of fatalistic ecstasy, attacks the set's corrugated iron wall with a baseball bat. Just as we're becoming fond of the authority figures, particularly Hodgson's Cathcart with his John Cleese-style paroxysms of petty frustration, the narrative is allowed to spill its hidden guts.
Heller knew of what he wrote: he joined the US Air Corps in 1942 and flew 60 missions as a bombardier on the same Italian Front where Yossarian and his comrades are stationed. He was 19 when he joined, the same age as his ill-fated idealist Nate. Reading Catch-22 may have become, in the 50-plus years since its publication, a clever-clever schoolboy's stock act of subversion, but let us not forget - and Chavkin doesn't - that the book was born from traumatic firsthand experience. Staged in the shadow of a lifeless propeller, this, like so many of the best comedies, is driven by fear.