Berlinale 2014: Triptyque |

reviews, news & interviews
Berlinale 2014: Triptyque
Berlinale 2014: Triptyque
Robert Lepage directs again on screen – with moving if perhaps over-thoughtful results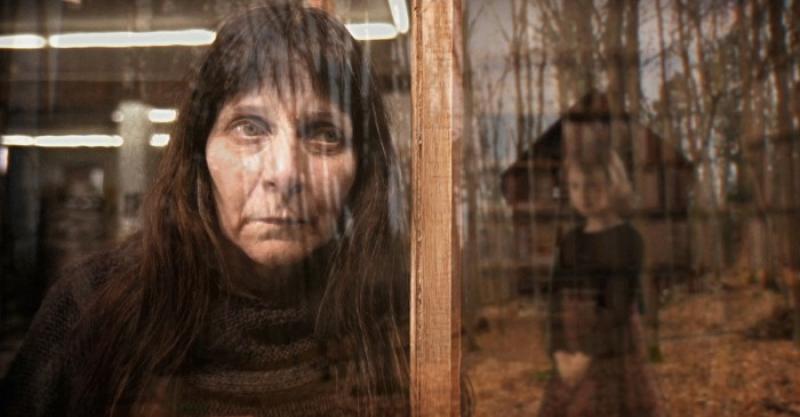 The fabric of memory: Lise Castonguay as Michelle
French-Canadian Robert Lepage is a clever theatre inventor and tireless dramatist. This includes film, though with much less frequency than his stage pieces. The latter have refined themselves into films that are not going to get people running off the street but which are never less than thoughtful – and that is part of the problem.
His stage imagination, so flexibly at work in
The Dragons' Trilogy
and
The Far Side of the Moon
(which also became a film), wreaks endless visual and sonic surprises, and also allows itself to probe, three-dimensionally, philosophically. The screen can flatten this.
Such is the case with Triptyque, screening in Europe for the first time in the Panorama section of the Berlinale, but to largely pleasing effect. A distillation of certain strands of an enormous 2008 play, Lipsynch, a ridiculously overlong and underwritten dwelling-upon memory loss, words and family (Lepage is usually good on that but Lipsynch was, all told, very short on drama), Triptyque tells three stories from this which, if you give them belief, just about hold together.
It leaves us wondering what, when the brains starts to fail, is left of us
Michelle (Lise Castonguay) is a schizophrenic. When untroubled and out of hospital, she works in a second-hand bookshop in Quebec City. Self-harming at her worst, she finds comfort in her own and others' loony-language poetry. Her sister Marie (Frédérike Bédard, pictured below right) is a gutsy jazz singer with a brain tumour. Her surgeon and incipient lover – mildly stretching credulity, that – is a Viennese, Thomas, medicating what could be Parkinson's with unhealthy doses of vodka. He's played by Hans Piesbergen, resembling David Bowie of Thin White Duke magnificence, yet somehow, perhaps because he doesn't speak for most of the time in his native German, the least convincing of the protagonists.
Building a film around the fallibility of cognition is a risky undertaking. In less focused, experienced hands than Lepage's it would be an absolute dodo. The reason Triptyque isn't is really because of fabulous performances by Castonguay and Bédard, particularly the latter. Her Marie, having lost words after her tumour removal but more insistently any memory of her long-dead father's voice, shows, movingly, a gifted middle-aged woman suddenly in desperate search for meaning. Her quest to "recover herself" through voice-over try-outs in a dubbing studio – in other words, the sound of her father and hers, as a singer and maker of words – is really a single film, in itself.
Triptyque is very odd, but Lepage always is. It doesn't excite, but it does compel. It leaves us wondering what, when the brains starts to fail, is left of us. That's a topic for our age, if ever there was one.
A film about the fallibility of cognition is a risky undertaking: in less experienced hands it'd be an absolute dodo
rating
Share this article