Fantasio, OAE, Elder, Royal Festival Hall |

reviews, news & interviews
Fantasio, OAE, Elder, Royal Festival Hall
Fantasio, OAE, Elder, Royal Festival Hall
Charming if fluffy forgotten Offenbach, pleasingly revived in concert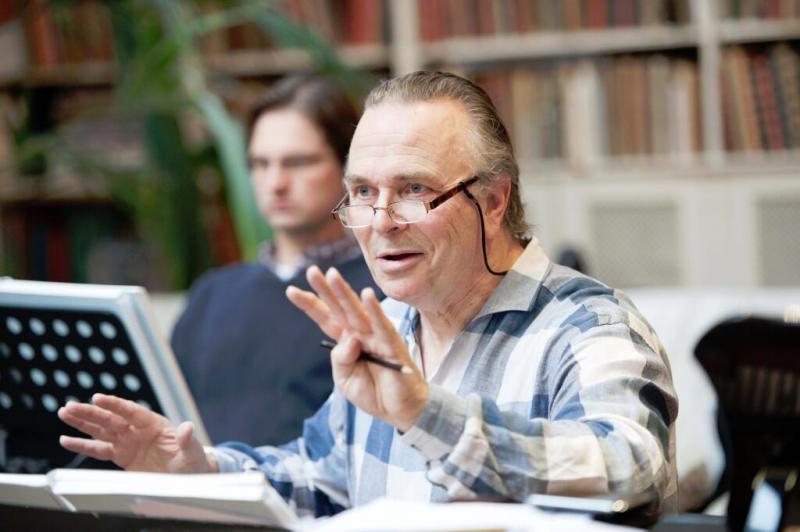 Sir Mark Elder rehearsing 'Fantasio' last week
Readers who recall the 1872 Paris premiere of Offenbach's Fantasio have had 141 years to wonder when its British debut would arrive.
The long wait ended yesterday when Opera Rara, that valiant and necessary company dedicated to dusting off neglected beauties in concert versions and recordings, joined forces with its Artistic Director Sir Mark Elder and the Orchestra of the Age of Enlightenment. One flick of the baton and the overture began, with two limpid flutes gracefully dangling arm in arm over the unison cellos' bass line.
But the overture to what? Based on a play by Alfred de Musset, Fantasio is not a sparkling satirical romp like La Grande-Duchesse de Gérolstein and much of Offenbach's best work from the 1860s. Nor does it attempt the darker matter of his last creation, Les contes d'Hoffmann. Instead it sits awkwardly inbetween, spinning a dangerously anorexic story about a melancholy Munich student led by his heart to break up an arranged royal marriage. Comedy and the donning of disguises are included, but there is much more romantic mooning, signalled by Fantasio's very first number, a lovely and wistful ballad to the moon itself.
She looked great in trousers - she always does
Gripping stuff? Not on a dramatic level. But it's still a charming creation. Right from the start, Elder and the OAE's period instruments lovingly revealed the delicacy of Offenbach's orchestrations and musical thought. Number after number offered sounds tender and wistful: a solo horn here, divided cellos there – always the colours of a composer choosing his palette with care. Just occasionally the score twiddeles its thumbs, but the arias and ensemble numbers still build into a pretty treasurable jewel box. The relative failure of Fantasio in 1872 – it lasted only 10 performances – wasn't, I'm sure, because of its music. Aside from its somewhat watery libretto, I'd blame Paris's factional rivalries and lingering resentments from the recent Franco-Prussian war. This was an opera set in Munich, from a composer born in Cologne. What did they expect, a standing ovation?
Performing in plausible French, scores to hand, after a week of recording for Opera Rara, Elder's cast mostly threw themselves into their roles with plenty of vim and gesturing hands. The surprising exception was Sarah Connolly in the trouser part of Fantasio himself. She looked great in trousers – she always does. I loved her velvet jacket, too. But we needed singing of greater spirit to give Fantasio some steel and spine and shake a portion of the romantic gloom from a character so entranced by the Princess of Bavaria that he disguises himself as a hump-backed jester to woo her behind closed doors.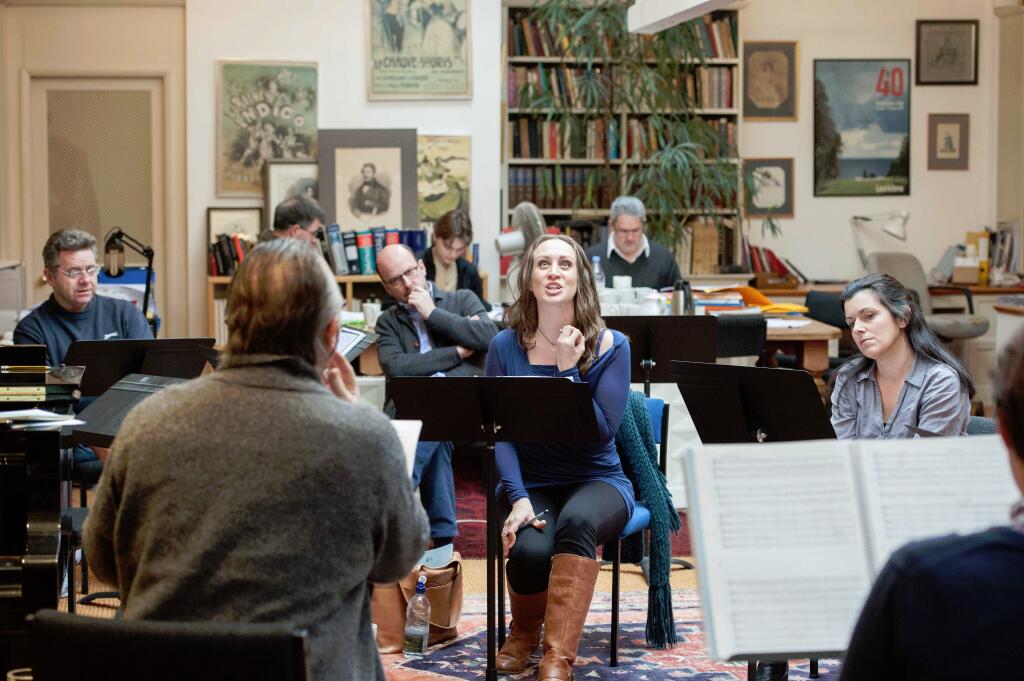 Whatever sparkle Connolly missed, the American soprano Brenda Rae (pictured in rehearsal) more than made amends with her performance as Princess Elsbeth, Bavaria's reluctant bride. At first the voice was fragile. Then in Act Two, out came the gleaming coloratura trills and runs in the opera's first show-stopping aria as the Princess's feelings came to the boil. Marriage to the Prince of Mantua? Heaven forbid!
Russell Braun in that role made the best of his self-pitying ballad, "Je ne serai jamais aimé pour moi-même". Elsewhere he capered nimbly enough in comedy exchanges with Robert Murray – very energetic and personable as the manservant Marinoni, with whom, for ancient farcical reasons, the Prince has swapped identities.
It's a pity that the comic drama's pivot (Fantasio in his fool's disguise hoisting up Marinoni's wig) failed to come off on the Festival Hall stage. For that we needed proper costumes; maybe a set as well. But street clothes usually didn't stop the fun. Neal Davies was always lively as the most voluble student, Sparck; Brindley Sherratt waved a nice regal hand as the Bavarian king; and the Opera Rara chorus never slumbered. Even Elder himself pitched in with dialogue, impersonating a tailor with enough aplomb to suggest that a new career could be possible at the Comédie-Française. But I'd rather he stayed here and conducted.
Just occasionally the score twiddles its thumbs, but the arias and ensemble numbers still build into a pretty treasurable jewel box
rating
Explore topics
Share this article