Big Bad Wolves |

reviews, news & interviews
Big Bad Wolves
Big Bad Wolves
Tarantino-approved Israeli crime-comedy combines ultra-violence with home truths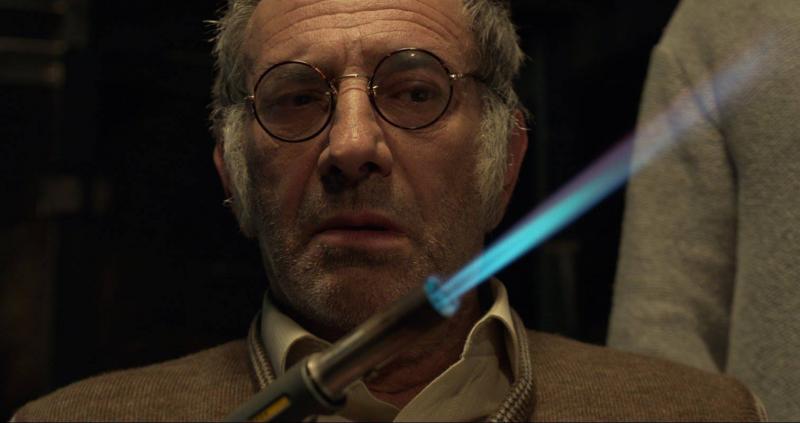 Father knows best: Gidi's dad Yoram (Doval'e Glickman) lends a hand
Tarantino calls Big Bad Wolves "the best film of the year". With its Reservoir Dogs-style scenes of mutilation that are never quite as awful as you fear, a thick streak of brutal black comedy, and a twisting plot in a confined setting, Israeli writer-directors Aharon Keshales and Navot Papushado could almost have designed their second feature to appeal to Quentin.
There are elements of torture-porn horror, bad fairy tales and a satirical crime story from this film freak duo. But
Big Bad Wolves
' strong Israeli context and character provide a flavour of its own.
It's good to see a genre film from the country at all (Samuel Maoz's war film Lebanon was so painfully autobiographical it hardly counts). This memorably unusual chamber horror-crime-comedy would be worth seeing whatever its source.
The setting is, though, very specific. This is a world where police viciously beat up a suspect, and their boss only objects when the carnage ends up on YouTube. The beating's meek victim might actually be the demonic child-decapitator the cops want him to be. And when the main police thug and Gidi (Tzahi Grad), the ex-government security boss dad of one of the dead children, kidnap the possible monster to torture a confession out of him, pictured above, the surprise appearance of grieving, violent Gidi's own schlubby dad causes paternal criticism not of his actions, but his torture technique.
It's the young Palestinian man who trots past when the protagonists wander outside, observing quizzically, who explicitly suggests how many home truths about the Israeli psyche Keshales and Papushado are spicing their lurid yarn with. The besieged, paranoid perception of potential threats everywhere, with violence as the first, endless response are, they had admitted, a deliberate subtext, cheekily alluded to, in between the fingernail-tearings and knee-cappings (the isolated house Gidi has bought for its basement is a steal, the estate agent tells him, because the neighbourhood's full of Arabs). The torture dungeon in the basement, where a victim of violence loses himself in futile cycles of violent response, could be Israel's subconscious.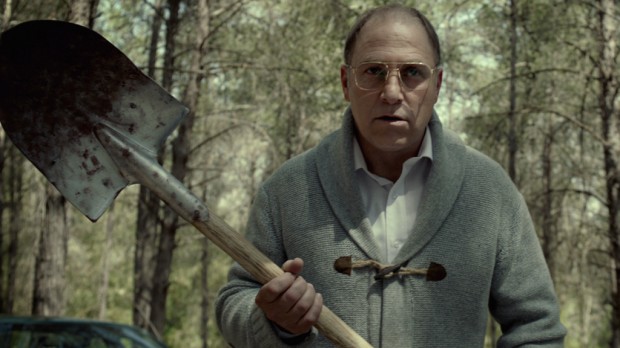 Violence and humour keep this critique firmly locked in Big Bad Wolves' own mental basement, though. There's a hint of a more lushly Gothic film in its first minutes, as children play in slow-motion in an isolated house, then an ogre's shadow looms. Characterisation and an excellent cast carry a sometimes lumbering narrative, though. As Gidi, Tzahi Grad, pictured above left. has some of James Gandolfini's looks and burly, sensitive charisma; Rotem Keinan's Dror, the seemingly fragile Religious Studies teacher Gidi believes sawed off his daughter's head, is an unstable mix of sympathetic scapegoat and steel.
It's not the classic Tarantino claims. But any film where a conflicted torturer interrupts his work to take a call from his emotionally merciless mother, whose cooking is crucial to the plot, is kosher enough.
Overleaf: watch the trailer for Big Bad Wolves