Kill Your Darlings |

reviews, news & interviews
Kill Your Darlings
Kill Your Darlings
Allen Ginsberg stars in Harry Potter and the Frotting Frats
Thursday, 05 December 2013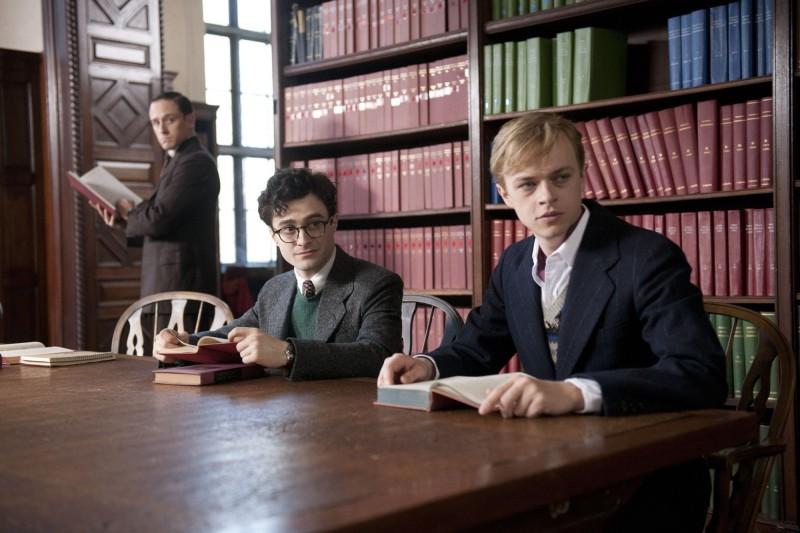 Anyone seen Hermione?
Allen Ginsberg was once approached by two young acolytes eager to discuss literature. The bearded eminence of the Beats was the soul of generosity, giving up no small allowance of time to share his vast knowledge and experience. How they must have basked in the glow as a great poet treated them as equals. At a certain point, having put in sufficient effort, Ginsberg deemed it a good moment to change the subject. "So," he said, "either of you guys suck cock?"
It's the making of this adventurer which is considered in Kill Your Darlings, and he's played by the ever questing Daniel Radcliffe. Harry Potter fans have had ample chance to watch their childhood pin-up expand his borders, but as the young Ginsberg he takes it to a whole new level: here be wanking, taking fellatio from a librarian, smoking dope and inhaling nitrous oxide, and supinely raising his knees to be deflowered by a strapping pick-up. Gulp. Or maybe that should be howl.
The spirit of the Beats is notoriously difficult to capture in a bottle
The oddity is that the story of a young Beat coming of age on campus at Columbia University looks weirdly like another episode by JK Rowling. In Harry Potter and the Frotting Frats, innocent young man in horn-rimmed specs escapes a miserable home life to meet like-minded types in a hallowed school. There's even a sequence when Ginsberg, Jack Kerouac and William Burroughs break into the library at dead of night to play naughty hi-jinks. You keep waiting for Allen Ginsberg to whip out the Marauder's Map.
In fact Kerouac (Jack Huston) and Burroughs (Ben Foster) are less central to this narrative than a figure who dropped out of the Beat story early on. In this telling, Ginsberg meets Lucien Carr on his first day at Columbia when the sophomore leaps on a table and declaims a sinful chunk of Henry Miller. He is that campus staple, the Dionysian revolutionary who thinks he's Rimbaud. As played by the lizard-eyed, floppy-mopped Dane DeHaan, he may as well be the serpent in the garden, coaxing Ginsberg into existence by feeding him dollops of Yeats and dragging him downtown to fairyland (aka Greenwich Village) where there is bebop and loucheness.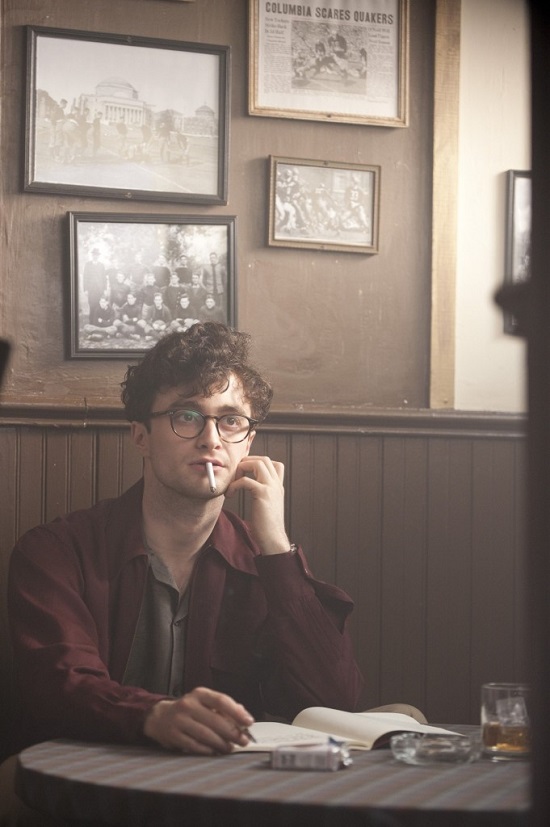 Kill Your Darlings works hard to set up an opposition between the canonical literature taught by professors in class and the bubbling foment of fresh creation. On a narcotic high Radcliffe lies on his bed jiggling. "What are you doing?" asks his roomie. "Writing!" he replies. It makes a change from those literary movies in which the writer-hero frets and ponders at their desk.
But we also know from the first frames that Carr is in custody, a suspect in the death of a man who turns out to be his clingy older lover David Kammerer (Michael C Hall). From the off, therefore, we are in a murder mystery based, as the assurance always goes, on a true story. The tawdry tale of the predatory Kammerer and the self-loathing Carr is a footnote to the Beat legend, but director/co-writer John Krokidas adventurously laces it into a wider narrative about Ginsberg's beginnings as a homosexual and as a poet (also Kerouac's as a wastrel/minstrel and Burroughs' as a junkie). This is suggested in the film's most daring formal conceit, cutting between three types of penetration - by knife, by needle and (though we're spared the money shot) by penis.
The spirit of the Beats is notoriously difficult to capture in a bottle and stick up on the screen. Howl starring James Franco as Ginsberg came closest, but for its trippy animations and jazzy score, its earnestness was gruelling. Walter Salles' long-haul On the Road mainly consisted of driving and hugging and kipping. As for Kill Your Darlings, despite all its sex and drugs and bambyish jumping up and down, there is just too much that is conventional and not enough that's chaotic.
Overleaf: watch the trailer to Kill Your Darlings