György and Márta Kurtág, Queen Elizabeth Hall |

reviews, news & interviews
György and Márta Kurtág, Queen Elizabeth Hall
György and Márta Kurtág, Queen Elizabeth Hall
Two Hungarian octogenarians bring the house down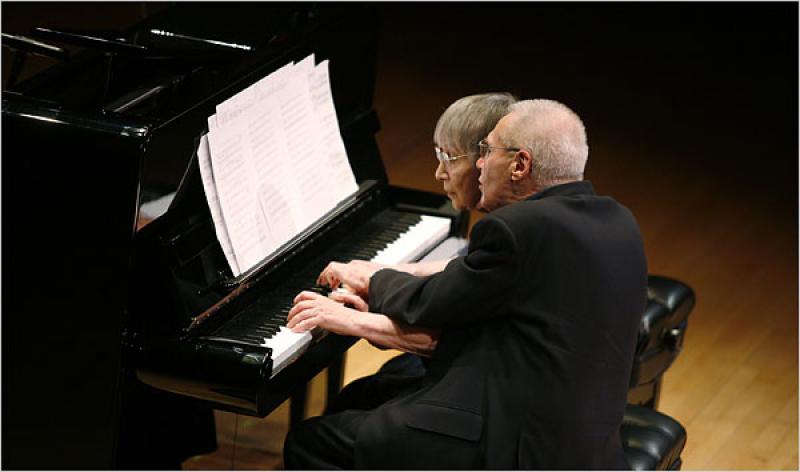 György and Márta Kurtág
There was a strange moment at the end of yesterday's recital when, having exhausted their repertoire, octogenarians György and Márta Kurtág began to look around anxiously, wondering what more they could offer us. They eyed each other, then us, arms outstretched, shoulders shrugging guiltily, like they'd been caught with an empty fridge. Another standing ovation and I felt they might have returned with a plate of fig rolls.
This feeling of domesticity, as if we were visiting gran and grandad's, that Márta and György's recitals inevitably evoke, is not an incidental element to their art. It is at the heart of why their recitals thrill. Musical originality is often a showy, shouty business. The genius of these two unassuming Hungarians is to demonstrate what can still be done in a speaking voice and at room temperature. And how, in its intensity and subjectivity, the domestic musical act can be as disruptive a statement as any.
'Hipartita' received an intensely satisfying performance from Hiromi Kikuchi
Their choice of instrument was instructive: an upright, soft pedal permanently down. At yesterday's Queen Elizabeth Hall recital, it was also lightly amplified and, as uprights sometimes do when soft pedalled, jangled on certain notes. Automatically we were in another world. With the sound muffled, the grand piano usurped by an imperfect, living-room staple, we became eavesdroppers, dozing children catching something wafting up through floorboards, passers-by snatching a melody from an open window.
A selection of György's solo and duet music – including several jewel-like pieces from his celebrated pedagogical series Játékok (Games) of 1973 – were interspersed with music by Bach, rearranged by György for four hands. They took turns at the piano solos, Márta, the professional pianist, mostly watching over György, at times immersed, at times blushing with adoration, at times resembling a backseat driver, desperate to correct him.
The rules of recital-ing were being reconfigured, the duet redefined. The Bach transcriptions would always lead Márta down into the bass and György up into the treble clef till lovers were musically and tangibly entwined. Duets were becoming solos, solos duets, with the non-playing Kurtág always lurking over the partner performer, permanently a-quiver, like some human divining rod.
Even while entangled – especially when entangled – they maintained their breathtaking sensitivity, a sensitivity so necessary in revealing the epigrammatic subtleties of these scores. György's musical language – drawing on the grammar of Webern and rhythms of Bartok – is narrow. Nothing reaches above mezzo forte. Nothing is allowed to move too fast or too slow. There's little trickery or cleverness. Rhythms are intelligible, pitches discernible.
This transparency and honesty could also be witnessed in György's solo violin work Hipartita, which received an intensely satisfying performance from Hiromi Kikuchi before the interval. Yet with this deliberately human range, the most mesmerising musical investigation is achieved.
Of all the concerts in The Rest is Noise festival, the Kurtágs' unassuming double act is the least rebellious in appearance. Yet, in its quiet, unpretentious transfigurations, it was as subversive as anything you'll have seen all year.
In its quiet transfigurations, it was as subversive as anything you'll have seen all year
rating
Share this article