DVD: The White Dove/Josef Kilián |

reviews, news & interviews
DVD: The White Dove/Josef Kilián
DVD: The White Dove/Josef Kilián
Two Czech jewels from the early Sixties, including an absurdist feline gem
Thursday, 24 October 2013
'The bond between boy and bird is as evocative as anything Ken Loach would achieve with 'Kes''
Though never really part of the country's groundbreaking New Wave, František Vláčil was a Czech master who's best known for his films like Marketa Lazarová and The Valley of the Bees, both complex historical works.
His first feature
The White Dove
, which appeared at the very beginning of the momentous Sixties, is the exact opposite of those two large-scale movies: it's a small film of poetry and mystery, which has a fabular quality remote from any political dimension (very likely the reason why its production in 1960, a time of continuing censorship, was possible).
The symbolic nature of the dove is familiar, but here it epitomises the love of two different children for a bird. Released in the opening scene it should be homing towards its German home on the Baltic, and Susanne (Kateřina Irmanovová) who waits for it on a beach in the eccentric company of some veteran bird-fanciers. But it's blown off course to Prague, where we glory in skyscapes with that city's elaborate steeples and towers, and enters the life of young, wheelchair-bound Miša (Karel Smyczek) and his upstairs artist neighbour (Václav Irmanov). The bond between boy and bird is as evocative as anything Ken Loach would achieve with Kes at the end of that decade.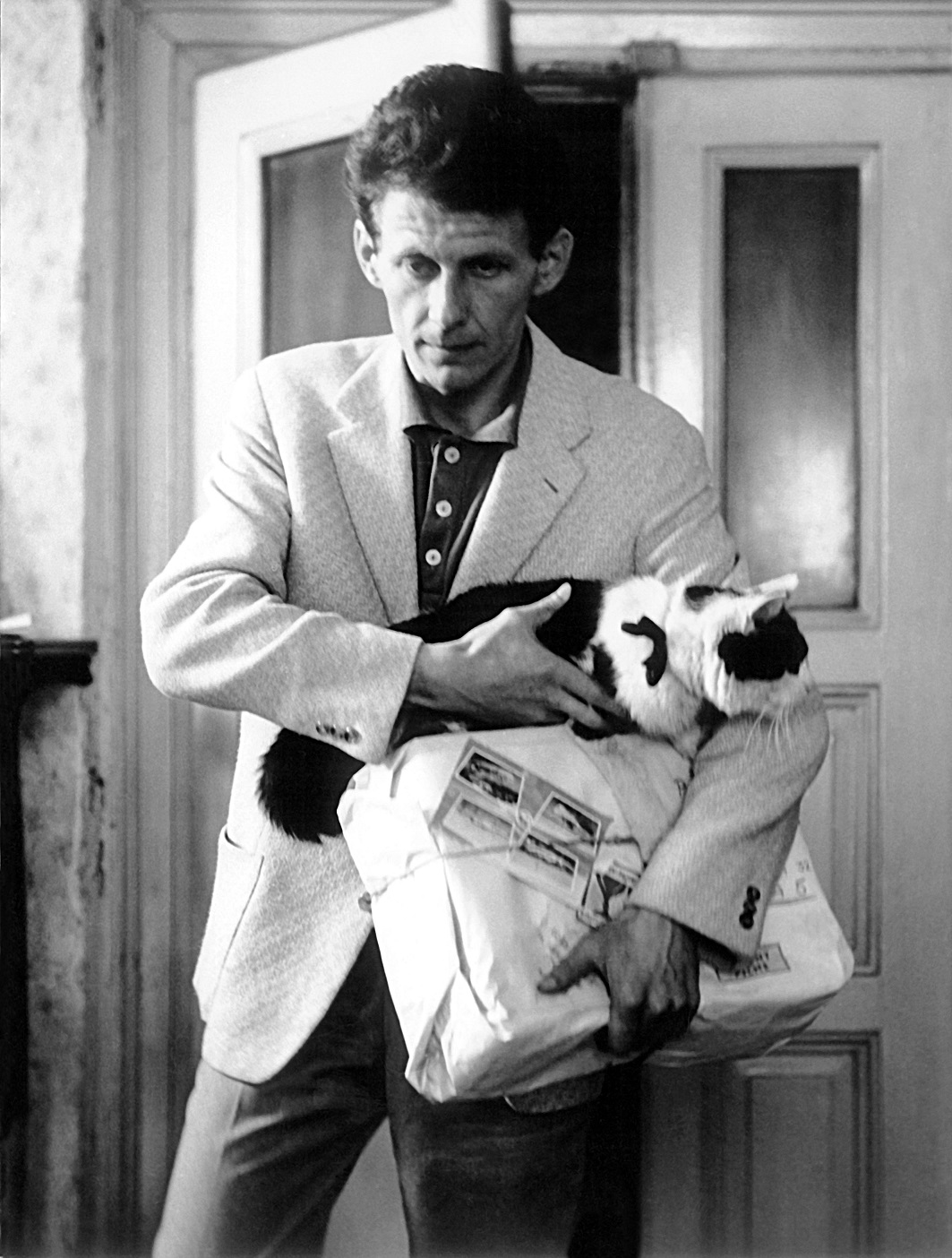 There's glorious black-and-white visual style here: cinematographer Jan Čuřík, who took a 1960 Venice festival award for the film (as did Vláčil), is a true European master whose work should be far better known, and his images are matched by the score from Zdenek Liška. Intimate yet profound, The White Dove is a treat of filmic humanism.
Čuřík also shot the 37-minute Josef Kilián, a 1963 film by Pavel Juráček (who's better known as a screenwriter) and Jan Schmidt that's receiving its world DVD premiere on this Second Run release. No surprise that this absurdist mini-masterpiece was later banned after the 1968 Soviet invasion, though it owes as much to that earlier Prague mystifier Franz Kafka (who had his own Josef K) as to the complexities of Communist-era relationships between the individual and the state.
Karel Vašíček (pictured, above right) plays an anonymous citizen first seen striding past out-of-use decorations from past political parades, a portrait of Stalin included. Later he passes a shop offering "cats for hire" – complete with regulations, including "the misuse of rented cats is punishable by law" – and can't resist. When he comes back the next day to return his feline, the shop has gone.
A figment of his imagination (but the cat is very real), or the first step in an absurdist journey that takes him along a parade of totalitarian bureaucratic corridors? The Czech title, "A Figure Needing Support", speaks of the film's wider quandary, as the everyday downbeat world of Prague grapples with existential dilemnas. Enjoy quips of imagery a la nouvelle vague, nice use of jazz (abundant in Dove, too), and a wonderful sense of life lived in a minor key. Five stars for feline felicity.