Arena: The National Theatre, Part One - The Dream, BBC Four |

reviews, news & interviews
Arena: The National Theatre, Part One - The Dream, BBC Four
Arena: The National Theatre, Part One - The Dream, BBC Four
The first 50 years of a permanent headquarters for drama in Britain
A dramatic half-century - the National Theatre's current home on the South Bank
How irksome in some ways for the National Theatre that both the glamour and the accessibility of cinema have bookended its first 50 years, when the company and, latterly, its Southbank home, are essentially driven by and dedicated to live performance. But it was Laurence Olivier's film career, making him a household name, which helped secure for him the job as first director of the National Theatre in 1963.
And it is cinema relays that have taken NT productions to places and people who might never step into Denys Lasdun's building, despite the company's national ambitions.
The Olivier years dominated this first of Arena's celebratory two-part history, a scrapbook of clips from productions, ceremonies and social landmarks of the time, the soundtrack dominated by the Beatles, with a shaking of The Kinks' "Waterloo Sunset". Does a younger generation of viewers have the chronology of the Fab Four's back catalogue all buttoned up, I wonder, or is this convention just a delightful revisiting of production teams' palmy days? More useful perhaps to have pointed out, as Daniel Rosenthal's excellent Radio 4 Extra special The National Theatre at 50 did last weekend, that news on 22 November 1963 of the appointment of Lasdun as architect was eclipsed by the assassination of President Kennedy – although in those less news-saturated days, it still made the headlines (Sir Larry, pictured below).
A national theatre was mooted as early as 1904, by playwright-actor-manager Harley Granville Barker, it was said, although there were noises off earlier than that. George Bernard Shaw intoned that the people would not want it, but that the people had never wanted any of the institutions that they subsequently valued. With Olivier at the helm for its first 10 years, initially at the Old Vic, and from 1967 in its current South Bank home, the classics were augmented by brilliant new writing, notably Peter Shaffer's Royal Hunt of the Sun and Tom Stoppard's Rosencrantz and Guildenstern Are Dead, both playwrights seen reminiscing about the theatre in Adam Low's programme.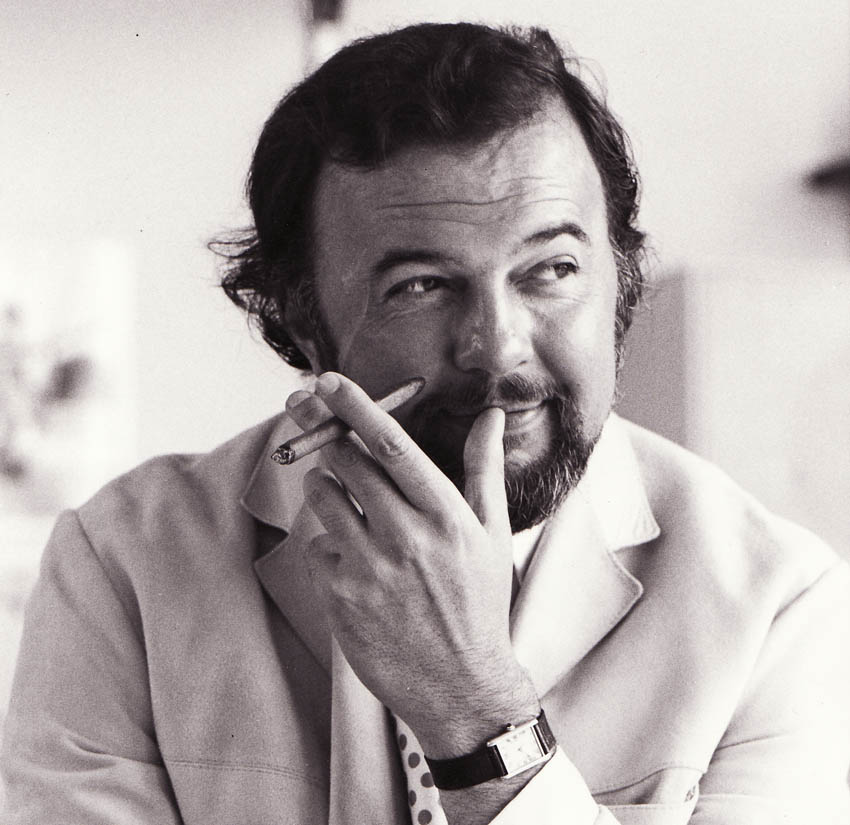 Few under 60 will have seen Olivier in live performance – he was replaced as director by Peter Hall (pictured left) in 1973 in an act that his widow Joan Plowright described as "treachery of the highest order". And so it is increasingly difficult to imagine, even though those who worked with him tell us that it was so, that his was such a towering presence. Especially when Stoppard recalled that Oliver looked in on a rehearsal of Rosencrantz and Guildenstern and pronounced upon withdrawing, "Just the odd pearl …"
His Othello, absurd to modern audiences with its blacking-up, looks hammy against Adrian Lester's recent, layered interpretation. Olivier's Desdemona, Maggie Smith, admitted that "Larry had an aura around him which was hard to penetrate," going on to explain that embraces were limited when the make-up might rub off on her. Jonathan Miller recollected directing Olivier as Shylock, and the actor wanting to wear a false nose (which he backed down over) and big teeth (which he did not).
Still to come in programme two on 31 October are the Richard Eyre, Trevor Nunn and Nicholas Hytner years. But with the "birthday" falling on 22 October and new artistic director Rufus Norris already waiting in the wings, BBC Four feels a little late to the party. Ask any actor: timing is everything.
Olivier was replaced as director by Peter Hall in 1973 in an act that his widow Joan Plowright described as 'treachery of the highest order'
rating
Share this article