LFF 2013: The Double |

reviews, news & interviews
LFF 2013: The Double
LFF 2013: The Double
Jesse Eisenberg stars alongside, erm, Jesse Eisenberg in Richard Ayoade's wonderfully askew second feature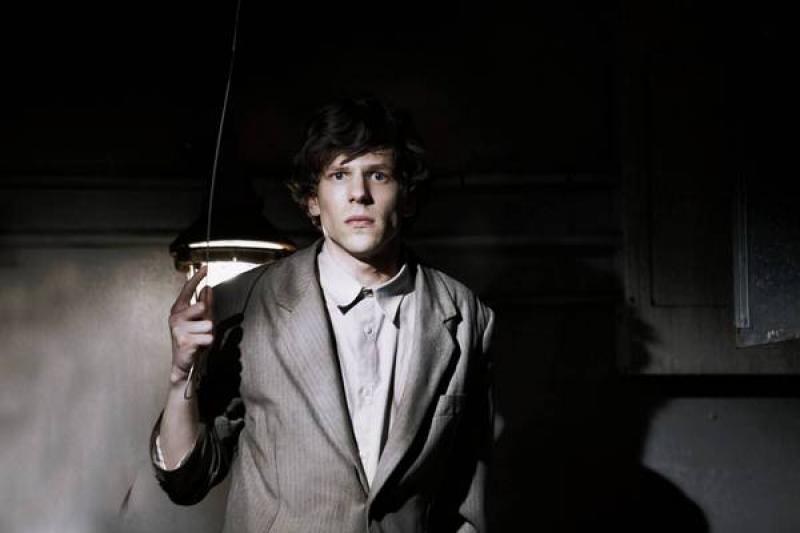 It's just me, myself and I: Jesse Eisenberg in 'The Double'
Richard Ayoade's follow-up to the highly promising Submarine centres on another pretty hopeless young man; yet this time his protagonist's predicament is considerably more grave, even if matters are no less amusing. Based on the novella by Fyodor Dostoyevsky and co-written by Ayoade and Avi Korine (brother of Spring Breakers' helmsman Harmony), The Double sees Jesse Eisenberg tormented by a duplicitous doppelganger.
It's a moodily lit, impeccably designed neo-noir served with lashings of absurdist comedy.
Jesse Eisenberg plays Simon James, a worker at a data processing plant in an unnamed, seriously uncanny Anglo-American city. He's in love with his co-worker and neighbour Hannah (Mia Wasikowska) - although unfortunately, like everyone else, she barely notices him. Simon's anonymity becomes a particular issue when his boss Mr Papadopoulos (Wallace Shawn) recruits a manipulative character who not only has an inversion of Simon's name (he's called James Simon) but - even more eerily - possesses exactly the same face.
Ayoade finds small, fun roles for James Fox (playing corporate overlord The Colonel) and previous collaborators Paddy Considine, Sally Hawkins and Chris Morris. There's a nice contrast between the kinetic, often witty camerawork and the gorgeous artifice of David Crank's production design: the film often resembles a surreal stage production or - as its director describes it - "what a '50s Finnish public information film would think the future would look like."
Humour-wise, The Double is in keeping with Ayoade's own hilariously awkward comedic persona (as an actor he's best known for playing Moss in The IT Crowd) and his cine-literacy really is something to behold; the film's most obvious allusions are to Gilliam's Brazil and Godard's Alphaville but there's plenty of Hitchcock, Lynch and Aki Kaurismäki in the mix too. But if it's thick with references, these collide to create something really rather unique.
Ayoade's cine-literacy really is something to behold
rating
Explore topics
Share this article