LFF 2013: Adore |

reviews, news & interviews
LFF 2013: Adore
LFF 2013: Adore
Naomi Watts and Robin Wright swap sons as their lovers in a coolly transgressive tale
Thursday, 17 October 2013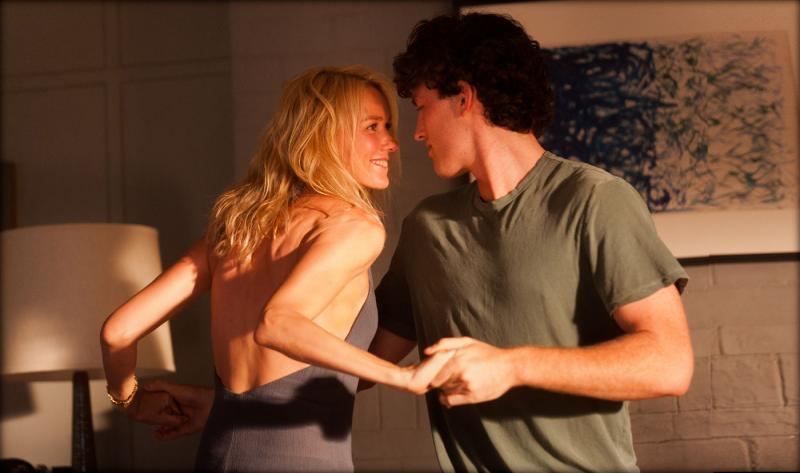 Lil (Naomi Watts) and Tom (James Frecheville) get drunkenly close
Naomi Watts's rare misstep with Diana is forgotten as this playfully provocative tale of female friendship and forbidden love unfolds. It's an equally rare return to Australia for Watts, who plays Lil, whose deep childhood bond with Roz (Robin Wright) lasts into middle-age, as their respective teenage sons Ian (Xavier Samuel) and Tom (James Frecheville) join them in an idyllic life spent roaming freely between neighbouring beach-side homes.
The ad hoc family's laissez-faire attitudes are taken to extremes when Ian and Tom, both strapping 18-year-old Adonises, end up having sex with each other's mums one drunken night. The women are briefly wracked with guilt, but all concerned are having too good a time to stop.
French director Anne Fontaine, working from a Christopher Hampton screenplay based on Doris Lessing's story "The Grandmothers", isn't hung up on the vague outrage of events. Instead she coolly observes a lifestyle that's a scandalous secret because of the women's ages more than its merely emotional incestuousness. Wright is reliably fine, and Watts's breezily natural yet nuanced performance sees her let her hair down and have fun with the role. She made her name with her erotic frisson with Laura Harring in Mulholland Drive, and both she and Wright throw themselves into sex scenes their female director ensures burn with emotional and lustful desire, not athletic nudity.
Aussie men on the margins include Ben Mendelsohn – reunited with Animal Kingdom co-star Frecheville – as Roz's husband (soon dumped, and cuckolded closer to home than he thinks). Fontaine's tone is a touch too aloof. But Adore also gives a sly wink at its heroines' cheek.