Ghosts, English Touring Theatre |

reviews, news & interviews
Ghosts, English Touring Theatre
Ghosts, English Touring Theatre
Edvard Munch's design assists a respectful production of Ibsen's 'loathsome' tragedy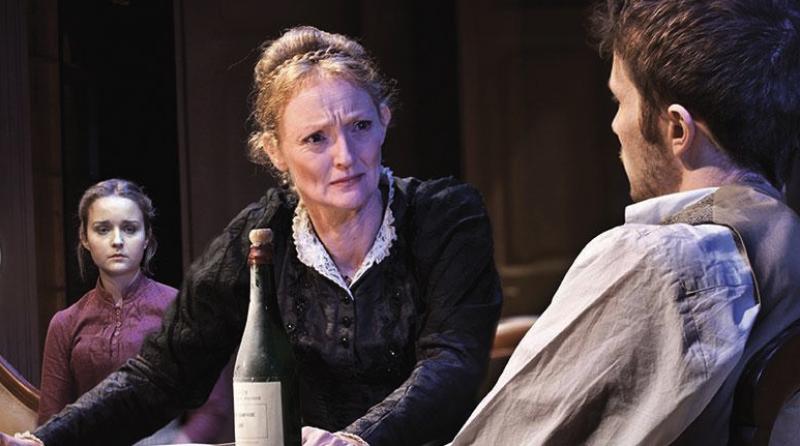 What now? Mrs Alving (Kelly Hunter), Oswald Alving (Mark Quartley) with Regina (Florence Hall)
A young man eaten up by fears of inherited disease, a mother who hid the facts of her awful marriage from her son to spare him, but is rewarded with even worse pain: the emotional plotlines of Henrik Ibsen's Ghosts are huge. While the plot ticks off taboos - incest, rebellious women, euthanasia - deep at the heart of it is an atavistic fear in all of us that we will die in fully conscious agony, eaten up by a madness wished on us by someone's selfishness or stupidity.
Ibsen's play was meat too strong for its 1881 public, and the private stagings that managed to get past the first decade's-worth of bans around Europe attracted criticism in which "loathsome", "offensive" and "foul" were standard adjectives.
Stephen Unwin's new production and translation for the English Touring Theatre at the Rose, Kingston is his retiring offering for the theatre he's led for 21 years, and it shows utmost sympathy for these emotional dilemmas, with which we are far more familiar today. While it comes too respectfully to the play to shake me to the withers, it does have two striking assets.
If you love Edvard Munch's The Scream, you will be instantly drawn into the dramatic fact that Munch designed the scenery for a famous Berlin production in 1906 (pictured above right, his Act 1 design), because this staging's design draws strongly on his atmospheric maquettes, recalling with psychological symbolism his own fearful childhood.
Mrs Alving's drawing room looks very much as Munch drew it, Nordic, sparely furnished except for certain distinctive pieces of furniture - a curvaceous yellow chaise longue whose femininity contrasts with a large black hard chair turned away from us, still possessed by the ghost of dead Captain Alving (Munch painted his violent father's big black chair). Behind is a large window through which you see the sun set and then, climactically, rise again over a lonely fjord. Rarely does the sunrise carry such a loading of sadness as here.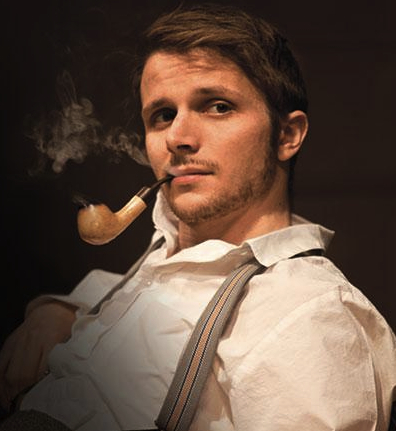 Munch was a teenaged student when he first saw Ghosts in 1882, and The Scream, with its unspecific, horrified ghostly figure, is uncannily resonant. The figure could be young Oswald Alving, beset by fears about his own dying spirit, fears first unknown, and then, dreadfully, uncovered as inherited syphilis - or it could be his mother, Helene Alving, who dealt with an impossible marriage in the messy, desperate way that a woman would, who is married to a debauched beast, yet is obliged to preserve his public reputation because her and her son's futures depend on it.
Mrs Alving is accused of being both a bad wife and a bad mother by the self-righteous Pastor, who has visited merely to get a property deed signed, an innocent act that sets dominoes tumbling. As the Pastor says, the community is so small that you don't question family relationships as long as they're not spelt out. But once Mrs Alving admits that her pretty maid is the byblow of her dead husband's raping their previous maid, it is obvious that her son shouldn't be looking at the girl the way he does.
All of it happens in one night, from evening to dawn, and the compression of time is vital to the sense of lives going down the plughole in a swamp of questions and fears. Stopping time with an interval is a serious blemish. After the spectator's return to reality in the bar, you can't plunge back that easily into galloping emotions that a moment or two of daylight might restore to equilibrium. Oswald's desperate desire to end his misery overwhelms sense; it's a deep human terror painted as a young man's existential crisis (I thought of Swan Lake or Schubert's Winterreise - Schubert died young of syphilis).
Which brings me to the show's other great asset, Mark Quartley's engrossing portrayal of Oswald (pictured above left). Defying the usual Stephen Unwin school of acting from the neck up, Quartley's sickly physicality plays out a thousand unspoken nuances, cloaking his weakness with semi-adolescent truculence to maintain a defence against the violence of his own terror, the knowledge that his brain is being rotted, that he may soon die, and that he can't face its full term. He displays his Parisian sophistication in his dapper clothes, but slackly drags his slippers on the ground, he is a bit whiny and attention-seeking at first. Our sympathies with him swing to and fro, but he subtly lets the information seep out, gradually he transmits Oswald's awful suspicions and agony into us, makes it all ours - and the last minutes are heartbreaking.
As his mother I found Kelly Hunter only competent, in a part that should be equally disturbing. Hunter has a strong voice which barks on certain syllables, in a slightly actressy way; her body registers insufficient tension to make her into her character. Mrs Alving's fragility and defiance surely come from the oppressiveness of the unseen community about her and her dead husband's ambiguous power; I want to feel her pain, but this is almost too articulate a performance to show the woman's brave desperation.
By contrast Patrick Drury's Pastor Manders (pictured above, centre) seems rather over-kindly, considering the moral absolutes that he believes in. Also with him, the acting is from the neck up, disengagement through his body and hands subverting credibility in the emotional dust-ups.
But Florence Hall is a radiant, spirited Regina (the maid, above right), and if Pip Donaghy's big bushy white beard and wheedling as her supposed father Engstrand (above left) has a touch of the Joe Grundys, his is another enriched, joyful (and un-Munchian) character study. All in all, respect but no screaming awe for this production.
Ghosts is at the Rose, Kingston till 12 October, then tours - 15-19 Oct, Salisbury Playhouse; 22-26 Oct, Oxford Playhouse; 5-9 Nov, Yvonne Arnaud Theatre, Guildford; 12-16 Nov, York Theatre Royal; 19-23 Nov, Watford Palace Theatre; 26-30 Nov, Malvern Theatre
Munch 150, the 150th anniversary exhibition, is at the Munch Museum, Oslo till 13 October
Watch a short backstage trailer for the production here, with interviews from the main actors
These are lives going down the plughole in a swamp of questions and fears
rating
Explore topics
Share this article