The Lightning Child, Shakespeare's Globe |

reviews, news & interviews
The Lightning Child, Shakespeare's Globe
The Lightning Child, Shakespeare's Globe
Gender-bending, funk and anarchy in new musical by Ché Walker and Arthur Darvill
Thursday, 19 September 2013
Geoff Aymer and Bette Bourne prepare to party as Cadmus and Teiresias in this remix of Euripides' The Bacchae
Having boundaries actually sets us free. So Neil Armstrong's wife argues. She is dogmatically keen to stop her husband rocketing off to the moon in the first scene of The Lightning Child – a groundbreaking show in so far as it's the first musical to premiere at Shakespeare's reconstructed wooden "O", opening last night. Armstrong (Harry Hepple in a space suit) does not agree with his spouse's imposed limits, however. A lunar voyage is, he says, his chance to become sublime.
Next thing you know, the 1960s astronaut of Apollo 11 fame has gone peculiarly spacey. Climbing a steel ladder, he discovers that there really is a man in the moon. Or rather, swinging above the stage in a white, silken orb is the so-called Ladyboy Herald. In Turkish trousers and spangled high heels, this super-camp messenger of the gods (played by Jonathan Chambers with a Caribbean lilt) soon descends from on high to serve as our narrator. S/he is also a sidekick to Dionysus.
The god of intoxication and ecstasy, aka Bacchus, is emotionally cool and sexually ambiguous. Tommy Coleman's Dionysus is a husky beauty, with glossy locks, silvery eye shadow, and a touch of Michael Jackson (pictured right). His female groupees, running wild in the woods outside Thebes, form a disco-dancing chorus line. Composed by Arthur Darvill, their songs are a stylistic mélange, ranging from tribal ululations to hip-hop, accompanied by steel drums and electric guitars.
You might not have surmised, at the outset, that The Lightning Child is a rejig of Euripides' The Bacchae. Ché Walker's script makes free with the original. The Ancient Greek revenge drama – in which Dionysus lures the repressively macho Pentheus into fatal, voyeuristic cross-dressing – is intercut here with a bunch of modern-day vignettes. Besides Armstrong, we glimpse Billie Holiday (Cat Simmons), the athlete Caster Semenya (Moyo Akandé) who was subjected to gender testing in 2009, and a pair of fictional London junkies.
Walker is therein, somewhat incoherently, contemplating our Dionysian versus our Apollonian and illiberal impulses. Narratively, one might wish tighter boundaries had been set, as the play rambles on, outstaying its welcome. Matthew Dunster's production is slack in its fight choreography and musical direction as well, with feeble singing almost drowned out by the live band. The Lightning Child won't be winning any Best Musical awards(see video overleaf).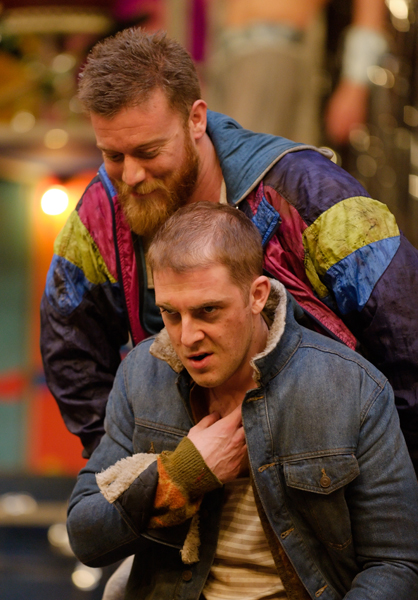 Nonetheless, even if it feels like a damp squib by the end, it certainly won me over for while. Walker rejects neat and tidy structuring with a brio that feels fearlessly idiosyncratic, not to say positively Dionysian. At its best, although never sublime or tragic, his dialogue shifts gear boldly between vernacular mouthiness and Latinate magniloquence.
There are a few execrable actors on board, but Geoff Aymer's transvestite Cadmus exudes almost Aristophanic gusto, in a gold bikini with a large pot belly. Colin Ryan is hilarious as a pipsqueak of a soldier, tossing off his kit to boogie insanely in a thong. Hepple and Philip Cumbus are an outstanding duo, as the seriocomic junkies (pictured above left). Clifford Samuel's Pentheus satirises the sexual confusions underlying gym-fit machismo, misogyny and homophobia – screaming for punters in the pit to feel his six-pack. Meanwhile Coleman and Chambers have wry humour, if little menace.
What's remarkable about the Globe is that its al fresco airiness somehow encourages an easy-going atmosphere, so that sprawling plays don't seem so bad, and the actor-audience rapport is always charmingly warm, whatever the weather.
The Lightning Child at Shakespeare's Globe until 12 October
Oveleaf: trailer of Arthur Darvill, in concert, with his indie band Edmund)
Tommy Coleman's Dionysus is a husky beauty, with glossy locks, silvery eye shadow, and a touch of Michael Jackson
rating
Explore topics
Share this article