Jonathan Yeo Portraits, National Portrait Gallery |

reviews, news & interviews
Jonathan Yeo Portraits, National Portrait Gallery
Jonathan Yeo Portraits, National Portrait Gallery
A paean to the seductive surface, but should flattery always be a dirty word?
Wednesday, 11 September 2013
Grayson Perry looking winsome in a new portrait by Jonathan Yeo
Grayson Perry is sitting pretty amid a swathe of soft-focus pink. Dressed as his alter ego Claire he sits on a pink bed with pink pillows, his pink ruched dress spread about him with its frilly underskirt on view.
Placed on his lap are his thickly veined, restless hands, fingers knotted, and he stares out at us from this frosted-pink confection of a canvas wearing a look that might be described as both winsome and quietly content. Two powder puffs that resemble plump macaroons, a perfume bottle and a floppy-brimmed hat are among his accoutrements.
An earlier portrait Yeo painted of Perry-as-Claire conveyed, with its hooded gaze and slightly troubled brow, a little pathos, but not this one, though, in fact, the room that Jonathan Yeo has placed him in is reminiscent of the bedrooms of another British artist who evokes quite a different mood. With its old-fashioned bedstead and bedside lamp, and with the picture's almost oppressive close crop and striations of thinly applied paint, I'm reminded of one of Walter Sickert's squalid bedrooms, the ones in which a murder may or may not have taken place.
Flattery in portraiture has a fine historical lineage
Yeo, the closest we have to a latter-day society portraitist in the spirit of Joshua Reynolds, paints flattering portraits with an old-fashioned Modernist edge. His female faces, or those who, as in Perry's case, come in the guise of the female, are so polished and mirror-smooth they appear photographic – though photographic isn't quite the word. They are more like strikingly naturalistic Pre-Raphaelite ideals, emerging from the shimmering, half-realised sketchiness of their surrounds. We marvel at their virtuosity. Yeo, who is untrained as an artist, has a marvellous feeling for paint.
Most of his male sitters, on the other hand, have faces textured with Cubist faceting and colouring of a ruddy hue. But they're no less flattering – though one doesn't mean to imply that that's necessarily a dirty word in every context. Flattery in portraiture has a fine historical lineage and we shouldn't let it detract us from a portrait's other fine attributes.
The art critic Martin Gayford, who has more famously been painted by Lucian Freud, through sittings that probably felt they'd go on for an eternity (Freud was a famously slow painter), smiles placidly out at us; Damien Hirst looks down from a great height wearing the chemical protection suit he used to wear for working on his formaldehyde tanks, and he rather resembles a heroic World War II pilot (the sort of portrait Laura Knight, who also has an NPG exhibition currently running, might have painted); and a bearded Kevin Spacey makes for a handsome Richard III with his crown cocked at a raffish angle. Even Rupert Murdoch looks benign, with several years shaved off his age to boot. Sitters are rejuvenated by Yeo's nifty brushwork.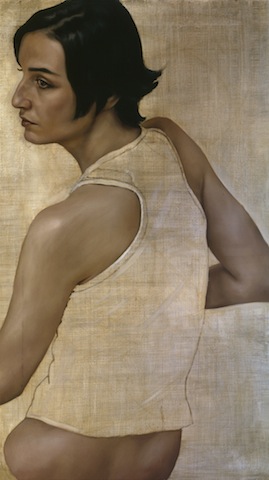 As well as the Hirst, the Spacey, and the Perry, the other three new portraits in the NPG's beautifully hung two-room display – Yeo painted all the new ones in the first room this year, he's that quick – are new peer Doreen Lawrence, education activist Malala Yousafzai and actress Helena Bonham-Carter. The Malala portrait is striking. Yeo has a tremendous eye for composition and design, and this is a simple and powerful portrait. You can level accusations of "conventional", and it would be justified, but Yeo doesn't appear to be in the game of "reinventing" portraiture. He clearly just wants to do it well, and he does.
However, other portraits, painted with as much facility, tip the balance. Nicole Kidman and Sienna Miller may as well have been painted from fashion photographs. What do they tell us beyond what we already know from hundreds of other images we've seen of these individuals? One image among hundreds of the same. The paintings are a paean to the seductive and the beautiful surface and no more. Whatever they're trying to sell, however hard they're trying, I'm not buying it.
It's not for nothing that Yeo has been compared to the fashion and magazine photographer Annie Leibovitz. Yeo doesn't appear to be unduly concerned by the association. He painted Miller on a previous occasion when she was heavily pregnant, in an image that owes an obvious debt to Leibovitch's most famous photograph: Demi Moore pregnant on the cover of Vanity Fair in 1991.
But I leave the display in a generous mood, for the painting of model Erin O'Connor (pictured above right), her back sinuous, her face in half profile, is both seductive and beautiful and much more besides. It reminds you a bit of Klimt – her skin sheeny and golden but without the gold leaf – and those great and glamorous Vienna Secession portraits, to which I suppose it's a kind of homage. It's very striking. You want to look at it more than once, more than twice. This is surface with a bit more traction.
Yeo is the closest we have to a latter-day society portraitist in the spirit of Joshua Reynolds
Explore topics
Share this article