How To Be A World Music Star, BBC Four |

reviews, news & interviews
How To Be A World Music Star, BBC Four
How To Be A World Music Star, BBC Four
Having mostly ignored world music, BBC Four plays catch up - too little, too late?
Tinariwen: world music stars with attitude
This was a somewhat nostalgic look at the rise of "World Music" as a genre, starting in the Eighties when the term was first used, essentially as a marketing tool. As the ever ebullient Andy Kershaw put it, the problem was where in record stores "you could put a choir of Bulgarian tractor drivers next to some hot shot guitar slinger from Guinea-Bissau".
And as another talking head - and there lots of mainly good ones - pointed out, there was an urge for something a bit more real, more connected, more spiritual even, than either the gloss of Eighties mainstream pop or earnest indie-rock was providing.
There was a sense in the tone that the film was considering a slightly odd cultural phenomenon, akin to air guitar playing or sumo wrestling. In fact, as music is such an important part of culture ("all art aspires to the condition of music," as Walter Pater memorably put it), this was actually a tour of some of the best music on the entire planet of the last 30 years.
The BBC would never had the gumption to make a TV documentary from Cuba on the Buena Vistas
As I tend to point out - and did for this programme but ended on the cutting-room floor - in the Eighties my local high street had a Wimpy bar and a curry house and now has myriad nationalities represented, and everything from football teams to finance have globalised. And yet music in the media stubbornly remains mainly Anglo-Saxon, give or take the odd freakish hit from elsewhere.
This was good on some of the reasons why world music didn't storm the charts as it might have done. The artists (and big record companies) wanted their music to sound like Michael Jackson, the world music enthusiasts wanted "dirt". As a result, once they had major backing, the polished productions of groups like the Bhundu Boys and Baaba Maal didn't work for either audiences. And the category itself may well have marginalised potential best-sellers

There were good reminiscences of the early Eighties where, pre-internet, seemingly only a couple of hundred enthusiasts would swap tapes of their latest discoveries and patronise the only African music shop in the country. There was a certain revisionism going on as well – Malcolm McLaren did his South African-inspired hit Duck Rock album several years before Paul Simon's relatively wishy-washy Graceland.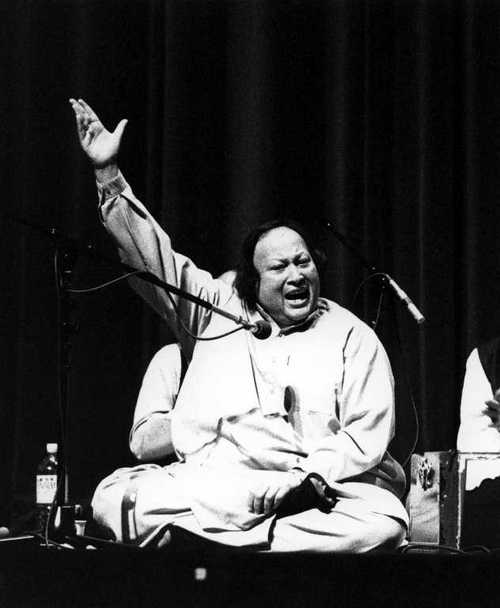 Despite some inspiring footage, I was left with the thought that the real reason world music didn't take off in the UK had a lot to do with television. In countries where people were exposed to the good stuff on TV, from Cesaria Evora, to Manu Chao or Amadou and Mariam (million sellers all elsewhere but not mentioned) people loved it and bought it.
All these artists – and others who were mentioned such as desert rockers Tinawiren and the sublime Nusrat Fateh Ali Khan (pictured left) - are major artists with sufficiently interesting stories which would have made eye-opening documentary subjects as Wim Wenders acheived in The Buena Vista Social Club. Many were ignored by TV.
The BBC and other TV companies did make endless documentaries about dull rock bands - The Making Of Bad Company's Most Boring Album and such like - but never had the gumption to make a programme about the Buena Vistas which had everything going for it – wonderful music, amazing stories, great backdrops and political undertones. Many of these artists are now dead, such as Fela Kuti with his 18 wives and personal magician, and they missed the boat.
Last year there were great films to be made on D'banj and Pussy Riot, not to mention Africa Express. Even BBC radio hasn't replaced the globalised Andy Kershaw and Charlie Gillett shows on Radio 1 and Radio London and world music seems to be confined to graveyard slots on Radio 3. Charlie Gillett, briefly seen in this documentary, told me shortly before he died that there was more foreign-language music on radio and TV in the Fifties than now. There were in the past, thirty years or so ago, documentaries like Jeremy Marre's excellent Beats Of The Heart and fascinating Arenas as from Salvador in Brazil and Havana. There is a short season of "world music" on this week on BBC4, including a Flamenco TV documentary, and Marre's welcome return for a look at Youssou N'Dour, but it does feel like too little, too late,
Meanwhile, these days was it 300 BBC types went off to Glasto to film the Rolling Stones et al? If there is a sense world music is on the wane, that's partly due to the lack of television support, and partly to the waves of globalisation and the internet changing the game so that everything and everywhere needs to be right-here-right-now. At the moment, the days of any interesting world music artists selling a million albums seem a long time gone.