theartsdesk Q&A: Musician Frank Turner |

reviews, news & interviews
theartsdesk Q&A: Musician Frank Turner
theartsdesk Q&A: Musician Frank Turner
Folk-punk troubadour talks festival season, feuds and why he always picks his own support bands
Frank Turner: 'I want to help out my friends and I want to help out bands that I think deserve it'
In a world of reality television show winners and interchangeable flash-in-the-pan singer-songwriter critical darlings, Frank Turner stands apart as the real deal. Over the past 18 months, you'd have been forgiven for thinking that Turner had appeared as if from nowhere and his name was suddenly everywhere.
But the groundwork for the songwriter's considerable recent successes - a pre-show slot at the London Olympics Opening Ceremony (
pictured below
), a sell-out show at Wembley Arena, his latest album reaching the top of the iTunes Chart and number two on the Official UK Album Chart - has been a long time laid.
Denizens of what Turner himself came to dub "toilet circuit touring stops" in "I Still Believe", the opening track to his 2010 Rock & Roll EP, have long grown accustomed to his face, whether in post-punk hardcore bands Kneejerk and Million Dead or promoting four previous albums under his own name on his "never-ending tour of everywhere". Since the release of the Campfire Punkrock EP and Sleep is for the Week, each album has been steadily more successful than the last as Turner's reputation for heart-on-sleeve lyrics and memorable live shows spread.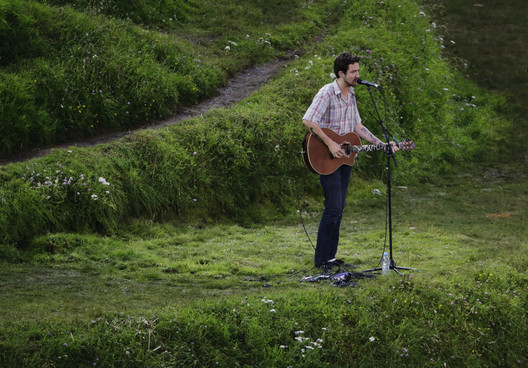 But increasing popularity has not come without its pitfalls. In September 2012, a Guardian journalist came across a thread on an online messageboard which pointed out that Turner's politics deviated from those you would normally expect of a man who penned the song "Thatcher Fucked the Kids". When coupled with the songwriter's privileged background - he was a classmate of Prince William's at Eton, albeit one who attended on a scholarship - the publication of snippets from historical interviews on the Guardian's website brewed up a classic "twitterstorm", just as he was departing on a US tour. Turner later told the paper that he received "close to a hundred death threats a day" when he gave an interview to promote this year's successful Tape Deck Heart.
On his latest album, Turner puts his politics (which, for the record, he describes as "classically liberal", along the lines of Smith and Stuart Mill) to one side to deliver an album about love, loss, heartbreak and the coping mechanisms that get you through it all. Sometimes, as on lead single "Recovery", these are buried in jaunty choruses and effervescent wordplay; sometimes, as on the gut-wrenching "Tell Tale Signs", they are not. But when theartsdesk speaks to Turner it's in the middle of his favourite time of the year: festival season, just after a weekend spent at T in the Park and Gloucestershire's 2000 Trees festival, which he headlined with his band The Sleeping Souls, and before slots at Reading and Leeds.
LIS FERLA: So, two festivals in the one weekend - they do like to keep you busy, don't they?
FRANK TURNER: It keeps me out of trouble. They're two very different festivals, T and 2000 Trees: Trees is kind of like... home, for me. I know the people that run it. We headlined, but I actually ended up playing five times in two days. It's "my" festival, if you know what I mean. T in the Park is obviously a very different thing, but it was great: we had easily the best T that we'd had so far, and I think that was my third or fourth time playing there.
What is your favourite thing about festival season, and playing to a "festival crowd"?
The thing about festivals is that they are an opportunity to make new friends. You get people who might not splash out on buying tickets to come and see you at a gig, but they're at the festival anyway and they'll swing by. So it's an opportunity to impress new people, and then hopefully the next time you tour they'll come to the shows. I think festivals can throw up more surprises too. My favourite festival shows are the ones where you go into it not sure of how it's going to be or not expecting very much out of it, and you have a great reaction.
Probably the best one of those I'd had was last year, when I played a festival in the Czech Republic. I'd never been there before and I had no idea how it was going to go or even if anyone in the Czech Republic knew who I was. It was awesome: everyone went crazy, and we had a really good time.
Is performing to a potentially new crowd something that you find daunting at all? Does it affect the choice of setlist, for example? I noticed at T that you played a lot of upbeat songs - is that a conscious thing?
I think it is. I think the main thing you have to remember is, at a festival, you are playing to people who have already seen 10 bands that day. You can't mess around with your setlist - you've got to give people a sugar rush, if you know what I mean. It's not the time to do the experimental ten-minute Leonard Cohen cover or whatever - you want to play a short, sharp and exciting set, just because everybody has a natural attention span and there's only so much chin-stroking that anyone can do at any one time. Especially if it's anything other than day one of the festival, and people have just had a bad night's sleep and they're drunk. It's about keeping things snappy.
Although one experimental thing that you do is getting everybody to sit down and jump up at the end of "Photosynthesis". What inspired that trick, was it just the nature of the line "I won't sit down and I won't shut up"?
That whole thing started at a festival! At the Highfield Festival in Germany, many years ago, a bunch of people actually did that unprompted. In all honesty, I thought that they were staging a protest against my set and it really bummed me out - and then they all jumped up again at the same time. It was such a magic moment.
I did it at the Wembley show, so it's on the DVD (see clip below); and it's turned into a thing that people do now anyway, whether or not I ask them to. It's one of those things that if some people start to do, you might as well get everybody on board because it's going to be fun. I don't want it to turn into a thing that always, 100 per cent predictably happens at my shows, but if people choose to make it that way then it will be that. It's a really simplistic thing, but it's a cool way of making sure that everybody gets physically involved in what's happening. And that's one of my big ideological bugbears, if you like - I want everybody who comes to a show to be involved in what's happening and not just be passive spectators. That's boring. I want people to feel like they're a part of what's going on.
It's fair to say that your last album, Tape Deck Heart, has been your most successful to date in terms of reception, chart position, sell-out shows etc. Has it changed you, or your approach to your career at all?
It's difficult to say. The first thing that I should say is that not only do I reserve the right to change, I think that it is important to change as an artist. Occasionally I get people who come up to me - maybe older fans, or whatever - and in a slightly accusatory tone of voice they'll go "you've changed!" And I go "Yeah!" That's the fucking point, isn't it? Isn't that what we're trying to do here? I mean, who wants to be the same person for their entire life - to not change, develop and grow? If I drive around the entire world and do 14 hundred shows and come back the exact same person as I was when I left then I'm obviously not paying that much attention.
That said, I don't think it's changed my business ethics or anything like that, but it's certainly interesting and exciting to me to be in new pastures and to be able to try new things. And it's also very nice when lots of people buy your album: it makes me feel good, and it makes my mum think I've got a real job.
I want to help out my friends and I want to help out bands that I think deserve it
The new album is out on a major label, Interscope, internationally but has been released in the UK on the same Xtra Mile label that has released your music since the beginning. Was it important to you to stick with an independent label?
Well, it was important for me to stick with Xtra Mile - not just any independent label. Xtra Mile are basically my family; I've been with them since day one - they put out Million Dead's records as well. When I first announced to the world that I was going to start playing acoustic guitar everybody thought I was mental and that it wouldn't last, but Xtra Mile were one of the few groups of people who thought "alright, let's see where this goes". I'm godfather to the children of everyone who works at the label, we hang out at weekends - it's not even a business relationship anymore, it's familial. There was never any moment that I was going to stop working with Xtra Mile.
Having said that, it's exciting both for them and for me to license songs to larger labels for this release, and to see where we can take it. It's good for the label, and it's good for the all the other bands on the label; and Xtra Mile remains an amazing force for discovering, signing up and promoting new bands.
One of the things that has always impressed me about your tours is your support for up-and-coming bands - I'm thinking of Larry and his Flask in particular, who opened for you on your most recent UK tour. Do you always pick those bands yourself?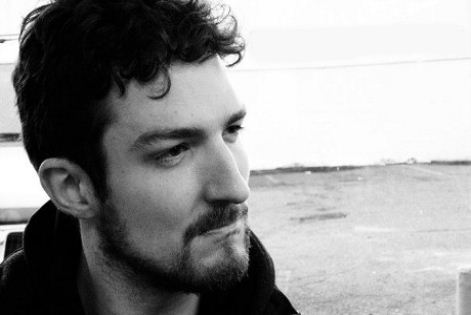 Yes, I do. It's very important to me on a number of levels. Partly because I want the people who buy tickets to see my shows to get a full evening's entertainment; I don't want them to have to sit through a bunch of shit bands that have bought their way onto the bill. I want people to see a great show - and Larry and his Flask are probably one of the best examples of that, I honestly think that they're one of the best live bands I've ever seen in my life.
So that's part of it, but the other thing is that I want to help out my friends and I want to help out bands that I think deserve it. A big part of that is because that's how I got anywhere: bigger bands took me under their wing and took me out on tour - Dropkick Murphys, Social Distortion, Flogging Molly, Offspring, people like that. They've all given me an opportunity in that way, and the only thanks that those bands ever asked of me is that when I was in a similar situation I would pass it on, pay it forward. Whenever bands that I tour with ever say that they don't know how to repay me that's the answer that I give: I say when you're the biggest band in the world, take out smaller bands on tour that you care about and give them a chance.
Who are you listening to at the moment?
I've got two new obsessions in my life right now. One of them is a singer-songwriter called Sam Russo. He's a guy that I've known for quite a while actually: basically, he used to busk the queue at my shows a very long time ago, which I thought was pretty fucking punk - I was all in favour of that. So I've vaguely known of him for a long time, but I hadn't heard him play recently - like, for a good three or four years - until the other day, when I saw him opening for Tim Barry, and he was absolutely brilliant.
There's also a band called Felix Hagan and the Family, who I stumbled across a little while ago and still can't quite get my head around. They're completely different - a completely weird, slightly theatrical, crazy little folk-rock band. I'm actually going to see them tonight, again - they're incredible live.
Going back to the new album, it comes across as one of the most personal things you've ever done. You've not been shy about what inspired it - that it was in part a break-up album - but I was wondering if it was in any way a reaction to some of the recent press coverage surrounding your politics. Did you decide that you would just write about yourself instead?
Partly. I mean, that's not the complete and total reasoning for it - it's a little bit more complicated than that. Certainly the furore around politics in the press that went down with me put me off the idea of discussing politics in public. I just can't be bothered, to be honest with you. It seems impossible to have a rational, level-headed debate without a million people saying that they want to kill you for disagreeing with them. I've got better things to do with my time.
But it wasn't just that. I think that [previous album] England Keep My Bones was quite a grandiose record: it was about England, it was about death. And that's fine, as far as it goes, but I didn't want to go too far down that road, because otherwise you turn into Muse and that's not really where I want to be lyrically. I thought it would be more interesting, if almost counterintuitive - particularly since I knew, on the label side of things, that it was going to be a bigger album - to focus inwards rather than outwards at that point in my career.
Since you're not a shy and retiring figure in any way, do you think you'll ever go back to writing and performing political songs like "Sons of Liberty" (see video above) again?
I can see it being a thing at some point in my life, but I think I would be more likely to sit down and write an entire political album. The thing is I would need to build up a reserve of strength and energy for dealing with arseholes before I did that. I have mixed feelings about it. On the one hand, I don't want to be persecuted out of what I believe in, and the one thing that I would say about what happened with my politics and the Guardian is I do feel - if I do say so myself - pretty fucking punk about the whole thing, because what happened was I got castigated for saying something that I believed in public and I didn't back down about it. And that, actually, is what punk rock is supposed to be about. I feel like I stood my ground, I weathered the storm and I feel pretty good about that. But at the same time, I'm not really interested in kicking up a massive fuss about the whole thing again right now. Maybe at some point in the future, but not for the time being.
Although Tape Deck Heart and England Keep My Bones are, as we have discussed, very different albums, with its modern-mythological feel the song "Fisher King Blues" seems like a bit of a connection between the two. Can you tell me what that song is about?
One of the things I like about that song is that I am genuinely not entirely sure what it is about. Sometimes I think that's a really healthy, really positive thing because it means that the song is multi-faceted.
Some songs start off with what I call "soundcheck riffs", which is when you're soundchecking at a show, and you just start noodling around with something, and the next day you play it again and you realise it is actually pretty cool. "Fisher King Blues" grew out of a soundcheck riff. Personally, I think you can tell from listening to the song that it's one of those songs that grew organically - it wasn't like I knew where the song was going to end when I started writing it. And I like the way that, when you start listening to the song - even me, even now, every time I listen to it - I'm always slightly surprised about where it ends, given where it started.
You recently asked on your website for people to send in pictures of their Frank Turner-inspired tattoos. What are your plans for those?
That was for a music video. There are loads of people who have tattoos related to my music - there's a Facebook group, there are a good six or seven hundred people that I have seen with these tattoos. It's kind of become a thing, and at first I thought it was a bit freaky, and then I thought it was very cool, and then I thought it was freaky again, and now I think it's cool again. Who knows where I'll end up next week. But, you know, it's a thing that exists. The next single from the album is going to be the song "Losing Days", and we were putting together a tattoo-themed music video (below), so we were just gathering some extras for that.
I like "Losing Days" a lot, although it almost seems to have an opposite message to that of the older song "Photosynthesis" that you have been playing a lot recently. Does that feel like a contradiction to you?
I'm not sure that I'd call it a contradiction - more like two sides of a similar coin. I think "Photosynthesis" is about attitude, and "Losing Days" is about physicality. I still feel young and punk in my mind, but my body sometimes disagrees with me.
As for your own tattoos - you've got loads of them; you've had them done onstage; the song "Tattoos", a bonus track on the album, is about them. Do they still feel meaningful to you, now that you've had so many, and what are your favourites?
They definitely still feel meaningful to me. I'm really into tattoo culture, imagery and art and the aesthetic and the history of it. Plus, the other thing about tattoos is that you earn them by virtue of the fact that they hurt like hell. I got the inside of my upper arm done the other day, and that really hurt.
I think my favourite tattoo is probably my lucky 13. A lot of tattoo culture comes from the circus, and in the circus there was a tradition - as carneys in particular have always been considered to be social outcasts because they are transitory people who move around - that if 13 was an unlucky number for normal people then that meant that it had to be a lucky number for the outsiders. So the number 13 has become a lucky number in the circus, and in the tattoo world. And there's a tradition that if you ask a tattooist for a black 13 tattoo on any Friday the 13th, they have to do it for you for free - and that's what I got done on one of my fingers. I love it.
You've collaborated with loads of musicians, on stage in particular, recently including Emily Barker and the Hold Steady. Is there anybody who is still on your wishlist?
Craig [Finn, of the Hold Steady] called me up - that was a really big deal as they are one of my favourite bands. I've met Adam Duritz from Counting Crows - I'm an enormous Counting Crows fan, they were one of my formative bands. He's a nice dude, but I've never actually played music with him. That would be cool.
Apart from the new single, and Reading and Leeds, what have you got coming up?
I've got a huge UK tour coming up, that I'm not allowed to announce until after Reading and Leeds. So on the Tuesday after that weekend, there will be a massive tour announcement.
I got castigated for saying something that I believed in public and I didn't back down about it
Explore topics
Share this article