Prom 19: Tristan und Isolde, BBC Symphony Orchestra, Bychkov |

reviews, news & interviews
Prom 19: Tristan und Isolde, BBC Symphony Orchestra, Bychkov
Prom 19: Tristan und Isolde, BBC Symphony Orchestra, Bychkov
The Russian conductor and a thoroughly rehearsed BBCSO capture every vivid moment of Wagner's score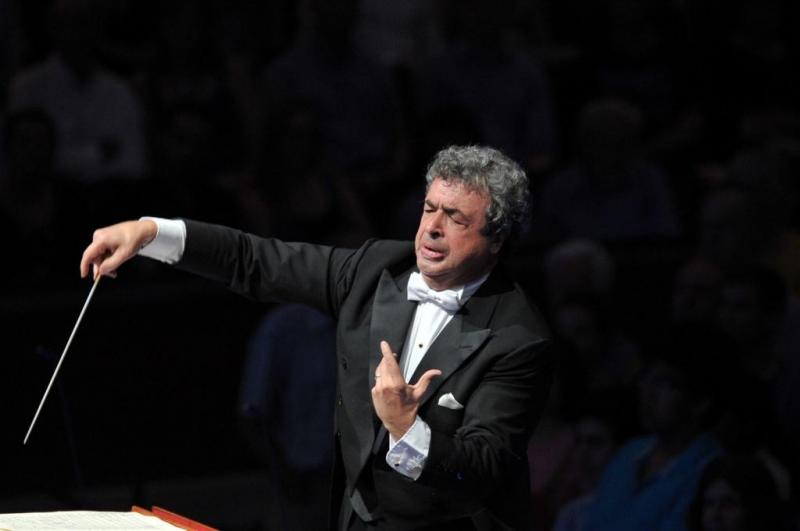 Semyon Bychkov in full flight
Such has been the justifiable flow of superlatives this week about the Berlin Staatskapelle's Ring conducted by Barenboim, the centrepiece of the BBC Proms' Wagner bicentenary celebration, it would have been easy to forget that the 2013 Proms season contains not just those four, but seven complete Wagner operas.
Last night's performance of Tristan und Isolde was placed – respecting the chronological order in which Wagner composed them - between the Berliners' Siegfried on Friday and Götterdammerung on Sunday.
The performance which Bychkov coaxed from all sections of the BBCSO was a fabulous display of versatility and sheer quality
Wagnerian completists in the audience can never get enough Wagner, especially around bicentenary time. The achievement of the promenaders who stood last night for five hours of Wagner is impressive - some of them will have been up at the rail for over 20 hours this week. However, the really long hours and the deeper involvement came from the performers. Conductor Semyon Bychkov had been granted 20 rehearsals prior to this performance of the Schott edition, complete and uncut, with the BBC Symphony orchestra, or a total of 60 hours.
Bychkov, who has performed the opera in Paris, Chicago and Vienna, also brought his particularly strong and deep association with the piece (there is more on that topic, and the "monster" which he says Wagner created, in his interview with theartsdesk). This thoroughness in preparation - which London orchestras are allowed only rarely - reaped its rewards. Wagner specifically asks in the preface to the score for the solo cor anglais player to be outstanding, and for the strings to be "superbly good and strong". Last night, both definitely were. Indeed, the performance which Bychkov coaxed from all sections of the BBC Symphony Orchestra was a fabulous display of versatility and sheer quality. And with the orchestra on stage, it also made them into a real, visible protagonist.
When Wagner wrote his own libretto for Tristan, he pared down the story from the medieval poem, made it much more an internalised and psychological drama. He also removed just about all of Gottfried von Strassburg's colourful wildlife. Confronted with Wagner, people who know and love the Gottfried poem miss the songbirds, the falcons, the Spanish horses, those wild boars frothing at the mouth. Put the orchestra on stage, and those beasts and their primitive instincts are somehow magically back.
Continued Overleaf
The finest moments last night mostly involved the Lithuanian soprano Violeta Urmana (pictured below). Wagner requires Isolde to stroke and caress one phrase, to snarl and hiss the next, to belt out another so that it hits the back wall of a huge theatre. Every flickering change in mood in her vocal part invokes a different adventure in orchestration. Those feverish string tremolandos, soaring wind figures, heaped-up horn calls brought vividness and reflected truth to Urmana's characterisation of Isolde.
The role of Tristan makes huge demands on a Heldentenor. John Mitchinson reckoned it took him a week to recover every time he sang it. Jon Vickers talked about "wrestling" with it. From where I sat in the hall, Robert Dean Smith, an 11th-hour replacement for Peter Seiffert, appeared to be having a difficult night in the cavernous Royal Albert Hall, showing signs of vocal strain. He was sometimes overpowered by the orchestra and his vocal line got lost. It remains to be seen whether those impressions are reinforced or refuted when this performance is televised on 1 September.
The audience definitely warmed to the Japanese mezzo soprano, Mihoko Fujimura, singing Brangaene, and to the Korean bass Kwanchul Youn (King Mark), and gave them huge applause at the end. I found Fujimura at her most convincing in an ethereal "Einsam Wachend" in Act 2, sung from the organ loft. I was less affected by her expressions of both agitation and warmth, but she is a fascinating singer, and clearly made her mark. Youn, similarly, was at his most effective when being conciliatory in Act 3. In his protestations of being betrayed in Act 2, his bass clarinet alter ego - the remarkable, full-toned Katherine Lacy - seemed to draw the attention away from him.
As Kurwenal, Boaz Daniel was characterful, musical and strong. Smaller parts were well taken - notably by Andrew Staples as a beautifully lyrical Young Sailor and a tender Shepherd, and David Wilson-Johnson as a menacing Melot.
Bychkov holds a conducting chair with the BBC Symphony named after the German maestro Günter Wand, who would have been 101 this year. Wand had bitter-sweet memories of Tristan which, late in life, he explained to his biographer Wolfgang Seifert: he had wanted to employ Salvador Dalí as the designer and Ingmar Bergman as the director for a production in Cologne in the 1960s. Wand believed in his plans, was convinced he could make them happen, and had felt let down by the response he got back from colleagues in Cologne: "They would all look at me all sympathetically, as if I'd completely snapped."
Last night's Tristan und Isolde conveyed, in the mind's ear, both the psychological depth of Bergman and the surreal imagination of Dalí. Günter Wand would have smiled.
Prom 19 will be broadcast on BBC Four on 1 September
This thoroughness in preparation - which London orchestras are allowed only rarely - reaped its rewards
rating
Share this article