Disgraced, Bush Theatre |

reviews, news & interviews
Disgraced, Bush Theatre
Disgraced, Bush Theatre
Pulitzer Prize-winning drama examines cultural identity with insight and intelligence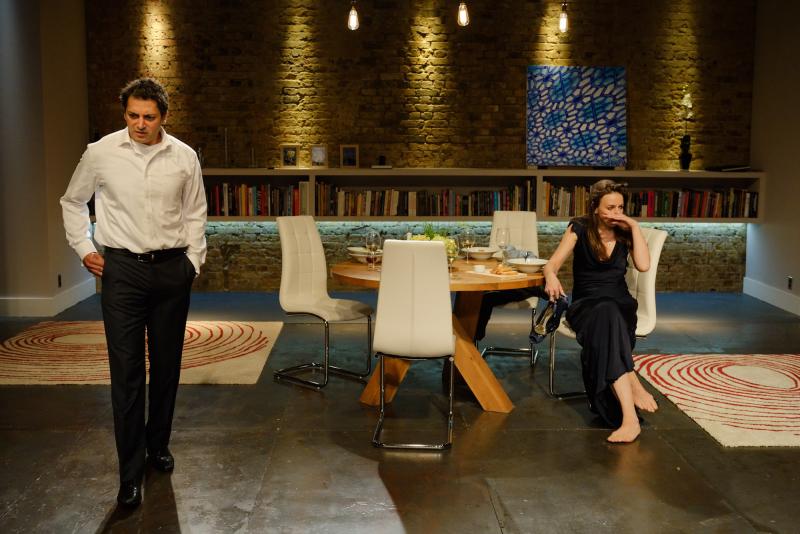 Cultural divide: Hari Dhillon and Kirsty Bushell in 'Disgraced'
There's one big problem about being an Asian actor in America — you just don't get the big parts. So the multitalented Ayad Akhtar put acting on hold, and turned to screen writing, producing The War Within, a film about jihadism. Then he tried playwriting and his debut, Disgraced, struck gold: after it was a big hit in Chicago and New York, it won this year's Pulitzer Prize for Drama.
It starts really neatly: we are in a chic Upper East Side apartment, and the first sight we get of Amir, a successful corporate lawyer, is of a man in his underpants. He is posing for a drawing by his wife, Emily, an artist at a crossroads in her career. But this glimpse at a hot couple whose domestic harmony is tastefully sexy is interrupted by Amir's nephew Abe, who wants his uncle to help a local Iman who has been unjustly accused.
As tempers begin to warm, the conflict ranges widely
This immediately precipitates a conflict: Amir comes from a Muslim family but doesn't practice any religion, and doesn't want to get involved in religious or political cases. Abe, whose name was originally Hussein, is rediscovering his Muslim roots and makes the case for defending the Imam. Very quickly, prejudices about who Muslims are and what they think begin to taint this modern loft apartment, with its sleek furnishing and La Dolce Vita poster.
Deftly prepared, the issues of this play of ideas take a while to heat up. And they only really start cooking in the central dinner party scene. Amir and Emily have invited Isaac, a gallery owner, and his African-American wife Jory, a legal colleague of Amir's. By now, Amir is conflicted between doing what his wife wants (supporting the Imam) and pursuing his career (keeping a low profile). After some friendly chit-chat, the dinner party soon escalates into a full-scale conflict as Isaac begins to provoke Amir.
As well as the issue of militant Islam — and there are some provocative lines about 9/11 — the discussion covers individual identity and the conflict between Jews and Muslims. As tempers begin to warm, the conflict ranges widely over the influence of Islam on Western art and culture. A picture emerges of America as a paranoid society where what you call the country your parents come from (India or Pakistan) or your birth name (Kapoor or Abdullah) can be dynamite.
Akhtar writes with the cool efficiency of an experienced script writer. The plotting is flawless, the exchanges are witty and the conflicts are clear. At the same time, the first two scenes end rather abruptly and the only character that is fully realised is Amir. This is more of a cerebral play than a drama torn from the gut. There is a veneer of politeness that even the extreme moments can't quite shake off, and half the characters are a bit underwritten.
Still, Nadia Fall's entertaining production makes the most of Akhtar's zinging one-liners and ideas about cultural identity. The laughs balance the serious thought-provoking insights and the performances are spot on. As Amir, Hari Dhillon really shines, a fine performance that shows the costs of his compromises with ambition. His wife (Kirsty Bushell) is convincingly naive and idealistic, while Nigel Whitney and Sara Powell are fine as their guests (all pictured above right). Danny Ashok makes the most of Abe. With the Woolwich killing happening on the same day as the press night of this show, there is no need to stress this production's relevance. It is an intelligent and dramatically satisfying evening.
The issues of this play of ideas take a while to heat up — and they only start cooking in the dinner party scene
rating
Share this article