The Reluctant Fundamentalist |

reviews, news & interviews
The Reluctant Fundamentalist
The Reluctant Fundamentalist
Some subtleties lost in adaptation of Mohsin Hamid's bestselling plea for understanding
'I love the US!' Riz Ahmed and Liev Schreiber get down to fundamentals
Just like Vietnam in 1970s, the so-called War on Terror has been a boon to filmmakers. It has allowed Hollywood to send another generation of buff leading males off to the front and, as the ordnance explodes, bravely question why it is that they are there. However, there's not been a lot of mainstream filmmaking which puts the Muslim point of view.
The Reluctant Fundamentalist
– in which a Wall Street highflyer from Pakistan heads home after 9/11 to be among his own troubled people - redresses an imbalance.
Indian director Mira Nair caught sight of the slender novel by Mohsin Hamid before it went to press, and pounced. As in the book, Changez Khan (Riz Ahmed) recounts his tale to a shadowy American (Liev Schreiber) in a sweaty Lahore tea shop. The son of a cash-strapped poet (Om Puri), he attended an Ivy League university and duly hustled his way into to a top job at a bank described as "the Navy Seals of financing". His rise is swift under the wing of an admiring boss (Kiefer Sutherland in specs), even after the planes fly into the Twin Towers and jingoistic paranoia finds US border agents strip-searching him and the FBI interrogating him as a potential terrorist. "I love the US!" he assures them.
But the American dream starts to pall when his preppy artist girlfriend Erica (Kate Hudson, lobbed a hand grenade of a role somewhat altered from the book) turns their mixed-race relationship into a trendy installation. He finally has his Damascene conversion when he flies to Istanbul to sell off a venerable publishing house. The asset-stripping fundamentalists of Wall Street, argues the condemned editor (Haluk Bilginer, in a stately cameo), cannot put a price on culture. (Pictured above, Sutherland and Hudson)
So now Changez is back in Pakistan, a born-again Muslim academic who may or may not know the whereabouts of a kidnapped American professor. This is where fans of the book will need to prepare for some recalibration. The listener to whom he tells his story is a journalist who might be more embroiled than he will admit in the search for the missing professor, who himself may not be all he seems. The journalist, whose suggestive surname is Lincoln, wants answers. But, as Changez tries to explain, between self-righeous American capitalism and fiery Muslim radicalism there is a world of unexplored nuance.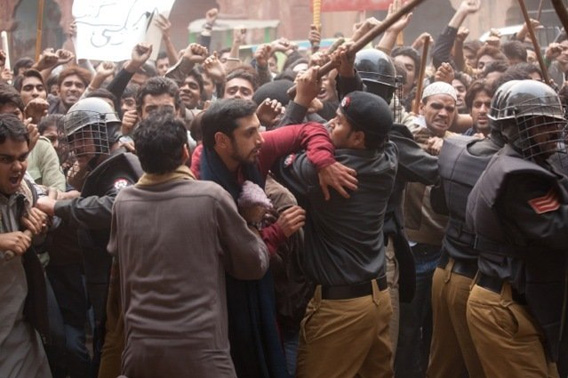 Best known for earthy depictions of the subcontinent in Salaam Bombay and Monsoon Wedding, Nair has less form as a literary adapter. With a bit of help from Julian Fellowes, her account of Vanity Fair contrived to do away with Thackeray's mordant wit. Lliam Wheeler's script has a bravura opening, an almost wordless sequence in which the professor's night-time abduction on a bustling street is intercut with Changez's family gathering for a joyous Qawwali celebration. Whether these scenes are in some way connected is the loaded question which turns The Reluctant Fundamentalist into a vanilla kind of thriller.
In between, as we cut from the chaos of rowdy Lahore to the glass and steel of hyper-Darwinian Manhattan, there is no getting away from the longueurs. "Some truths take their time," says Changez. So does Nair, especially in Istanbul, where the gateway between west and east is shot with lingering awe. In the circumstances, the CIA's eavesdroppers feel like aliens from a Hollywood action film, teleported in to ramp up the suspense. The two leads are cannily matched – Ahmed exudes a lovely semi-feminine sensibility, while Schreiber deftly embodies America's latent swagger. The Reluctant Fundamentalist makes its plea for sanity and understanding in a world of ideological certainties. You can only hope the hotheads who need to see it will be watching.
Watch the trailer for The Reluctant Fundamentalist