Classical CDs Weekly: Bach, Berlioz, Mythos Accordion Duo |

reviews, news & interviews
Classical CDs Weekly: Bach, Berlioz, Mythos Accordion Duo
Classical CDs Weekly: Bach, Berlioz, Mythos Accordion Duo
Choral spendour, both modestly proportioned and on a vast scale. Along with the best accordion duo on the planet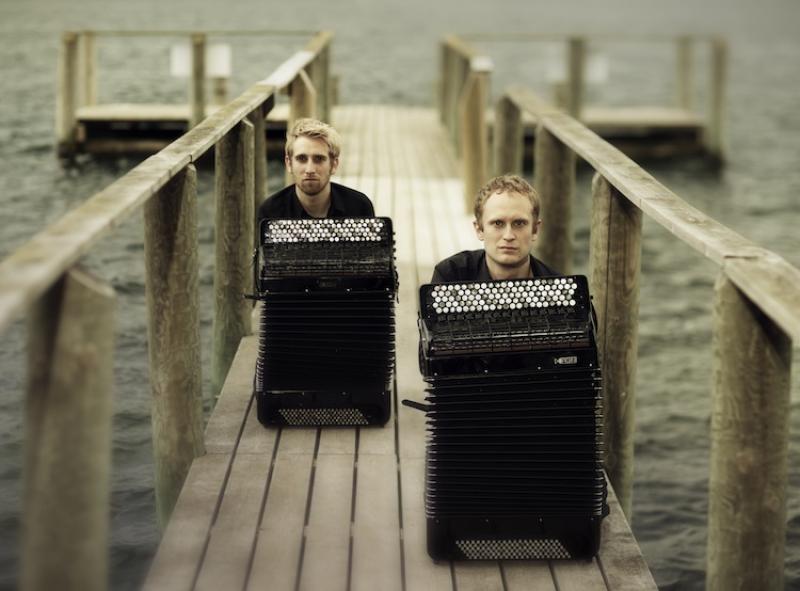 Mythos Accordion Duo: rhythmic punch and supernatural coordination
Bach: Cantatas for Ascension Day The Monteverdi Choir, English Baroque Soloists/John Eliot Gardiner (SDG)
The final volume in John Eliot Gardiner's mammoth Bach Cantata sequence is one of the very best. Gardiner's recent BBC2 documentary placed rightful emphasis on Bach's humanity, his normality. The devout will find plenty of weighty religiosity in the four cantatas assembled here, but they're also full of zest and vigour. Sample the opening chorus of Gott fähret auf mit Jauschen and smile at Bach's unerring ability to compose music which exactly reflects the texts he sets. "God is gone up with a shout", sing the Monteverdi Choir. The first minute is a little staid, before the music suddenly lurches forward into an exuberant, trumpet-led dance. Bass Dietrich Henschel's solos are magnificent, and Gardiner's sprightly direction allows him to soar. These cantatas do peculiar things with one's sense of time; each one packs an inordinate amount of musical and philosophical content into a compact space.
Marvel at the opening of Lobett Gott in seinen Reichen, a brassy eruption of joy complemented in sublime fashion by a closing chorus which carries an emotional weight wholly out of proportion to its four-minute duration. This disc is full of such small miracles. The performances are incredibly assured, with tight, rich choral singing and orchestral playing full of felicitous detail. Several wonderful oboe da caccia solos stand out, and all is contained within the not-too-resonant acoustic of St Giles' Cripplegate where it was recorded in May 2012. These cantatas were to have been recorded in Salisbury in 2000, but "noise issues" intervened - this disc was made possible by 2500 volunteer donors offering £20 each to fund the concerts.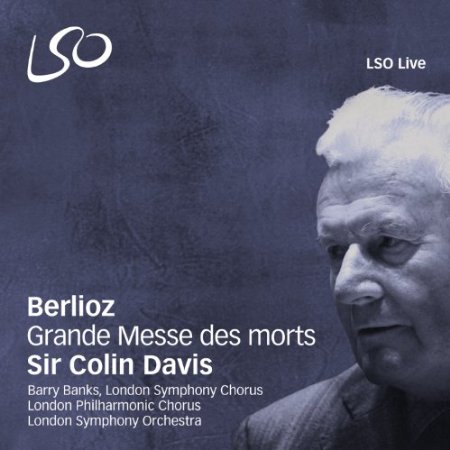 Berlioz: Grande Messe des morts Barry Banks (tenor) London Symphony Choir, London Philharmonic Choir, London Symphony Orchestra/Sir Colin Davis (LSO Live)
This is superb stuff – a wondrous, fitting swansong from one of the most consistent artistic partnerships of the last 20 years. Berlioz's Grande Messe des morts has to be one of the least depressing of Requiem settings. This was a composer incapable of writing maudlin music, and this work teems with subversive quirkiness. Berlioz's instrumentation is suitably lavish at key moments, and the futuristic sonic eruptions in the Dies irae, with extra brass groups placed at the four corners of the performance space, sound suitably apocalyptic, the resonance of the St Paul's acoustic magnificently tamed by producer James Mallinson. This pair of CDs really needs to be enjoyed through a set of decent speakers; listening through crap headphones would be the sonic equivalent of sipping an expensive single malt from a polystyrene cup.
Sir Colin Davis's grip on the score is as sure as it ever was, the massed choral forces coordinated with unerring precision. He's always had an ear for Berlioz's quirky sense of orchestral colour. Soft cymbal strokes punctuate each phrase of the Sanctus with unearthly delicacy, and those spooky trombone and flute notes in the Hostias are bone-chilling. Tenor Barry Banks is excellent, his repeated cries in the ninth movement nicely set against the soft choral backing. This is an essential purchase – a first-rate reading of a religious work that combines both entertainment value and spiritual uplift.
Mythos Accordion Duo: Music by Stravinsky, Borodin, Tchaikovsky and Mussorgsky (Orchid Classics)
Bjarke Mogensen and Rasmus Scjæff Kjøller's duo take their name from the instruments they use – swanky Russian-made Pigini Mythos bayans, top-range members of the accordion family. As the sleeve notes point out, virtuosic players can perform the most extravagant of scores without compromising the music's essence. A few seconds' exposure to Mythos's version of Stravinsky's Petrushka will have most listeners grinning from ear to ear. The rhythmic punch, supernatural coordination and dynamic control on display are startling enough, but it's the rasping, transfiguring effect of the bayan sound that's key. This score sounds as if it could have been written for these players; both orchestral versions sound pale in comparism. Stravinsky's cleverly filched folk and popular tunes have never sounded so authentic; it's as if you're witnessing the action whilst knocking back vodka in a seedy bar. The composer would have loved it.
The couplings add to the appeal – a sensitive transcription of Borodin's In the Steppes of Central Asia and three witty numbers from Tchaikovsky's The Nutcracker. Better still is a rasping, sweaty assault upon Mussorgsky's Night on the Bare Mountain in the Rimsky Korsakov arrangement. Get past the entertaining fireworks to reach a slow, tacked-on epilogue that rarely sounds this convincing. This is a magical, life-enhancing disc – one that's already pencilled in near the top of my provisional end-of-year Best of 2013 list. Go out now and buy multiple copies - it's that good.
Watch Mythos play Stravinsky's Shrovetide Fair:
Stravinsky's cleverly filched folk and popular tunes have never sounded so authentic
Explore topics
Share this article