The Incredible Burt Wonderstone |

reviews, news & interviews
The Incredible Burt Wonderstone
The Incredible Burt Wonderstone
Spoof of Las Vegas magicians holds no surprises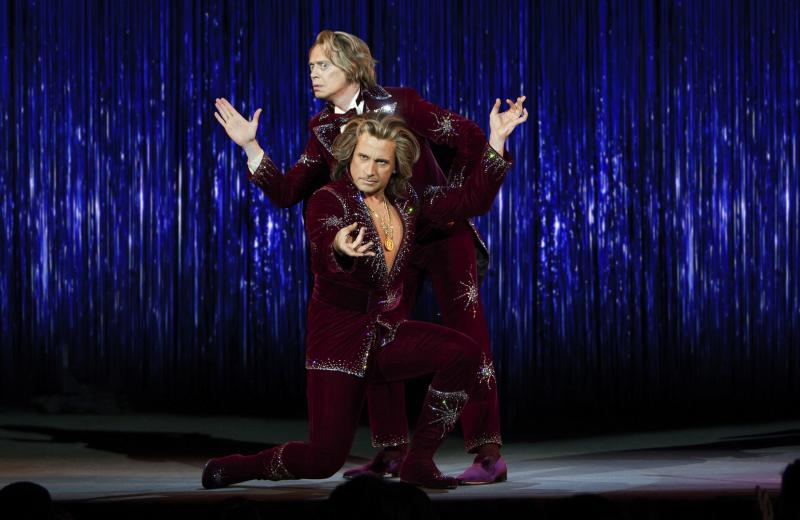 Double act: Steve Carell and Steve Buscemi as Las Vegas magicians
Anyone who has ever sat through a Las Vegas show – whether in the Nevada desert city or on tour – will instantly recognise the cheesy, overblown nonsense being lampooned throughout this movie. Whether they'll find it as funny is another matter.
For while
The Incredible Burt Wonderstone
has its moments, two thoughts interrupted my viewing enjoyment: one, the big-blown magic shows on the Strip are surely beyond parody; and two, if they are going to send them up, the makers of
The Incredible Burt Wonderstone
could have done it so much better.
But hey, it's funny enough to be getting on with. We start by seeing how Burt Wonderstone (Steve Carell) and his sidekick Anton (Steve Buscemi) met. They were two small Jewish kids forever being picked on by their bigger classmates, and magic both forged their friendship and saved them from more serious bullying.
Cut to the present day, when for years Burt and Anton's old-school shtick has worked its, er, magic, and Las Vegas hotel owner Doug Munny (James Gandolfini) has paid them huge bucks to do a nightly show. But now there is a new kid on the block, Steve Gray (Jim Carrey, pictured right), a badass street illusionist who doesn't so much do sleight of hand as slicing his face to entertain the crowds. They love him, and Burt and Anton start playing to half-empty houses as Gray becomes a YouTube hit. While Anton is ready to go with the times, Burt, a preening, self-deluding, perma-tanned hick, can't see why they should.
After a disastrous attempt to get down wiv da kids by doing a David Blaine-style trapped-in-a-box-for-days trick that lasts only a matter of minutes before Burt has a panic attack, Munny fires them, and Burt and Anton split. Burt goes bankrupt and the only work he can find is in a home for old entertainers, where he meets his childhood hero Rance Holloway (Alan Arkin), now a cantankerous old git. His former assistant Jane (Olivia Wilde), meanwhile, inexplicably takes pity on Burt (he was mean to her) and gradually shows him the error of his ways.
You can predict the rest - boy gets girl, friends reunite, upstart gets his comeuppance - as Jonathan Goldstein and John Francis Daley's screenplay doesn't veer far from tried and tested storylines. There are some clever digs at famous shows - "Cirque so lame" is mentioned, and there's a running gag involving a Bengal tiger that keeps mauling a Vegas showman, who always appears swathed in bandages - but the comedy never totally catches fire and it feels rather formulaic. Carell gets to wear some outrageous wigs, but he doesn't do nasty nastily enough, while Buscemi's role is under-written and Carrey reprises his wacky guy role yet again (although he's funny doing it).
That said, the film, directed by Don Scardino, runs along at an entertaining trot and Arkin steals every scene he's in.
The Incredible Burt Wonderstone is released on 15 March
Watch the trailer for The Incredible Burt Wonderstone
'Cirque so lame' is mentioned, and there's a running gag involving a Bengal tiger that keeps mauling a Vegas showman
rating
Share this article