Caesar Must Die |

reviews, news & interviews
Caesar Must Die
Caesar Must Die
Lean and intriguing adaptation of Julius Caesar performed in an Italian prison
Tuesday, 26 February 2013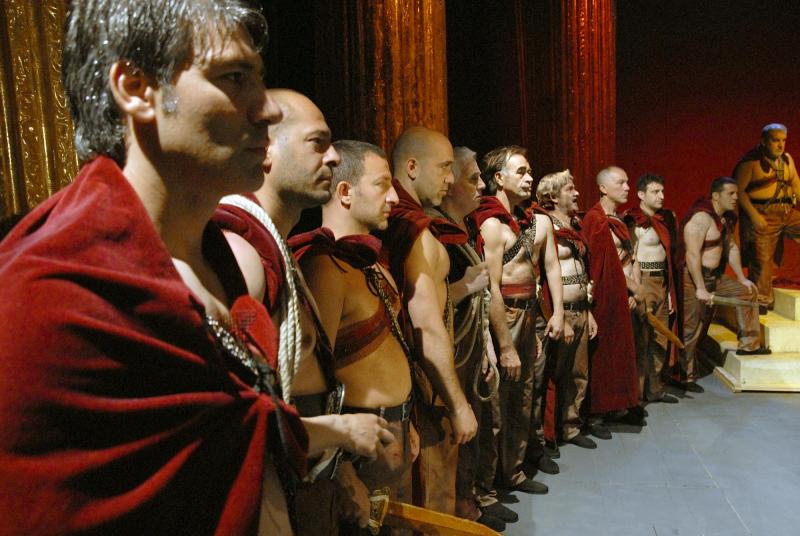 The cast of real prisoners in costume for the award-winning 'Caesar Must Die'
Shakespeare's Julius Caesar, set in an Italian prison, performed by criminals? If it sounds like a gimmick, the Taviani brothers' Caesar Must Die is anything but. Following a popular tradition of freshening up Shakespeare's works with a shift in setting or location (think 10 Things I Hate About You or Ran), the Tavianis' deft editing creates a lean and intriguing 76 minutes that outstrips three hour epics in meaning and depth.
Now in their eighties, the brothers are no strangers to effective cinema, with Padre, Padrone and Night of the Shooting Stars hallmarks of their time. Discovering Julius Caesar performed in an acting programme at Rome's Rebibbia Prison, they've made a unique film, addressing the bard's work with veteran confidence. Using an adroitly edited Italian version of Shakespeare's classic, they convey the eternal nature of power and its horrifying backlash.
Is this fiction we are watching or an outcrop of living fact?
Not only does the film open with the last act, the Tavianis follow through with the unbearably difficult alternative to falling on one's sword: the touching scene between Cassius and Pindarus where, man to man, one asks another to kill him as he cannot perform the necessary act himself. Poignant and evocative, this blurs Julius Caesar into something that seems almost too real. Could the actors have done something similar before they were put behind bars? Is this fiction we are watching or an outcrop of living fact?
Strangely enough, prison actors do not brutalise Shakespeare's finer moments. It focuses Caesar's story to a pointed piece of poetry, with arresting performances from non-professional actors Cosimo Rega as Cassius, Salvatore Striano as Brutus, Giovanni Arcuri as Caesar and Antonio Frasca playing Mark Antony. At the film's casting call, all auditioning actors give their names, where they are from and why they're incarcerated. Some are contrite; others philosophical. All are given the same scene to act, sometimes with hilarious consequences. Yes, you can laugh at the Mafia - at least when they're on film, behind bars. They can also make you weep.
Shot mostly in black and white, alternating between the present in full colour and the bleak monochrome of the past, the film has already garnered multiple festival wins and nominations - including being Italy's submission to the Foreign Language Oscar (it wasn't shortlisted) and earning a controversial Golden Bear in Berlin 2012. It is a testimony to the Tavianis, whose last feature was The Lark Farm in 2007, to make Shakespeare condensed but not dehydrated. Brief yet unbound, Caesar Must Die is a vivid presentation of brutal politics as a way of life. In short, it fascinates.
Watch the UK trailer for Caesar Must Die