BAFTAs 2013: Argo, Skyfall and Day-Lewis trump Les Mis |

reviews, news & interviews
BAFTAs 2013: Argo, Skyfall and Day-Lewis trump Les Mis
BAFTAs 2013: Argo, Skyfall and Day-Lewis trump Les Mis
The 66th BAFTA Film Awards in all their quintessentially British, occasionally frustrating glory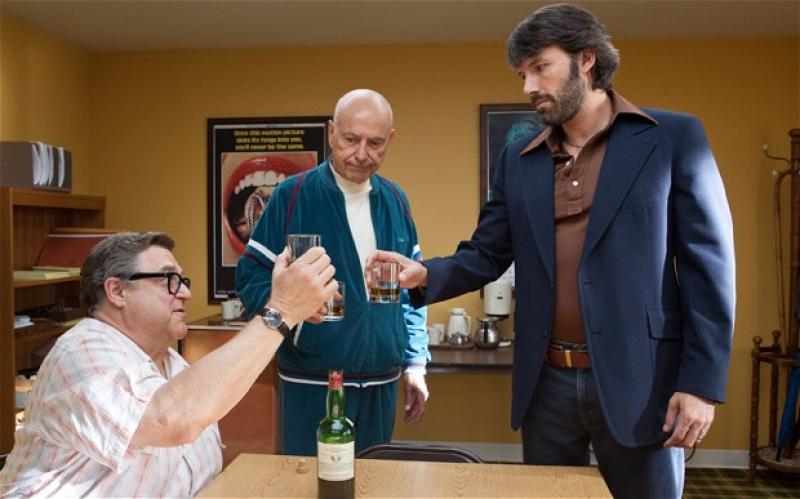 They've got a lot to celebrate: 'Argo' takes Best Film and Director at the BAFTAs 2013
Presented a clear fortnight ahead of the Oscars, while the BAFTAs might have little, if any, bearing on the decision making there, they at least provide an opportunity for the Brits to have a go at the glitz and glamour before award fatigue sets in. With treacherous weather an inauspicious portent, how the night would go was anyone's guess - for, as the ceremony began, only Daniel Day-Lewis and Anne Hathaway were clear favourites in their respective categories.
Taking place at the Royal Opera House, this year's ceremony was presented by Stephen Fry who's had the gig on and off since 2001 (this will be his seventh year). His debonair cheek was, as ever, welcome, and he ensured that proceedings remained peculiarly, irreverently British. Stroking his considerable facial hair he quipped: "I have the feeling that I'm not the only actor who's come here with a beard". And on Les Misérables: "It was quite astonishing, not least seeing Helena Bonham Carter burst into spontaneous song before she'd had a drink. I'm joking of course, she was drunk every day on set." An early attempt to insert a bit of Oscars-style razzle dazzle was less successful - a typically eccentric performance from Paloma Faith was accompanied by the cringe-making sight of her backing singers moving dramatically down the aisles, to the bemusement of the assembled talent.
As it turned out, the awards themselves were a bit of a split - or for Les Misérables, a bit of a disappointment, as it went home with just the one major gong (although it took four awards in total). Opening the night was the (perhaps misleadingly titled) Outstanding British Film category which eschewed recognition of daring and original films such as Berberian Sound Studio and Sightseers in favour of Anna Karenina and The Best Exotic Marigold Hotel, along with this year's winner - the 23rd entry in the Bond franchise - Skyfall. We found out from presenter of the next award Sally Field that her intended co-presenter Eddie Redmayne was apparently "puking his guts out". Not a fan of Bond then.
An extremely competitive Original Screenplay category was won by Quentin Tarantino for the enjoyably brash and transgressive Django Unchained, immediately followed up with a worthy win for Christoph Waltz (pictured above right) for his supporting (show-stealing) performance in the same film. His speech included a touching tribute to Tarantino, describing him as, "you silver-penned devil you". Billy Connolly was up next presenting the award for Outstanding Debut by a British Writer, Director or Producer, he described his job as, "presenting an unsuspecting stranger with a death mask on a stick". That category saw a deserved victory for The Imposter.
Picking up the award for Supporting Actress, an elated, emotional Anne Hathaway (pictured left) quipped, "I almost walked past George Clooney without hugging him". The winner of Outstanding British Contribution to Cinema, Film 4's Tessa Ross was described affectionately by Danny Boyle as, "the Paul Scholes of British cinema". The talented Juno Temple (Killer Joe) was a lovely surprise for the Rising Star Award, as was Searching for Sugar Man for Documentary.
A grateful Ben Affleck, receiving the Director gong for Argo (beating Ang Lee, Quentin Tarantino, Kathryn Bigelow and Michael Haneke no less), described it as "a second act for me". The 85-year-old Emmanuelle Riva wasn't present to pick up her award for Leading Actress for her performance in Amour (which also took Film Not in the English Language) but it didn't diminish the worthiness of this winner. However that scuppered Zero Dark Thirty's best chance of an award (for Jessica Chastain's sterling work) and that truly magnificent film went home with nowt. Giving it some funny was Lincoln's Leading Actor winner Daniel Day-Lewis, who had had good reason to hone his speech to perfection. Just in case of such an occasion he revealed that he'd "stayed in character as myself for 55-years". And to paraphrase the film itself, it was far from a case of "Argo fuck yourself" as Affleck's movie picked up Best Film.
From an emerging directorial talent to a well-established one, the night ended with veteran film director (Sir) Alan Parker collecting the prestigious BAFTA Fellowship. After promising a poem from Russell Crowe which he didn't deliver, he instead gave us a charming anecdote from primary school. Inspired by a trip to see Sign of the Pagan he one day organised his classmates into Romans and Huns: "Although I didn't say action, I did give the command for the Huns to attack the Romans, who were defending the outside toilets and, later, the headmaster asked me why. If I'd have known then that I was gonna get this, I could've really shut him up."
Overleaf, full list of winners
Full list of winners
Short Film - Swimmer
Short Animation - The Making of Longbird
Costume Design - Anna Karenina
Makeup and Hair - Les Misérables
Best Animated Film - Brave
Sound - Les Misérables
Editing - Argo
Cinematography - Life of Pi
Original Music - Skyfall
Production Design - Les Misérables
Outstanding British Film - Skyfall
Original Screenplay - Quentin Tarantino, Django Unchained
Supporting Actor - Christoph Waltz, Django Unchained
Outstanding Debut by a British Writer, Director or Producer - Bart Layton (Director), Dimitris Doganis (Producer), The Imposter
Special Visual Effects - Life of Pi
Supporting Actress - Anne Hathaway, Les Misérables
Adapted Screenplay - David O. Russell, Silver Linings Playbook
Outstanding British Contribution to Cinema - Tessa Ross
Film Not in the English Language - Amour
Rising Star Award - Juno Temple
Documentary - Searching For Sugar Man
Director - Ben Affleck, Argo
Leading Actress - Emmanuelle Riva, Amour
Leading Actor - Daniel Day-Lewis, Lincoln
Best Film - Argo
Fellowship - Sir Alan Parker
Follow Emma Simmonds on Twitter