Small Island, BBC One |

reviews, news & interviews
Small Island, BBC One
Small Island, BBC One
Andrea Levy's novel about immigrants and identity is a perfect fit for the small screen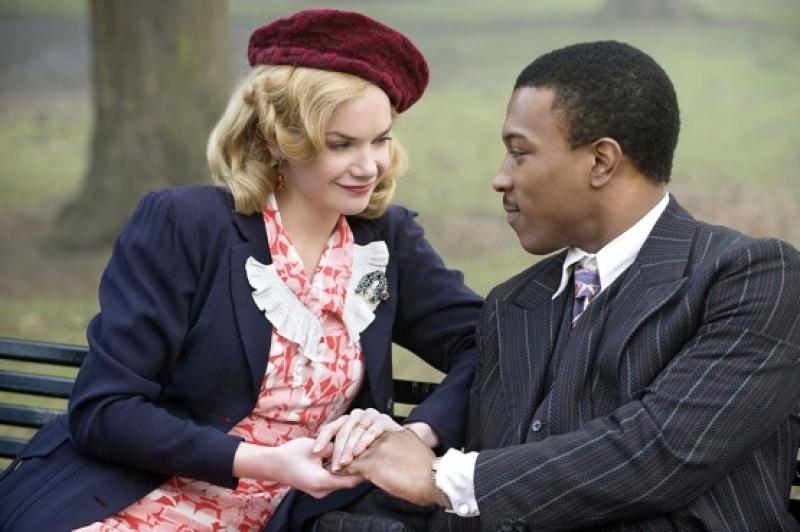 Queenie (Ruth Wilson) and Michael (Ashley Walters), about to feel the earth move
Luckily, the budget for this two-part adaptation of Andrea Levy's prizewinning novel stretched to some location shooting in Jamaica. The contrast between the Caribbean's luminous skies and brilliant colours and crushed, monochrome, half-dead 1940s London is almost too painful to watch. It's the perfect visual metaphor for a story about Technicolor dreams crashing to earth
"Why would you leave such a place to come all this way and fight for us?" Queenie Bligh asks Gilbert Joseph, who has come from Jamaica to join the RAF. Gilbert (David Oyelowo) gives a poetic reply about how Jamaicans regarded the Old Country as "Mother", and felt duty-bound to help out in her hour of need. The gulf between their loyalty and idealism and the bigoted small-mindedness which they encounter in exchange is at the core of the story, as it plays back and forth across a time period spanning the immediate pre-war years and 1948. The ironic title refers more to Britain than Jamaica, as the immigrants find that the imagined shimmering hub of Empire is shrunken and bankrupt, and not just financially.
It's a tale of two couples. Queenie (Ruth Wilson), living in London but desperate to avoid being dragged back to life on her parents' pig farm, seizes on an uncharacteristically daring marriage invitation from Bernard (Benedict Cumberbatch), unaware that the man within is even more narrow and dessicated than his external appearance suggests. In Jamaica, the fanciful and vain Hortense (Naomie Harris, pictured below) is arming herself with the accoutrements of a schoolteacher of proper young ladies, and dreams of travelling to England to find employment in a respectable school. She harbours a secret love for the headstrong Michael (Ashley Walters), with whom she has grown up in her adoptive family.
The outbreak of war brings both Gilbert and Michael to England with the RAF. It isn't entirely clear what Michael has been up to until he suddenly appears on Queenie's doorstep (she lets rooms to servicemen), but stuck in the Blitz with Bernard away at the war, she's mesmerised by the exotic newcomer. A hurricane of lust ensues.
Circumstances connive to set up a claustrophobic menage-à-quatre, or cinq actually, in Queenie's house in 1948, which has been struck by a barrage of coincidental lightning. Upstairs, Gilbert has returned to Blighty from Jamaica on the epochal voyage of the SS Empire Windrush, and is welcoming his new wife Hortense to his shabby rented room. She's already quite horrified enough before her "I'm a lady!" airs are given a violent shake when Gilbert appears naked before her, demanding his conjugal rights. "Keep that thing away!" she shrieks. Michael is the man she yearns for, but she doesn't know he knows Queenie, and then there's the spectre of the yet-to-return Bernard...
This makes it sound like a Brian Rix farce souped up with 20,000 volts of racial tension, but in practice director John Alexander hits a perfect tempo, and his cast have risen to the occasion with persuasively three-dimensional performances. Harris's Hortense invites scorn for her pretensions but a kind of admiration for her concentrated ambition, while Oyelowo and Walters imbue Gilbert and Michael with the energy, ingenuity and wit that seem to have been sucked out of their English counterparts. Ruth Wilson's Queenie, a stranger in what has become for her too a strange land, is a brilliant essay in frustrated hopes and fenced-off possibilities. And as much as Small Island is about racism and the underbelly of Empire, it's the immigrants who carry the torch for a lost English idyll. The English can't remember it ever existed.