Hyde Park on Hudson |

reviews, news & interviews
Hyde Park on Hudson
Hyde Park on Hudson
George VI returns to celluloid to beg a philandering US president to enter the coming war
Wednesday, 30 January 2013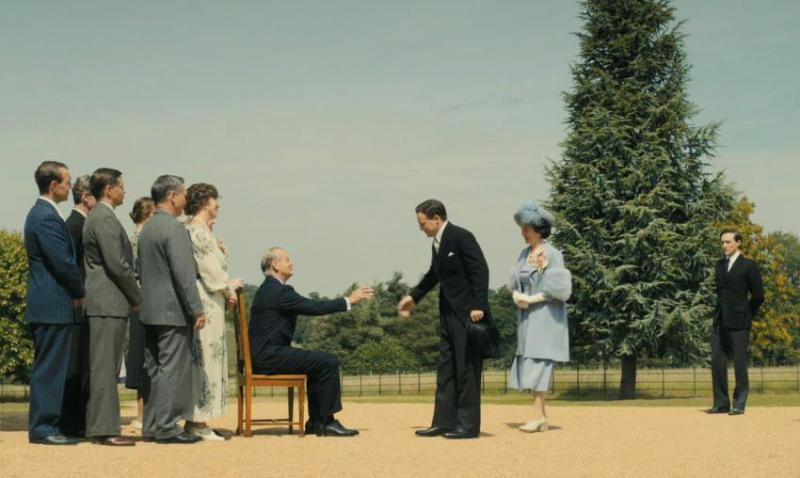 Alien vs Predator in formal attire: in which two franchises collide
Another week, another presidential movie. Another year, another lead role for a stuttering English monarch. Hyde Park on Hudson feels like the product of one of those irony-free meetings in Burbank. You know, the ones in which executives crank up a cinematic concept on the basis that if the audience liked X, they'll suck up Y. And hey, why not hit them with some Z too?
Thus a few days on from
Lincoln
and with memories of
The King's Speech
still warm, we have a film in which an iconic leader of the free world, in this case Franklin D Roosevelt, receives a visit from stiff, diffident George VI. It's like
Alien vs Predator
in formal attire.
And yet Hyde Park on Hudson comes from a scriptwriter (Richard Nelson) and a director (Roger Michell) whose sensibilities have been fine-tuned in British theatre - Michell directed Nelson's Farewell to the Theatre at Hampstead only last year. Their play also dealt with an Englishman on American territory and the waning of England's influence. Their film leaves the sturm und drang and handkerchiefs to others, striving instead to be a delicate chamber piece which hovers wryly on the shoulder of history. In this case the (not exactly) seismic event under the microscope is the visit of the British head of state to Roosevelt's country retreat – the titular house actually belongs to the president's clucking mother-in-law - to beg him for support in the coming war. As Bill Murray's laconic, avuncular FDR puts it, "Without some help from us, there soon might not be an England to be king of."
The events are witnessed partly through the eyes of FDR's distant spinster cousin Margaret "Daisy" Stuckley (Laura Linney at her most wide-eyed and, if one is being honest, insipid). Stuckley's secret dalliance with the president was revealed only after her death aged 99 in 1991. It's not known whether their liaisons were carnal, but Nelson has chosen to tick the box marked "Of course they did". Thus we see FDR driving Miss Daisy deep into the countryside (pictured above right), dismissing his security detail with a creepy flick of the wrist, so that he can coax a crafty handjob out of her. It's all done in the best possible taste, as if eager not to leave one of those pesky stains: birds chirrups, bees buzz and the old open-top motor discreetly rollicks. After that, coos Daisy, "I knew that we were not just fifth cousins but very good friends!" (Be advised that Linney is on voiceover duty, AKA filling in where the story can't be trusted to look after its own needs.)
Not that this "friendship" is allowed to creep too close to the centre of the film. Michell has always been interested in tilting the odds against mismatched romantic leads. Persuasion for the BBC (politeness), Notting Hill (celebrity) and Venus (age gap) all put near insuperable barriers in the way of love. Here he barely bothers to remove them at all. Aside from their sylvan tryst, and until a half-hearted break in relations injects a little late juice, the script rarely allows Daisy and FDR even to talk again. More than once we see her watching events from afar, or through a crack in the door.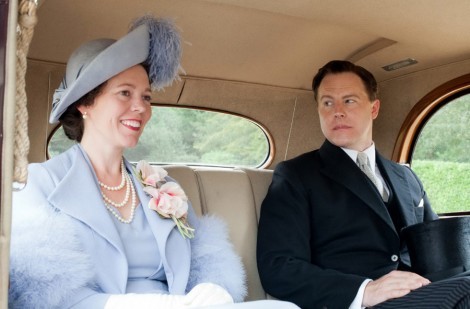 The main task of the film is to go where Daisy can't follow, and focus on another special relationship, embodied by one man who can't walk and another who can't talk. There are footling issues of protocol to overcome – the drawling Mrs FDR (Olivia Williams) wants to address Olivia Colman's alarmed Queen as "Elizabeth", waitresses keep unluckily dropping the borrowed plates. But hands are duly spread across the water - literally in a swimming pool, above all in a post-prandial tête-à-tête which is the film's most successful scene. Why, the king (Samuel West, pictured left with Colman) is even persuaded to consume a hot dog in public. Indeed it seems to be Nelson's inflated contention that one bite on this sizzling phallus is what lured America into the war. Forget Pearl Harbor.
Alas, none of the jigsaw pieces quite fit together. Neither fully romantic nor inherently dramatic, Hyde Park on Hudson doesn't even convince as an awkward comedy of manners about two cultures divided by a common language. The laughs mostly refuse to flow. It does at least look ravishing – hats off to DoP Lol Crawley, and to the lush English countryside standing in for New England. The polio-ridden president is often seen being carried around like a bride across a threshold. In reality Murray is the one doing the carrying, but he cannot prevent the enterprise from trudging without aim. "Where are we going?" asks Daisy in the passenger seat. "I don't know!" he replies. Neither, it would appear, does anyone else.
The special relationship is embodied by one man who can't walk and another who can't talk
rating
Explore topics
Share this article