Gruesome Playground Injuries, Gate Theatre |

reviews, news & interviews
Gruesome Playground Injuries, Gate Theatre
Gruesome Playground Injuries, Gate Theatre
The UK premiere of Pulitzer finalist Rajiv Joseph's play proves a painful watch
A difficult age: Mariah Gale (Kayleen) and Felix Scott (Doug) in 'Gruesome Playground Injuries'
Rajiv Joseph's Bengal Tiger at the Baghdad Zoo put him in the running for a Pulitzer in 2010. Deservedly so. Set during the Iraq war and featuring a talking tiger (played with verve on Broadway by Robin Williams), it was inventive, funny and profound. Gruesome Playground Injuries is none of these.
Doug and Kayleen meet aged eight in the nurse's office at school. He has fallen off his bike while cycling on the roof. She can't stop throwing up. The play comprises snapshots of their lives over 30 years, jumping back and forth in time: at the school prom, at a wake, after accidents and after a suicide attempt. Cheerful. Each episode centres on a new injury sustained by a character, with the other convinced they can heal them by touching the wound.
A generous reading of this play might point to its exploration of types of pain or the power of rituals and redemption, but on stage it feels tedious and has little depth. A lack of momentum and flat characters contribute to a production that has a similar format to David Nicholls' bittersweet One Day (charting the relationship of two characters on St Swithin's Day over 20 years), only a bit mixed up and without its charm or any suggestion of a plot.
At 80 minutes this two-hander might as well be the same scene on a loop. Doug and Kayleen age 30 years on stage, but they fail to change or show more of their characters than they do in the first few minutes. Felix Scott (pictured below left) as Doug still speaks in a child-like voice aged 38. Mariah Gale (pictured above) as Kayleen emits "shut up!", with the whine of a teenager, throughout. They never become a couple and even their friendship is fragile.

Kayleen is messed up because her parents have ignored her, but Joseph gives us little explanation for Doug's lack of emotional maturity. The characters' psychological problems not only make it hard for them to sustain a relationship and an engaging conversation; they also make it hard for the audience to understand where they are coming from. They may elicit our pity, but they struggle to inspire empathy. With few witty lines or traits apart from getting into scrapes (Doug) and self-harming (Kayleen), they not only lack depth, but it is also hard to see why they are attracted to each other, apart from a recognition that the other is as psychologically damaged as they are.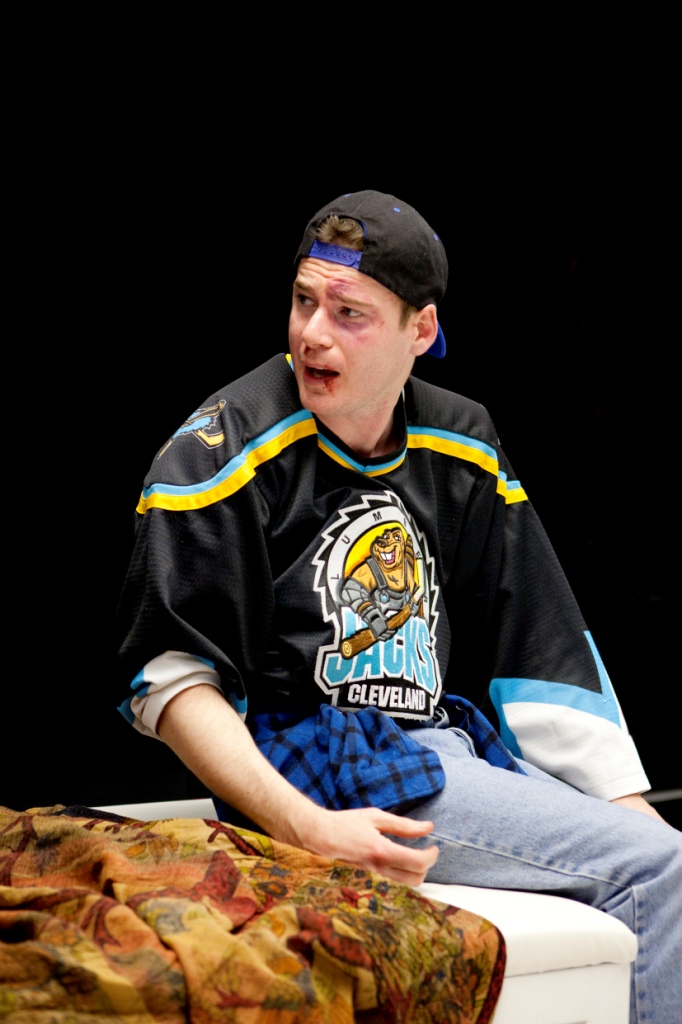 In its first production in the US, in 2009, the two characters were played by Selma Blair (Cruel Intentions, Legally Blonde) and Brad Fleischer (excellent in Joseph's Bengal Tiger). It is difficult to see what even a starry cast could do with this material. Gale and Scott convey a broad suggestion of pain, but they cannot redeem the flawed script.
Lily Arnold's clinical design (a white box) merely highlights the sparse nature of the material, while Justin Audibert's direction is too slow. Gale and Scott change costumes for their scenes on stage. This can be of interest: particularly when the characters paint bloody wounds on each other with a perverse delight or set the mood for the next scene (to prepare for the prom episode, Scott dances into his powder-blue suit). But this technique has diminishing returns: the tenth costume change is less compelling.
At this play's core, there are some powerful ideas. Pain, Joseph suggests, is one way we relate to each other and form relationships: through empathy and through helping each other in difficult times. But Lucy Prebble presents a much richer and more affecting portrayal of this in The Effect at the National. With its morbid monotone, Gruesome Playground Injuries suggests we are doomed to suffer alone.
Doug and Kayleen age 30 years on stage, but they fail to change or show more of their characters than they do in the first few minutes
rating
Share this article