Midnight Son |

reviews, news & interviews
Midnight Son
Midnight Son
Vampires are victims too, in an atmospheric LA horror tale
Wednesday, 09 January 2013
'Everybody got their thing, man': Zak Kilberg and Maya Parish in 'Midnight Son'
"It's like you're a vampire," whey-faced LA security guard Jacob is told. He gives a dawning, diffident look of recognition. Back in the cramped apartment he's stopped leaving by day, he places a crucifix on his face, not quite expecting it to sizzle.
For much of director Scott Leberecht's atmospheric debut, he seems to be following Jacob's progressive weakening by a rare disease with vampirism's effects: blood-thirstiness, and enforced night-dwelling, ever since sunlight first blistered his skin aged 12. It takes us a while to realise the "vampire" description's truth. The transition to a last act of full-blown Gothic horror which duly follows, though shaky, confirms
Midnight Son
's off-beat ambition.
Vampires are cinema's ultimate undead, of course, resurrecting themselves with infinite new twists of relevance. Away from Twilight's sexless teens and True Blood's sexy Southerners in the latest boom, Leberecht's vision isn't unprecedented. Abel Ferrara's The Addiction (1995) was a bleakly brilliant philosophical horror film, linking vampirism to drug addiction, Aids and the Holocaust. George Romero's Martin (1977) portrayed what might happen if a lonely boy thought he really was a vampire. Sunny California, too, has been stalked by vampires before. What makes Midnight Son special is the slide from unexplained illness into horror, its sense of place in suburban hinterlands, and the sad truth of its characters.
Cinematographer Lyn Moncrief helps find soft neon beauty as Jacob flits between LA's night-worlds: the midnight shift at the offices he guards, the wholesale butcher's where he buys bags of blood, the gallery where his strangely beautiful art's success briefly promises a new life, and the hospital bins he rifles for plasma with feral desperation.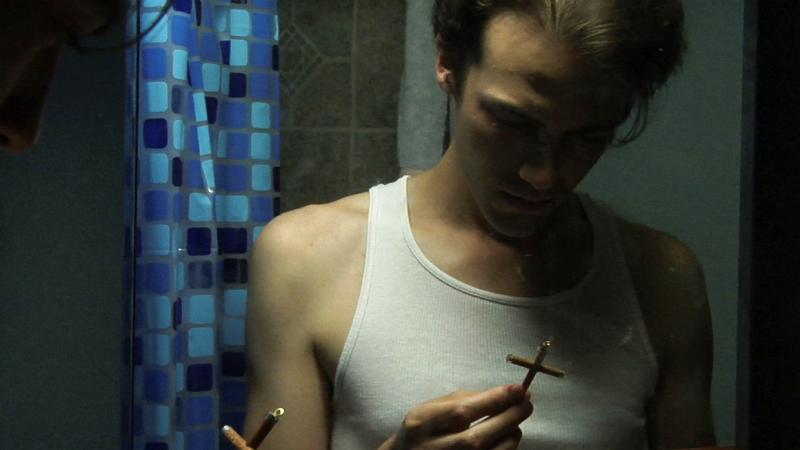 At a club he meets fellow night-worker Mary (Maya Parish), as lonely and hungry for love as he, till as they attempt sex at his apartment, he convulses and his eyes turn a warning, bestial yellow. But with her own nervous bathroom coke-snorting, she knows about needs. By the bins, meanwhile, he meets slick hospital orderly Marcus (Jo D. Jonz), only too ready to lead him to the dark places where even blood can be obtained on demand; just don't ask whose. "Everybody got their thing, man," he says knowingly. "You oughta drop the morals, kid," is his later, blunt advice. "You're already damned." When this sleazily criminal black man is later shackled with heavy chains, it's not quite on Django Unchained's crazed level of racial button-pushing. Pulp excess, though, isn't Leberecht's natural lingo.
Zak Kilberg's performance as Jacob (pictured above right), insomniac, isolated and finally driven to kill by his condition, has the watchfulness of a life-long victim, and a flyweight's skinny vulnerability. Parish, selfless as Mary, matches his messy neediness. Their stumbling, sordid romance is heightened by its setting in a vampire film, with its garish violence and inexplicable desires. Leberecht peoples their California with odd, unglamorous characters, and finds quiet poetry there, where the night and neon never end. Made on a micro-budget like most good horror, this is a surprising, thoughtful debut.
Watch the trailer for Midnight Son
What makes Midnight Son special is the slide from unexplained illness into horror, and the sad truth of its characters
rating
Explore topics
Share this article