Somersaults, Finborough Theatre |

reviews, news & interviews
Somersaults, Finborough Theatre
Somersaults, Finborough Theatre
Iain Finlay Macleod explores language and loss in this dynamic play of ideas
Saturday, 05 January 2013
Minding their language: David Carlyle (left) as James with Tom Marshall as Sandy
"What should it matter to us if a few words, then a few more and then a language just go," asks Iain Finlay Macleod's richly textured play. Somersaults may end in a shrug of inevitability, but its thrust is that language defines identity. In losing a few words, we do not just lose sounds. We endanger traditions, memories and relationships.
The play, which was first staged at the Traverse Theatre in Edinburgh in March 2011, centres on James, an entrepreneur in his thirties from the Isle of Lewis, off the west coast of Scotland. James has a beautiful wife, a plush flat in Hampstead and no shortage of money. Unlike his layabout friend Mark, James has grown up since university. He no longer slobbers around, gulping beer and playing video games. He is making something of his life. But the change is not all positive. He is also forgetting his childhood language: Scots Gaelic.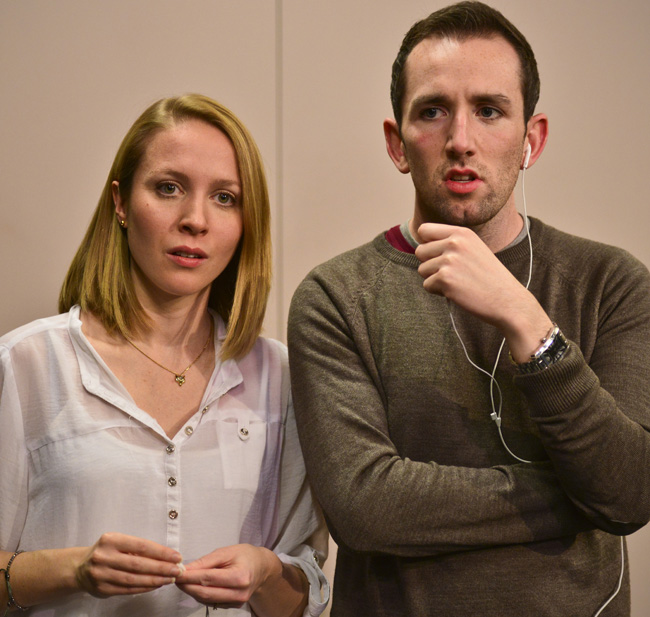 If, at first, James is mildly irritated by his inability to remember the Gaelic for "somersault", he is soon considerably unsettled. He feels displaced. Words are not the only thing he is losing. James has gone bankrupt. Barrett, his sinister liquidator, snatches his possessions. Alison, his wife, leaves him (Emily Bowker as Alison, pictured right with David Carlyle). And, to top it off, Sandy, his father, is dying. The father and son conversations, often in Gaelic, movingly illustrate how language can bond generations, as well as the speakers to their home. In contrast to Sandy's refreshing ambivalence to change, James clings on. When everything of material value has gone, he longs for the comfort of family and familiarity.
Russell Bolam's production brilliantly captures the contrast between the slow death of an ancient way of life and the fast pace of the future. The plot, such as it is – a young man losing his wealth, a dying father, a dwindling language – may be thin; the nonlinear narrative may be occasionally confusing; and the final scene may feel like it is tagged on, but the ideas are strong and the characters warm enough to make this a thoroughly compelling work.
For a play about language, it is credit to Bolam and the cast that the standout moments are those without words, or without words in English. One scene is all in Gaelic, while The Police's "Roxanne" provides the backdrop to an absorbing three minutes without dialogue, in which James and Mark drink and dance deliberately badly. There is further bold direction in a scene set in an art gallery. James and Alison ostensibly study Dutch Masters, while having a row and shuffling across the stage to escape each other. The tension is palpable.
Philip Lindley's set, coupled with lighting by Elliot Griggs, is ingenious. Bookcases lining the back wall take on a life of their own as the play progresses, with lights focusing on relevant shelves. Wine bottles that fit with James's flat become central in a bar scene, while books that look at home in London become a key feature of Sandy's house in Scotland.
David Carlyle gives a nuanced performance as James: he is just as convincing as the slouchy new graduate (before he makes his money) as the thoughtful son who can see his life ebbing away. Tom Marshall makes a stirring, melancholy Sandy, his green eyes often wild and vacant. Simon Harrison as Mark (pictured above with Carlyle) is suitably shallow, while Emily Bowker as Alison does a nice line in sarcasm.
While the intimacy of the Finborough concentrates the focus of the actors, the energy and bold direction of this production could easily fill a larger space. This is exciting theatre that presents a powerful case for language. What should it matter if a few words disappear? It matters a lot.
Somersaults is at the Finborough Theatre until 26 January