Will You Ever Return? 2 |

reviews, news & interviews
Will You Ever Return? 2
Will You Ever Return? 2
You'll laugh so hard you'll cry, and have nightmares later
The warped product of a disturbed mind: Will You Ever Return? 2
I'm sure we can all remember the joys of making collages and tissue-box houses/fortresses as children. And we all remember plasticine, right? Innocent childhood art materials that kept us busy while our parents and teachers put their feet up. Even as adults the most disturbing collages we've seen are those presented by Monty Python, and the most disturbing plasticine creation we've seen is Morph.
But Jack King Spooner is no Tony Hart, and in his newly released sequel to his original freeware game Will You Ever Return? - appropriately named Will You Ever Return? 2 – is the proof that an imagination vivid enough, and an artist talented enough, can turn even the most innocent materials into something truly deranged. Also, any game that begins with Pat Butcher and culminates in a philosophical exchange between yourself and what could either be a ventricle or a tumour simply must be played to be believed.
This game is a journey through the purgatory of conscience and into the peace of acceptance
Subtitled as Part II: Beta-blockers, Behemoth and the Bluurgh, the game begins with the mugging that initiated the first game. This time however we are following the mugger, Derrick, as he attempts to get money for his mother's heart medicine. Needless to say, things don't go to plan, and Derrick finds himself in Hell, where he must travel across an ancient map and solve the riddles of the seven deadly sins of his soul.
Sounds philosophically appealing, right? Indeed, there is plenty of insight into the human condition here; this game is a journey through the purgatory of conscience and into the peace of acceptance. However, along with these flashes of genius are conga-lines with cats, mentally disturbed Barbie dolls dressed as nuns, Donald Trump's head bouncing around you spouting bizarre soundbites, a fat white cat with the perpetually confused face of Nicholas Cage, and I'm not even going to describe what is waiting for you in the Devil's Porktub.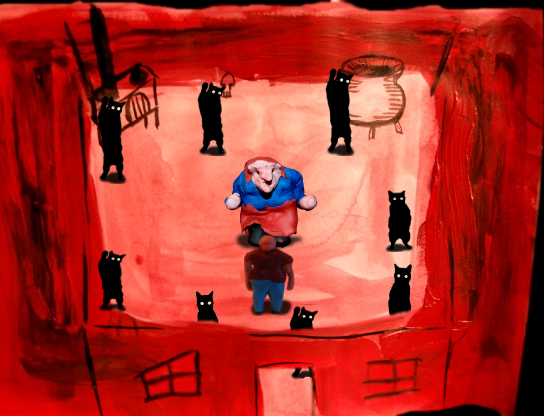 Perhaps the moment where the game goes a little too far is the sequence with Lust, in which you exchange existential accusations with a foetus. Yes, these Gilliamesque artistic amalgamations have the sense of humour of Chris Morris when he's off his meds, and if you don't find yourself disturbed to the core during Behemoth's march, then there is something profoundly wrong with you.
Accompanying the twisted action is a surreal soundtrack which fluctuates from drooling psychedelic mope to hardcore cacophonies which are as uncomfortable to listen to as the visuals are to watch. Nevertheless, this warped product of a disturbed mind made me laugh eggnog out of my nose, and at this festive time of year, that is exactly what some of us need.