DVD: The Big Combo |

reviews, news & interviews
DVD: The Big Combo
DVD: The Big Combo
A perverse film noir showcases the magisterial cinematography of John Alton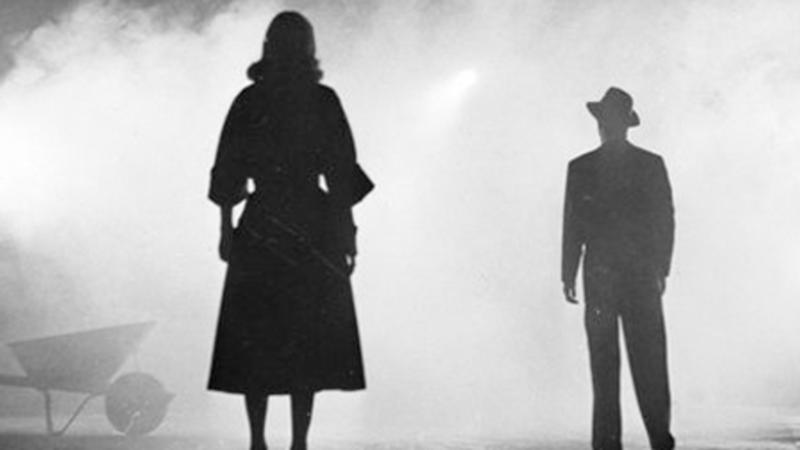 Moving toward the light: Jean Wallace and Cornel Wilde
Joseph H. Lewis's The Big Combo (1955) isn't as celebrated as Gun Crazy (1950), his other great film noir, but it's as perverse and violent as anything in the canon. A vehicle for the husband-and-wife team of Cornel Wilde and Jean Wallace, it's about a dogged plainclothesman, Leonard Diamond, who has spent three years following Susan Lowell, a masochistic socialite enmeshed with suavely sadistic Mob boss Mr.
Brown (Richard Conte) whose organisation, the Combination, leaves no traces. Diamond thinks Susan will lead him to expose Brown – but, of course, he's fallen obsessively in love with her,
Laura
-style.
Thanks to the Rembrandt-influenced chiaroscuro of John Alton's cinematography, this is one of the most beautiful noirs – an expressionistic shadowplay of sooty blacks and incandescent whites, of fogs and murks, that emphasise the characters' emotional extremes. The silhouette shot that follows the climactic airport shootout – a proto-feminist improvement on Casablanca's – is one of noir's most iconic images; the opening sequence depicting the damaged heroine escaping a boxing arena and tripping along spot-lit alleyways is equally evocative.
It's Wallace who gives the standout performance. Susan's sexual dependence on the lover-imprisoner she despises has rendered her tremulous and suicidal. When, in the film's most disturbing sequence, Brown starts ravishing her with kisses from behind, the camera dollies in for a close-up of her succumbing to ecstasy that borders on agony.
Set in a neon dystopia fanfared by David Raskin's brash brass score, The Big Combo would be an exercise in nihilism but for Lewis and writer Philip Yordan's human touches: the deafness of Brown's humiliated lieutenant (Brian Donlevy), the weariness of the old Mob soldier who gives Diamond a crucial lead, the tenderness of the hard-boiled burlesque dancer who loves Diamond unrequitedly, the feigned insanity of Brown's traumatised ex-wife, even the love of one of Brown's murderous goons for his partner-in-crime, the latter played nonchalantly by a handsome Lee Van Cleef.
Watch a clip from The Big Combo

The silhouette shot is one of noir's most iconic images
rating
Share this article