theartsdesk Olympics: Swimming Movies |

reviews, news & interviews
theartsdesk Olympics: Swimming Movies
theartsdesk Olympics: Swimming Movies
Cinema takes a dip in the pool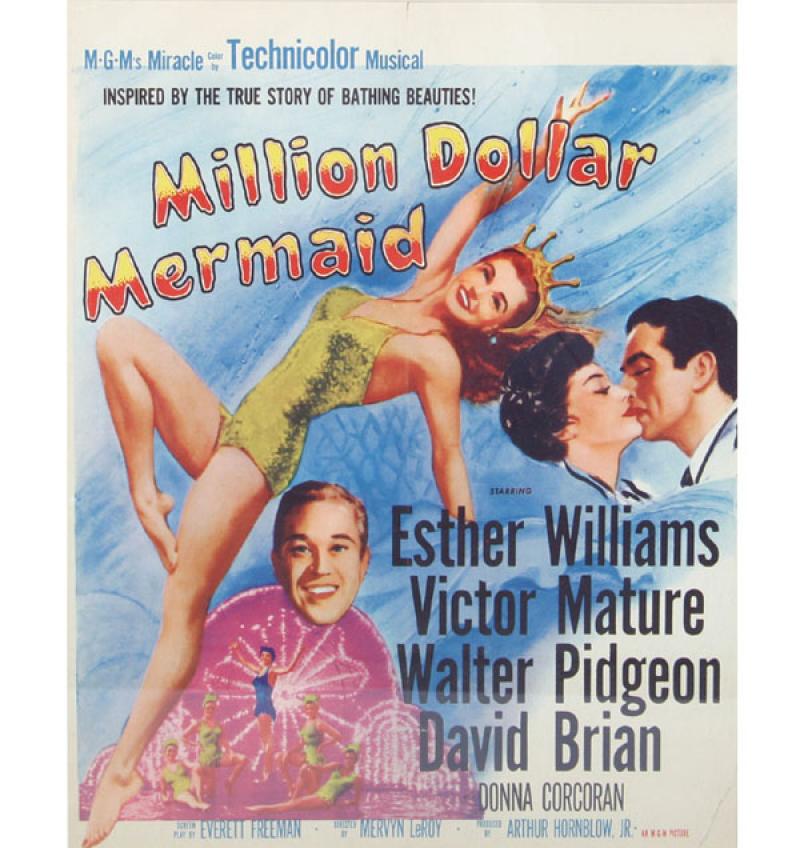 Esther Williams mets Busby Berkeley in watery MGM spectacular
Uncontrollable mirth is the response of many onlookers to the Olympic spectacle of synchronised swimming, though it is (they say) a discipline which demands formidable strength and technical accuracy. Be that as it may, it probably wouldn't exist without Australian swimmer, vaudevillian and movie star Annette Kellerman, who was credited with inventing synchronised swimming after she performed the world's first water ballet in a glass tank at the New York Hippodrome in 1907.
Kellerman's career was celebrated in the 1952 biopic The One Piece Bathing Suit - originally titled Million Dollar Mermaid - in which the watery set pieces were choreographed by Busby Berkeley. Kellerman was played by Esther Williams, herself a gifted swimmer who would have competed in the 1940 Olympics had global hostilities not intervened (44 years later, she commentated on synchronised swimming at the Los Angeles Olympics).
The aforesaid one piece bathing suit was another pioneering triumph for Kellerman, who insisted on wearing it instead of the absurd combination of a dress and pantaloons previously considered appropriate for ladies. The garment once caused Kellerman to be arrested on a Massachusetts beach, but that didn't stop her from launching her own range of one-piece swimming garments. They were distant ancestors of the new Speedo Fastskin3 swimsuits currently in action in London.
A stylish pair of swimming trunks was the centre of attention in The Swimmer (1968), clinging to the burly physique of Burt Lancaster as he swam home across his upscale Connecticut neighbourhood via the swimming pools of his well-heeled friends. Adapted from one of John Cheever's "anomie in suburbia" short stories, the film was directed by Frank Perry (with additional scenes by Sydney Pollack) and scripted by his wife Eleanor. It skilfully transcended its slightly stilted structure to become a resonant and chilling meditation on the shrivelled soul of the American Dream, as the steps along the swimmer's journey steadily revealed the extent of his failures and self-deception.
A commercial disaster on release, the piece has since been acknowledged as the vehicle for one of Lancaster's finest performances. He played Ned Merrill, seemingly a popular and successful advertising executive, and it's a role that might be seen now as a prototype of Don Draper in Mad Men. As the story unfolded, throwing up disturbing glimpses of the wreckage of Merrill's life and relationships, it became clear that for him, there was (in Bob Dylan's phrase) "no direction home".
Annette Kellerman was once arrested on a Massachusetts beach, but that didn't stop her from launching her own range of one-piece swimming garments
Share this article