BBC Proms: Shaham, Israel Philharmonic Orchestra, Mehta |

reviews, news & interviews
BBC Proms: Shaham, Israel Philharmonic Orchestra, Mehta
BBC Proms: Shaham, Israel Philharmonic Orchestra, Mehta
A bad day for civilised society as protesters invade Prom
Friday, 02 September 2011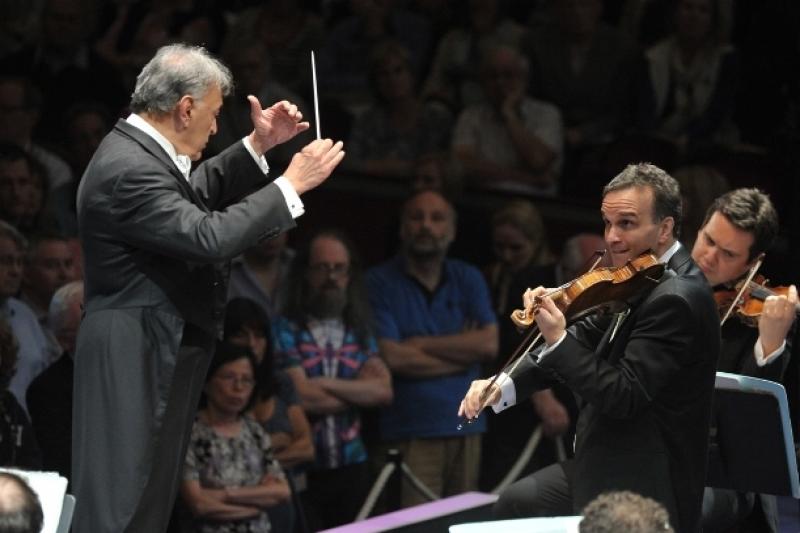 Zubin Mehta, Gil Shaham and non-protesting members of the Proms audience
Police. Placards. Protests. And bag checks. It meant only one thing. Jews were performing at the Proms. Here we were in the Royal Albert Hall in London in 2011 witnessing a stage of musicians being barracked and abused for having the gall to be Jewish. Last year, four more Jewish musicians, the Jerusalem Quartet, had the cheek to perform and broadcast a recital at the Wigmore Hall. They were again heckled and hounded off air. No, not a portrait of Europe in the early 20th century, but Britain in the 21st. I wonder. In a few years, will Jews be able to make music publicly in Britain at all?
If it wasn't all so depressingly shameful, it might have been amusing, such was the pathetic absurdity of the protests. The evening certainly started with comedy. A small bedraggled bunch of Palestinian protesters (all white, middle class and bearded of course) were scowling by a side entrance of the Royal Albert Hall. Opposite them an Irish Zionist, sporting the tricolour of Eire and the star of David, was goading them with an Irish jig. That was where the whole farce that is the Palestinian Solidarity Campaign's (PSC) boycott of the Israel Philharmonic Orchestra should have remained: in the realms of risibility.
But it didn't stop there. A few minutes into a fuzzily luxuriant performance (even the triangle was being vibbed) of Webern's Passacaglia, Op 1, a bunch of protesters in the choir stands got to their feet and began to barrack. To the strains of Beethoven's Ode to Joy, they sang their anti-Israeli chants. I imagine a few of the audience and orchestral members would have been familiar with this sort of public abuse, from when they were children in mainland Europe.
They made it difficult to concentrate on the Webern, though Mehta made sure some of their fortissimos sliced through the taunts. They returned to dog the start of the Bruch Violin Concerto in G minor. Zubin Mehta, the Israel Philharmonic and Gil Shaham (pictured right) stood still, silent and calm, while the ushers and security swept out the protest. Amid this maelstrom, Mehta and Shaham, their patience wearing thin, tore into the opening bars. The work achieved a level of meaning and fury that no one will ever witness the like of again.
But while it was all sparks and springs in the outer movements, in the slow, both soloist and orchestra bowed to the softest, gentlest, most tender sound imaginable, as if they were reaching down to plant a kiss on a baby's crown. Not even the Neanderthals dared break this spell. Nor dared they interrupt Shaham's elegantly sculpted performance of the Preludio from Bach's Third Partita.
The BBC had by now switched off their live Radio 3 broadcast after the audience began barracking the barrackers at the beginning of the Bruch. It was understandable - no point giving the protesters publicity - but disappointing, considering that, if the listeners had been given an opportunity to hear the whole Prom, they would have heard the Prommers shouting down the protests, and the Israeli Phil ploughing on valiantly through their programme, to repeated standing ovations. That is, they would have heard us win.
Two whiskery old men started to hound the orchestra from a box, while a lady next door hooked one of their necks with her walking stick
Was it because of the feeling that the BBC had deserted him and his orchestra that Mehta and his musicians came out on stage looking deflated? The continued protests must have demoralised them. It did me. They never quite recovered the responsive vim of the first half. There was another moment of comedy among the PSC disrupters - before the depressingly repetitive boredom of it all set in - as two whiskery old men started to hound the orchestra from a box and a lady next door hooked one of their necks with her walking stick.
In these circumstances, who can blame the orchestra for not delivering the top form that they are capable of? Albeniz's Iberia was neither brawny nor colourful enough to make headway in this hall. And though Rimsky-Korsakov's Capriccio Espagnol had its moments, particularly when the melody was lobbed from strings to winds, leaving the violins and percussion underwater-pedalling virtuosically, the lack of synchronisation between the sections meant there was no chance of anyone generating any threatening Spanish heat.
There was no bite either in the encore, the Death of Tybalt scene from Prokofiev's Romeo and Juliet. The wind had been taken out of their sails. The strength it took to sit silently and wait out the taunts was a big enough battle won. They had no fight left in them. Still, we cheered them to the rafters. They were guests in our country. And they had been rudely abused. It was the least we could do.
For some, something else had also been violated last night: the freedom of artistic expression. With qualifications, I am with them. I am not one of these people who thinks politics is above art. If people insist art and artists have the power to change lives for the better (and, boy, do music marketing people, with one eye on dwindling funds, keep insisting on this), they must also admit that they have the ability to change lives for the worse. Art, artists and musicians are, therefore, not sacrosanct. Break the law, rape a girl (yes, that's you I'm talking about, Polanski) and you should not be given a free ride simply because you are endowed with creative talent.
One thing, we do know: the Israel Phil won't be coming back to these shores in a hurry. And that's where things start becoming very troubling
Cultural boycotts have their place. One cannot have anything but sympathy with the Holocaust survivors who set up pickets outside concert halls in 1950s America, demonstrating against the visit of Herbert von Karajan, a man who had joined the Nazi party not once, but twice. I bow to the rights of the PSC to protest peacefully outside the Royal Albert Hall. I bow to their right to try to convince us that the Israeli Phil is evil. Of course, one could legitimately ask, why, if they felt so keenly about human rights and democracy, they have never protested to the frequent visits by the Venezuelan Youth Orchestra, who perform clothed in the symbols of an authoritarian state, or the East-Western Divan, whose Arab members proudly represent some of the most vile dictatorships on earth.
But that's by the by. They had a right to stand outside and propagate their views. And they were granted that right. But then they went beyond this right. They imposed their protest on us to the extent that we were restricted in our freedom to do what we wanted. This is exactly the form of authoritarianism that the PSC claim to be attempting to end.
What do we do now? What can we do now? The protesters have all now walked free to hound some more Jews. The recorded concert - what's left of it - will be salvaged and aired next week. One thing we do know: the Israel Phil won't be coming back to these shores in a hurry. And that's where things become troubling. When we get into a position where programmers and arts organisations are forced to think twice about giving a platform to certain nationalities and races lest they incur the wrath of hooligans, we are in real danger of no longer being able to call ourselves civilised. The protesters didn't win last night. But they certainly did raise the stakes.
The protesters didn't win last night. But they certainly did raise the stakes
Share this article
Subscribe to theartsdesk.com
Thank you for continuing to read our work on theartsdesk.com. For unlimited access to every article in its entirety, including our archive of more than 10,000 pieces, we're asking for £3.95 per month or £30 per year. We feel it's a very good deal, and hope you do too.
To take an annual subscription now simply click here.
And if you're looking for that extra gift for a friend or family member, why not treat them to a theartsdesk.com gift subscription?