Edinburgh Fringe: Kieran and the Joes/ Conor O'Toole/ Tom Allen/ Kate Smurthwaite |

reviews, news & interviews
Edinburgh Fringe: Kieran and the Joes/ Conor O'Toole/ Tom Allen/ Kate Smurthwaite
Edinburgh Fringe: Kieran and the Joes/ Conor O'Toole/ Tom Allen/ Kate Smurthwaite
Sketch, geeky, sit-down and stand-up funnies
Kieran and the Joes are a three-man sketch group (Kieran Hodgson, Joe Markham and Joe Parham, working with co-writer Tom Meltzer) who are young, personable and very neatly dressed in shirts and ties - but while they may appear clean-cut their comedy veers nicely towards the dark.
In Teampowered the audience are the attendees at a teamworking seminar. You know where this is going to end up, as the trio will of course fall out and the team is destroyed by ego and stupidity, but how they get there has some neat touches, such as getting the audience to practise proposing to the person next to them or playing trust-building parlour games. A running gag in which Kieran's embarrassing secret is revealed is a nicely original gag.
Kieran and the Joes rely a little too heavily on the sketch-group trope of one nice, one bossy and one simple, but it's a fun hour and one is always engaged in seeing where they will take the story. Until 28 August
Conor O'Toole, The Store ****
It's hard not to like Conor O'Toole, for any number of reasons. The young Irishman is an unassuming but witty fellow whose show, Manual of Style, is absolutely not a fashion guide - he strides barefoot across the stage in jeans and corduroy jacket, looking very much the student he recently was, and the show by the self-admitted geek is about print fonts.
It is, of course, a subject beloved to a writer so I'm biased, but O'Toole creates a quirky and endearing entertainment, with stencilled props shown on an overhead projector and subjects such as kerning and leading told through the occasional song, as well as anecdotes and stories from his life and potted histories of his favourite calligraphers and font designers.
There are some rough (or should that be ragged?) edges and the pace occasionally dips, but while his subject matter may be esoteric, O'Toole has the making of someone who can join the established tradition of great Irish storytellers. Until 28 August
Tom Allen, Gilded Balloon ****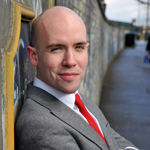 Tom Allen is usually a stand-up, but this year he is sitting down in his show Tom Allen's Afternoon Tea, which is a chatshow with guests, music and the occasional parlour game. The south Londoner with mellifluous Home Counties tones is a natural for the form – witty, engaging and a great storyteller, so if his guests trip over their words or dry up, he always has a great anecdote to hand.
I saw it on a day when the guestlist was a bit comic-heavy – funny though they were – and the show benefited from the presence of Tara Flynn, once of the Irish comedy songsters The Nualas and now performing a solo show - Big Noise, at the Voodoo Rooms - who sang a wryly comic number about a woman's love for a donkey.
Much depends on the guests booked for a show like this, but Allen is always worth watching. Expect to see him on your television screens soon. Until 28 August
Kate Smurthwaite, Ciao Roma ***
You may have heard Kate Smurthwaite on the radio where, as a political comic, she is often invited to debate issues of the day, which is why this show is called The News at Kate 2011. But if you were expecting an up-to-the-minute dissection of this country's governing class, you'll be disappointed.
True, she begins by addressing the recent riots in England, but quickly goes on to some current affairs stuff that is, well, not that current. There's a line about Silvio Berlusconi that could have been written any time in the past two years, and major recent news items - the hacking scandal and the Norway massacre - get a brief mention or none at all. She does have some decent jokes about the royal wedding, and follows references to Agincourt and Brecht with knob gags.
The last section is taken up with those whom Smurthwaite is called upon to debate with in the media, or "arguing with idiots", as she calls it, and here the show becomes less about idiocy, and more about showing us how clever Smurthwaite thinks she is, when she shows footage of a television show in which she appeared with people of faith and delivered some strong opinions about why she does not share their outlook on life.
I'm all for passionately held views being aired, but showing a clip of those who are not in the room to argue their point and calling them idiots is a rather unsophisticated debating style. Instead of possibly agreeing with Smurthwaite that these individuals are indeed deluded fools, one leaves the show with a sense of the comic's insufferable smugness, which detracts from any good material she has. Until 28 August
Share this article