theartsdesk MOT: Journey's End, Duke of York's Theatre |

reviews, news & interviews
theartsdesk MOT: Journey's End, Duke of York's Theatre
theartsdesk MOT: Journey's End, Duke of York's Theatre
RC Sherriff's Great War drama remains shatteringly relevant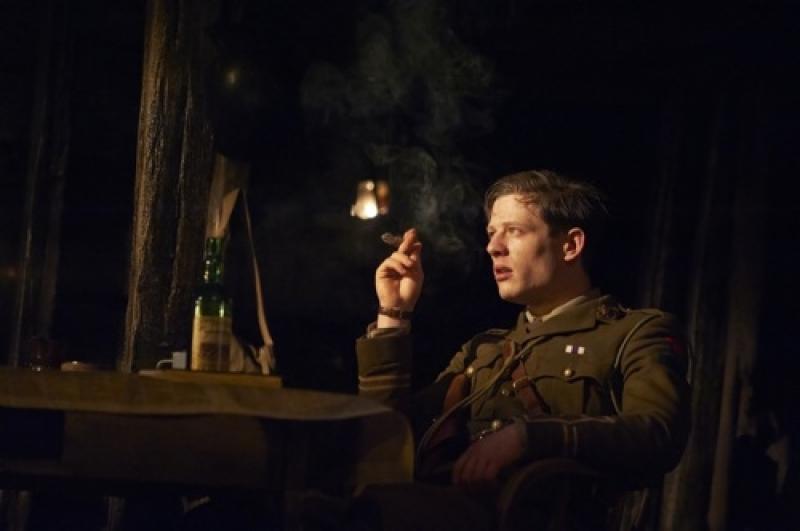 Damaged and doomed: James Norton as Captain Stanhope
"There's nothing worse than dirt in your tea," opines one of the stoic officers in RC Sherriff's First World War drama. It's a pronouncement, emitted from beneath a stiff upper lip, of courageous cheeriness in the face of circumstances so brutal, so horrifying, so obscenely soaked in blood and suffering and futility, that taking refuge in mundane routine is one of very few available comforts.
Small wonder that gentle, fatherly Lieutenant Osborne, seeking solace between the pages of Lewis Carroll, finds the absurdities there so familiar. Small wonder, too, that Sherriff's 1928 play – in a production by David Grindley first seen in 2004 – remains so piercingly affecting: as long as there are wars, it will never lose its relevance.
Grindley's staging is understated, and as emotionally clenched as Sherriff's characters. Remorseless as machine-gunfire, it allows tension to accumulate slowly; with the cracks beginning to show in these men, trained from childhood in public schools to keep their feelings in check, we begin to see life, and hope, slipping away, and the bodies piling up, long before the catastrophic final attack. But if the outcome can be no surprise, the play remains remarkably taut. And in the current cast, the chain of command contains not a single weak link.
The action unfolds in flickering candleight, in the claustrophobic subterranea of an officers' dugout at St Quentin in 1918. Captain Hardy (Tim Chipping) attempts to dry his sodden socks over the candle's flame, while exchanging brave-faced pleasantries with Osborne (Dominic Mafham). There are cutlets for dinner, though the variety of meat in question is anyone's guess; and there's always the chance of some bolstering foolery from plump, resolutely jolly Trotter (Christian Patterson), or more bitter entertainment from Captain Stanhope (James Norton), whose talent for consuming hard liquor is legendary. He has become, to Osborne's discomfiture, "a freakshow"; it's clear, and painfully so in Norton's excoriating performance, that only booze and a ferocious doggedness tinged with nihilism are holding this broken man together and driving him onwards. The arrival of naive young Raleigh (Graham Butler, pictured below), who hero-worshipped him at school, agonisingly touches a nerve, reawakening vulnerabilities Stanhope has repressed in order to survive.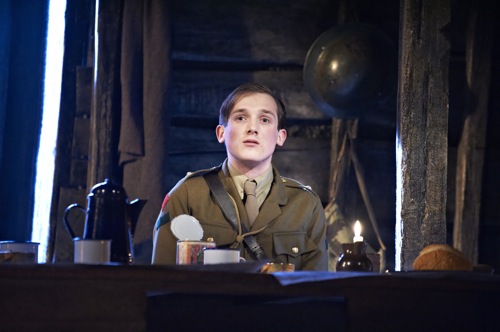 A quiet but potent rage seethes beneath the orderliness of Sherriff's writing. He highlights the unthinking idiocies of orders from high command, the rusting weapons the soldiers are supplied with, and the uselessly mismatched pairs of gumboots. The gulf, too, between the niceties of day-to-day existence and the mud and carnage of the trenches is striking, as are the rigidities of class: Cockney Private Mason (Tony Turner) meticulously covers the officers' table with newspaper, in lieu of a cloth, and serves their meals with some small ceremony; you can't help wondering, when he picks up his rifle and heads out to fight with his comrades, how this loyal and industrious factotum has ever had a chance to sleep. And there's naked fear, as well as heroism, lurking in the rat-infested shadows. Simon Harrison as Hibbert, barely more than a boy and shamming neuralgia in a desperate attempt to convince his superiors to send him home, instead wins savage contempt, and eventually some sympathy, from the determinedly flinty Stanhope.
It's the fate of Osborne and Raleigh to be despatched on a pointless raid behind the German lines – an expedition the former calmly and accurately describes as "murder". He keeps that truth from Raleigh, though, whom he earlier advised, on his arrival in the trenches, to "try to think of it all as romantic – it helps". Sherriff and Grindley never, thankfully, allow us that comforting self-deception. Even amid the thunder of battle, this is theatre that rarely raises its voice; yet its outcry against senseless slaughter is unforgettable.
Explore topics
Share this article