The Referees |

reviews, news & interviews
The Referees
The Referees
Documentary about the slightly dull men doing the worst job in sport
We are not gods: whistleblowers are ordinary mortals
Elbowings, buttings, anklings, maimings, studdings, anarcho-thespian handbaggings – the figure formerly known as the man in black is the thin line between the beautiful game and the collapse of civilised society as we know it. And what is his reward? Players abuse him. Crowds bay for his blood. Presidents call for his execution (Polish ones do anyway).
To misquote Liverpool fans quoting
Oscar Hammerstein II
, he'll ever walk alone. Who'd be one?
Football nowadays brings out the right-winger in one (and I'm not referring to the old-fashioned five-three-two formation). As a lapsed and, of course, ageing follower of the game, I increasingly entertain fantasies of getting out into the middle and showing the red card to everyone – everyone – who shows the slightest inclination to disagree with authority. It's no coincidence that a high proportion of the men in black are schoolmasters or policemen. They deal with uncouth youth all the time.
So anyway, The Referees follows these exceptionally lonely arbiters of justice for the duration of an international summer tournament. And as they are fully miked up, we can hear every word they utter both to the players and to their assistants running the touchlines. It's intriguing to note that referees cuss and rant in a globish mulch of international languages. "Oh fucking hell," says one ref to no one in particular when he's told he's given an offside goal. Another is told by his assistant that there's a big storm coming. "What the fuck are you talking about?" he screams. "Shut up!"
These Socratic dialogues extend to the players. "We are not gods," says one ref to the Greek captain at the end of a game. "I am not God! We make mistakes." They certainly do. In so far as this film is eye-opening – and quite a lot of it isn't - it's surprising to note that while a referee's role is to be above competition, the refs are in fact all competing with one another to make the fewest mistakes and thus advance further in the tournament. The cameras catch them laughing like high hyenas at their colleagues' cock-ups.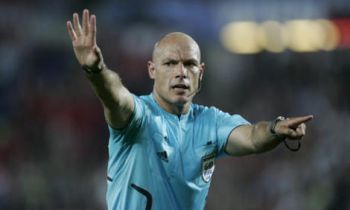 All the stuff about football is eye-opening if you're that way inclined. But the quest of The Referees is to show that the men in the middle, who according to traditional terrace chants are all born out of wedlock, are just like us, ordinary decent humans with families and feelings. Thus we get to see them being supported by loved ones, wives and parents watching in the stadium or at home. The old man of personable English ref (and copper) Howard Webb (pictured right) hugs his boy all the time. It's good to know that someone does because after he gave a last-minute pen against Poland the President called for Webb's head. "A fucking disgrace!" hollered the Poland coach back down in the tunnel; he wasn't referring to the death threat. No wonder referees and their assistants also hug one another a lot. The more Mediterranean reffing teams clasp hands and kiss one another for luck.
Referees do an extraordinary job under hideous, intense pressure with the eyes of millions instantly alerted by video technology to their every error. They are shouted at by kids earning 26 times as much and return to the dressing room euphoric with relief at having survived another skirmish unscathed. But the truth is, in and of themselves, they are necessarily dull. Their lives between tournament matches feature bland hotel rooms and people carriers. They listen to Take That. Why on earth do they do it? Director Yves Hinant never asked.
Some Italian refs are filmed chatting in a foyer with Michel Platini, the erstwhile midfield generalissimo who is now something frightfully high up in UEFA. "If an assistant could see everything he'd be a No 10," says Platini. "He'd see, know, feel everything." Clear subtext: he'd be a prodigy like me. Referees are not thoroughbreds, not combustible slaves to inner demons and expressive genius. They need to be as stolid and reliable as a Swiss watch. Such men do not make for leading men in movie documentaries.
Watch the trailer for The Referees