Cutter's Way |

reviews, news & interviews
Cutter's Way
Cutter's Way
Young Jeff Bridges in a welcome re-release for a neglected noir classic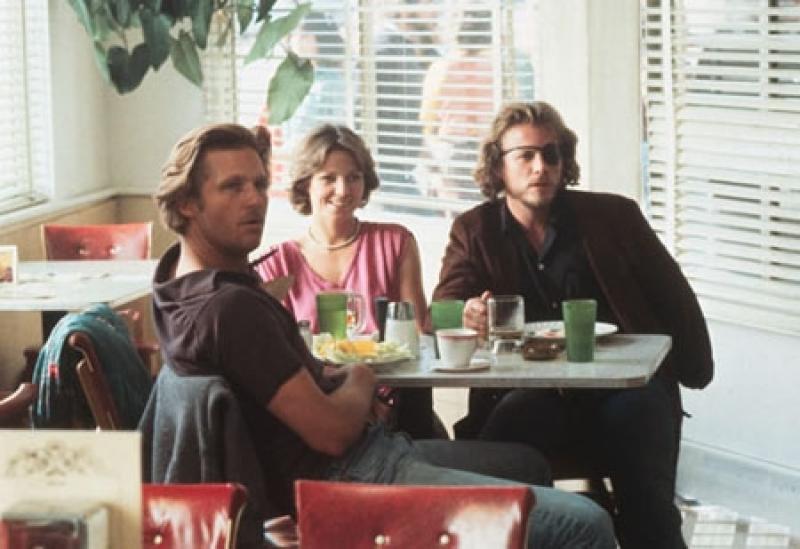 Benighted trio: Jeff Bridges, Lisa Eichhorn, and John Heard in 'Cutter's Way'
Of all the curdled classics made during the neo-noir wave of the Seventies and early Eighties - including Klute, The Long Goodbye, Mean Streets, Chinatown, The Conversation, Night Moves, Farewell My Lovely, Taxi Driver, American Gigolo and The Postman Always Rings Twice - Ivan Passer's Cutter's Way is the most neglected.
That's partially a result of United Artists' attempt, according to the Czech
émigré
Passer, to "murder" the independently produced movie by intentionally botching the initial US release (as
Cutter and Bone
, the title of Newton Thornburg's source novel) in March 1981, though UA tried to recoup its costs by reissuing it that summer after it had enjoyed festival acclaim.
There was also the hangover of Vincent Canby's cluelessly dismissive review in The New York Times. Over here, Cutter's Way was applauded by the likes of Tom Milne, who described it in Time Out as "dazzling... one of the key films of the decade", and it achieved cult popularity in London.
Its re-release, which coincides with the current Jeff Bridges season at BFI Southbank, will I hope bring a fresh audience to a work that seems as fresh and relevant - in its condemnation of what war does to men (and their wives) - as it did in the post-Vietnam era. Bridges' louche beach bum, the serial seducer Richard Bone who somehow avoided the draft, is the protagonist, but the film's emotional epicentre is his best friend and housemate, the self-loathing provocateur Alex Cutter (John Heard), who returned from the war with one leg, one arm, one eye, and half-mad, like Taxi Driver's Travis Bickle.
Set against the backdrop of Santa Barbara's August Old Spanish Days Festival, which lends a contrapuntal kitschiness to the simmering atmosphere, Cutter's Way comes on like an extended bad dream, in which guilt, paranoia, betrayal and sexual hatred ebb and flow throughout, until a final, unexpected gunshot wakes the viewer from the reverie.
A noir it is, initially - neon glimmers, rain falls, and a 17-year-old girl's desecrated body pokes a high-heeled foot from the trash can where it's been dumped - but it's so much more: a talky conspiracy thriller in which little people fight the capitalist-political elite, a crazy blackmail caper that turns into a farce with a white horse running wild at a garden party, the moral tale of a stud who cruelly walks out on his conquests - watch how, in the first scene proper, the smirk of the just-fucked older married blonde (Nina van Pallandt) subsides into a look of hurt when Bone abandons her in bed. (Will he stand by anybody? That becomes the film's existential question.) In other words, it's the kind of multifaceted adult drama that Hollywood seldom makes these days - though Allen Coulter's underrated Hollywoodland (2006) was cut from the same rancid joint.
The scabrous Cutter, who claims he was a killer in 'Nam, takes on everyone - blacks in the local bar, a neighbour whose car he drunkenly wrecks, and, self-destructively, the oil baron JJ Cord (Stephen Eliott, icily sinister), whom he suspects of murdering the girl and whom he targets as a symbol of authoritarianism. But Cutter's chief victim is his beautiful alcoholic wife, Maureen (Lisa Eichhorn), whose big heart has been squeezed dry. Compounding the couple's codependent misery is Bone's need to sleep with Maureen and her resentful attraction to him. They are too closely knit a trio to avert their looming tragedy.
Jeffrey Allen Fiskin, who did the adaptation (and dispensed with the novel's Easy Rider-like second half), stealthily incorporated a critique of misogyny. Bone's pathological mistreatment of women is echoed by the obscene remarks that the impotent Cutter makes about young majorettes, in Maureen's hearing, as he and Bone watch the Spanish parade (pictured above right, Bone on the left). It's writ large in the horrendous killing. Against this, the dead girl's sister, who enlists in Cutter's plot to milk Cord for a fortune before shopping him to the police, is played as an exploitative trollop by Ann Dusenberry.
All our sympathy goes to the tremulous, emotionally beaten, vodka-guzzling Maureen - David Thomson's film noir novel Suspects inscribes her as the fated niece of It's a Wonderful Life's George Bailey - whom Eichhorn plays with extraordinary understatement. It is one of the most affecting performances of the time, of any time.
Watch the trailer for Cutter's Way