Casa de mi Padre |

reviews, news & interviews
Casa de mi Padre
Casa de mi Padre
Will Ferrell as a Latin lover? Yes really
Hands up if you think this film is very silly: Will Ferrell and Genesis Rodriguez in 'Casa de mi Padre'
Comedic curio Casa de mi Padre features Will Ferrell in his most surprising role yet – that of a Mexican rancher who "no habla inglés". This Spanish-language film is a tongue-in-cheek thriller featuring Ferrell alongside Mexican stars Gael García Bernal and Diego Luna. It's Acorn Antiques meets El Topo: frequently batty, wilfully inept and performed with aplomb by a sporting cast.
Directed by
Saturday Night Live
scribe Matt Piedmont and written by the aforementioned's Andrew Steele, its knowing nostalgia and elegiac violence means this retro rib-tickler would play well alongside the 2007 Tarantino / Rodriguez double-feature
Grindhouse
.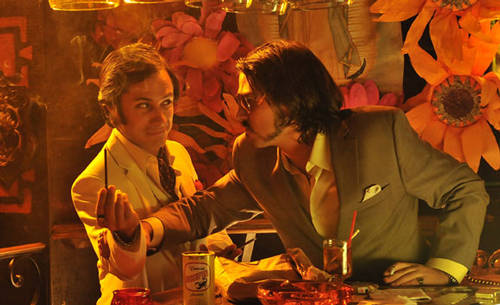 Over Bond-esque opening credits a cherry-lipped Christina Aguilera belts out the title track. The choice of a singer with no concept of subtlety gives a strong indication of the film's shtick: this is a movie with a passion for the ridiculous. Ferrell plays Armando Alvarez, a nature-loving naïf who works on his father's ranch and idolises his suave good-for-nothing brother Raul (Luna, pictured far right with Bernal), the (bad) apple of his father's eye. When Raul returns from the big city he brings danger, locking horns with local drug lord Onza, brilliantly played by Bernal. The contrastingly honourable Armando finds himself conflicted when he falls for Raul's fiancée, the ludicrously lovely Sonia (Genesis Rodriguez), who's also Onza's niece. Astonishingly she returns his feelings.
Along with the spaghetti western, one of the key influences on Casa de mi Padre is that of the "telenovela", soap opera style (melo)dramas popular in Latin America, Portugal and Spain. In Mexico these frequently focus on a love affair which is troubled by and triumphs over villainous meddling. Piedmont's film relentlessly apes the telenovela's low budget histrionics. There's a wonderful sequence - pivotal in the development of the romance between Armando and Sonia - which sees him awkwardly assisting her as she mounts a horse, before they unconvincingly ride to the "Pond of the Seven Tears", an undisguised, amateurish set which is constantly referred to as being superlatively picturesque. It's there where Armando reveals the unfortunate fate of his mother and his unwitting part in her death.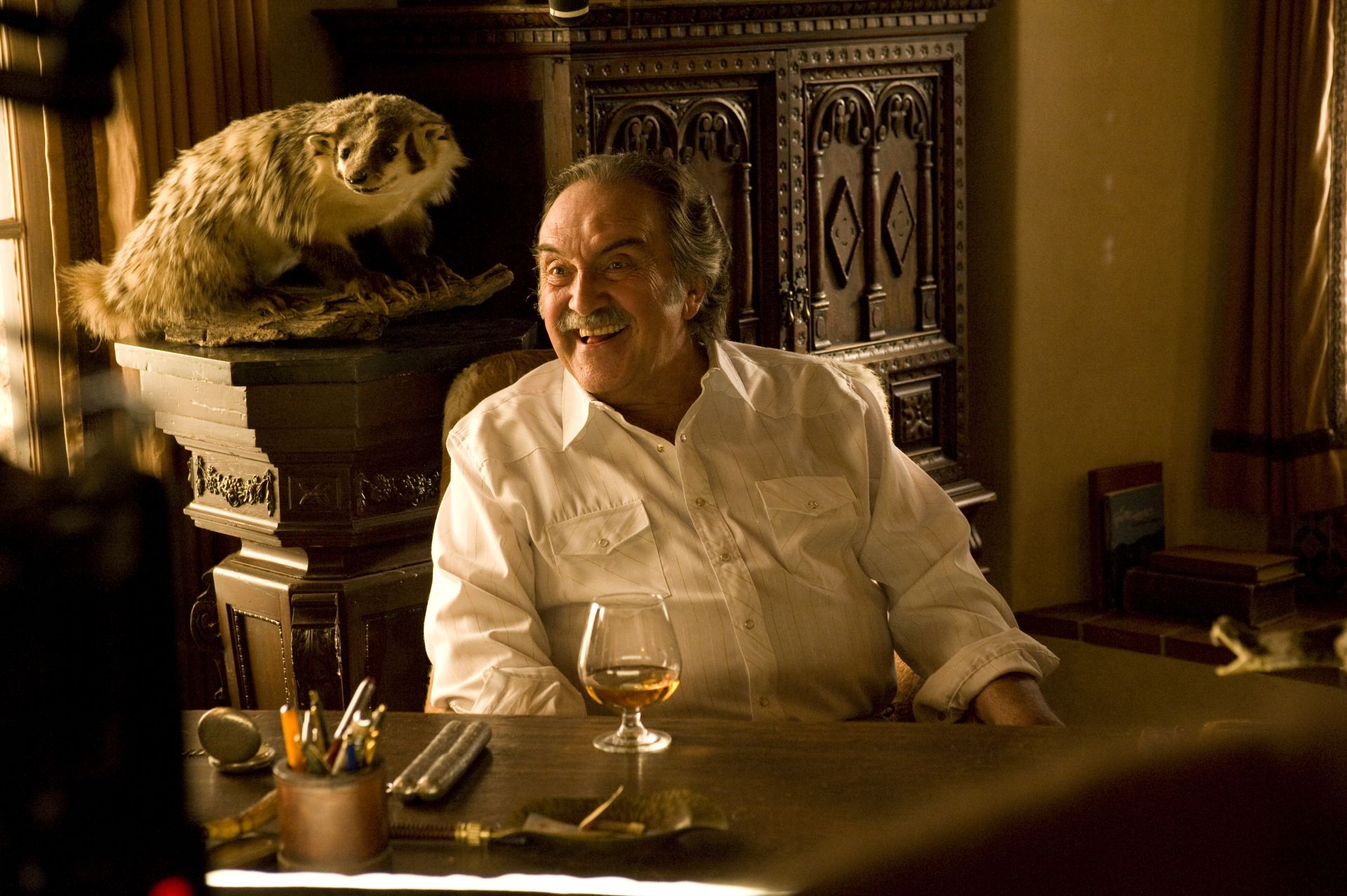 Casa de mi Padre is the sort of movie where people say things like, "I propose a contest". There's buttock squeezing, flamboyant smoking and the presence of a big cat – dubbed the Jaguar King - that (deliberately) looks like it was won at a fair. Armando is repeatedly and hilariously insulted by his father Miguel (Pedro Armendáriz Jr, pictured above left). Even during a rare moment of warmth the best Miguel can muster is telling Armando he has his mother's "chicken's eyes". There's ample outré style (a slow-mo gun battle at a wedding, blood dripping from the eye of a stone lion) and scathing - albeit fleeting - political commentary highlighting America's role in Mexico's drug war ("All this just so Daddy's little girl can score a dime bag").
It's undeniably harebrained but, with its American A-Lister lead, Casa de mi Padre is to be applauded for having the courage to play out in Spanish, especially considering foreign language films remain a desperately tough sell in the US. Watching the trailer will effectively show you the full gauntlet of its humour (though fortunately not its best gags) but at 84-minutes it hardly outstays its welcome. Ferrell (a non-Spanish speaker) makes a brave stab at the accent and the distraction of speaking in an unfamiliar tongue seems to rein in his more grating comic excesses. Its humour is rolled pastry thin but it's exuberantly acted by a likeable and talented cast. Casa de mi Padre may be the filmic and cultural equivalent of a simpleton performing slapstick in a sombrero but, most likely, it will still have you tittering guiltily throughout.
Casa de mi Padre is in cinemas from Friday
Follow @EmmaSimmonds on Twitter
Watch the trailer for Casa de mi Padre