L'Olimpiade, Garsington Opera |

reviews, news & interviews
L'Olimpiade, Garsington Opera
L'Olimpiade, Garsington Opera
In this Olympic battle the final scores are Garsington 1 Vivaldi 0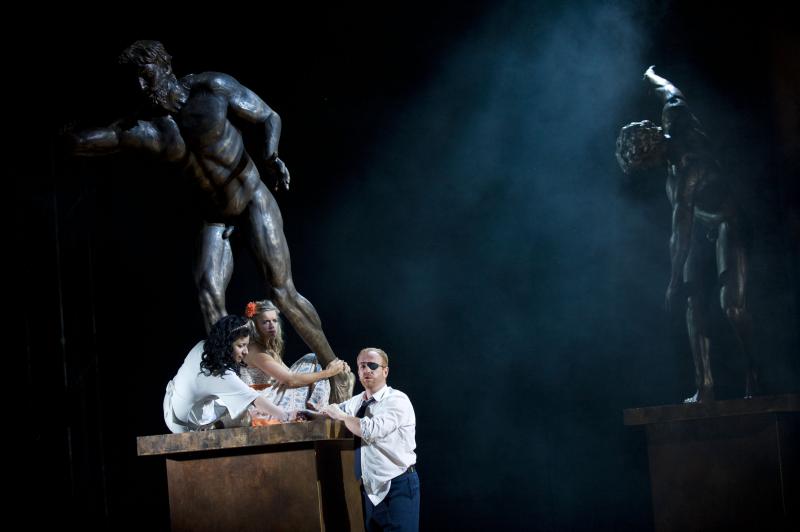 Princess Aristea (Rosa Bove) contemplates suicide in David Freeman's stylized production
Despite ever-more determined attempts by musicologists to broaden the baroque repertoire of our opera houses, Handel still very much has things his own way. But in this Olympic year a sly challenge has emerged from Antonio Vivaldi's L'Olimpiade – its topical, Games-themed premise garnering it more performances in a single year than in the past 200 put together. Undeniably apt, unquestionably novel, but is the opera actually any good?
Garsington Opera clearly believe so. For them, L'Olimpiade is no stand-alone rarity, but rather the celebratory culmination of a three-year Vivaldi project. Following on from L'Incoronazione de Dario and last year's La Verità in Cimento, L'Olimpiade offers the final piece of evidence in their case for the rehabilitation of the composer's operatic reputation.
Fons is a mezzo to sway even the most ardent of countertenor devotees
Dario – superbly cast – helped keep minds open, while La Verità charmed in David Freeman's stylish production, but in L'Olimpiade I'm afraid the defence begins to look a little shaky.
This is no reflection on the performers; the opera's young cast are almost universally strong, but so much so that it makes you wish they'd not been handed such a dud of a score. There are a couple of stand-out arias (in three hours of music even Vivaldi had to stumble upon gold every now and then) and structurally it's all rather interesting, with static recit-aria opening scenes giving way to a much more fluid arioso-based drama as tensions heighten, but there's no getting away from the fact that all the composer's best music is found in the pit rather than on the stage. Nor that, even at his best, he's nowhere near the melodist that Handel is.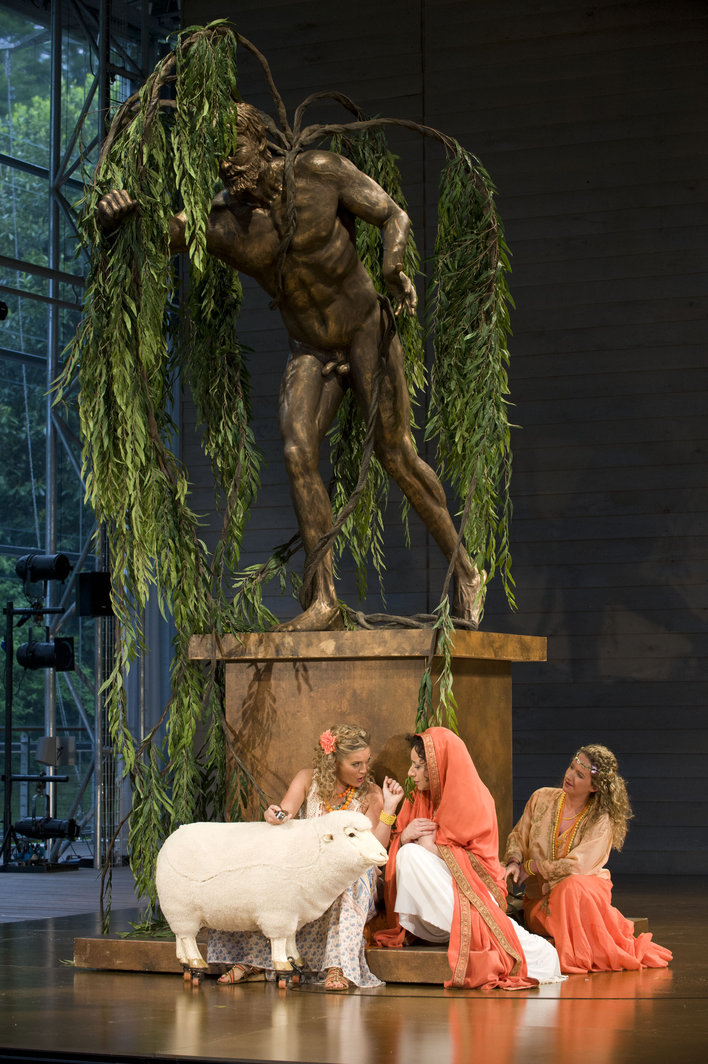 In the gorgeous, frozen world of La Verità Freeman set the bar high, and his lycra-clad, Nike-sporting athletes and David Roger's rather half-hearted designs can't quite match up. The plot is convoluted and bathetic enough (there's a classic of a long-lost-son reveal) and the score sufficiently flimsy without further undercutting it with ugly visuals; what hero could truly sustain pathos in a tracksuit?
As the evening warms up however (dramatically rather than atmospherically – this is still the very chilliest auditorium and blankets are advised) some witty touches emerge. The double-suicide attempt by Princess Aristea (Rosa Bove) and her beloved Megacle (Emily Fons) that sees each perched precariously on matching plinths is a comic highlight, while the actual Games make full use of the generous spaces of Garsington's auditorium and surrounding gardens, delighting with slow-motion effects and even a cheeky musical quotation (I won't spoil it) from the orchestra.
After grabbing attention with his small role in last summer's Glyndebourne Rinaldo, countertenor Tim Mead returns here in the lead. While not the most vocally demonstrative of roles, Licida offers ample opportunity for this musical young singer to show his skill, taking the evening's laurel wreath with the miraculous, controlled stillness of "Mentre dormi". For coloratura fireworks all the emphasis was on Michael Maniaci's Aminta, who after a rather wayward start in his intonation delivered some impressively articulated showpieces, including the ear-bending contortions of "Siam navi"
While Ruby Hughes's giddy, loveable Argene (rather underused, and perhaps working a little too hard to compensate) was the only singer to match the production for sheer energy, it was Emily Fons in the difficult role of Megacle who shone. Genuinely boyish in manner, she brought something real to the friendship with Licida on which the whole tortuous plot hangs, somehow balancing this sincerity with the rather stylised context of the production. Technically absolutely secure, with a flexible warmth to her tone, she's a mezzo to sway even the most ardent of countertenor devotees.
A weak turn from Bove's Aristea and a rather scrappy chorus were balanced by Riccardo Novaro's Clistene, and characteristically authoritative support from William Berger's Alcandro. Holding it all together, Laurence Cummings powered his band into swift speeds and stylish gestures, extracting all possible colour from Vivaldi's orchestration.
Offering a nice enough evening of summer opera, elevated by a seriously classy cast, L'Olimpiade is not the work to establish its composer in the contemporary opera house. It does however reaffirm Garsington's own musical credentials as the place to hear the stars before they become stars. Next year please, just no more Vivaldi.
Garsington is the place to hear the stars before they become stars
Explore topics
Share this article