The Suit, Young Vic Theatre |

reviews, news & interviews
The Suit, Young Vic Theatre
The Suit, Young Vic Theatre
Tender township drama revived from French in an upbeat English staging
Suitable material: Nonhlanhla Khewsa as Matilda in 'The Suit'
Peter Brook is probably at his happiest in Africa. Through his Paris theatre, the Bouffes du Nord, he has long had access to gifted Francophone black African actors. They've always been a significant contingent of his troupe there, which has also included Maghrebis, Americans, Japanese, Germans, French and even, sometimes, Britons. Brook's first focus of attention was West Africa, then South: in 1973 he was blown away at the Royal Court by township actors John Kani and Winston Ntshona, and set out on a project to inhabit and stage the black African soul which has lasted four decades.
In this incarnation The Suit was first performed as Le Costume in France and in a number of European theatres in 1999. It was a quiet, dancingly elegant study of betrayal and revenge, set in a 1950s township - an apartheid slum, Sophiatown - based on story written by an obscure writer called Can Themba. It was first staged by Johannesburg's Market Theatre in the mid-1990s. When Brook remodelled it for the Bouffes du Nord, he infused it with a shapely lyricism which probably owed more to Shakespearean comedy than to shebeen cut and thrust. But 13 years ago, with its unaffected musical interludes and choreographic precision, it still smokily evoked the raw aspiration and sadness of township life.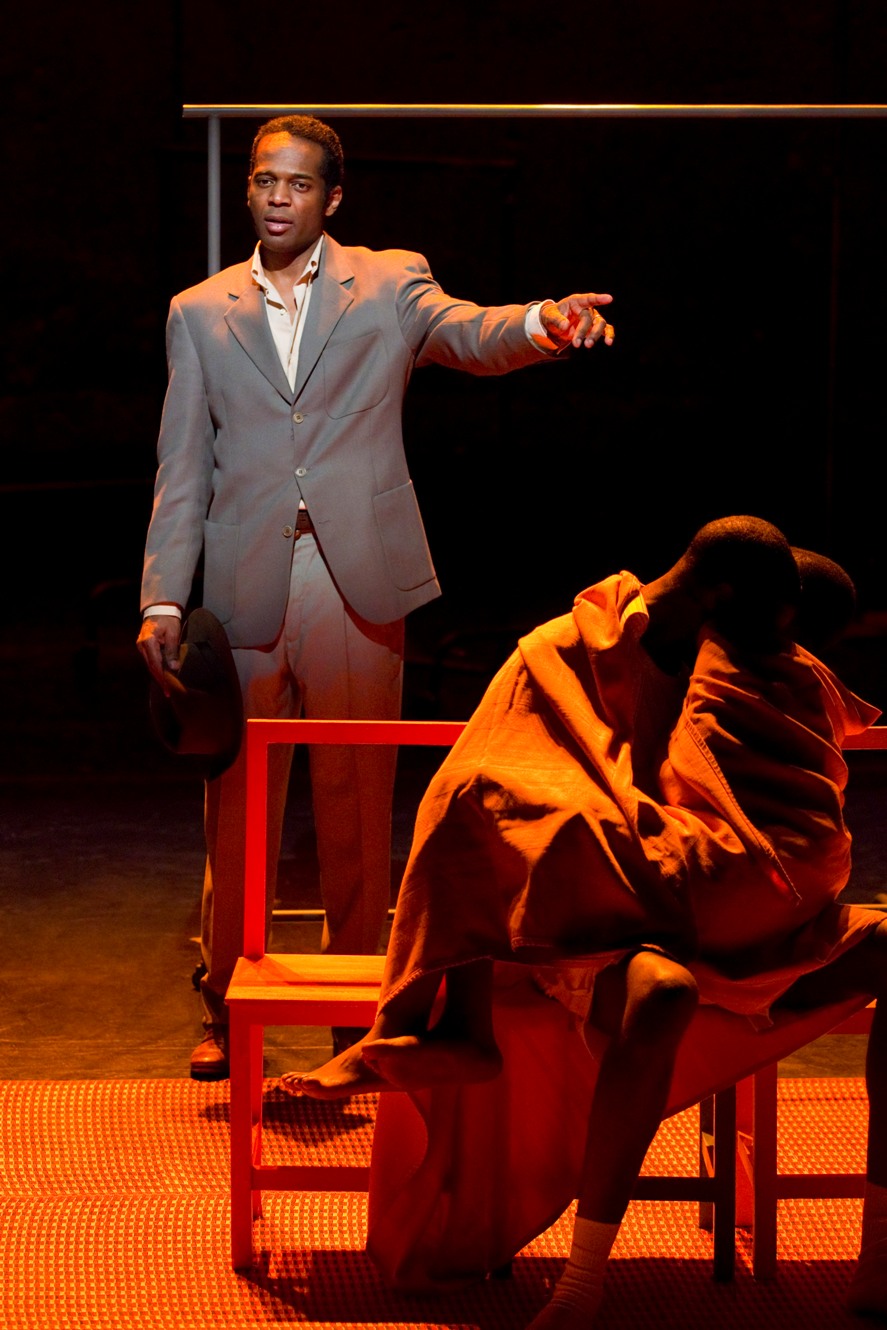 Brook has now Anglicised it. The story is of a proud husband, Philemon (William Nadylam pictured right), finding his new wife Matilda (Nonhlanhla Kheswa) in bed with a man (played here by south Londoner Rikki Henry, originally on a training placement at the Bouffes, and asked by Brook and collaborator Marie-Hélène Estienne to join the acting team). The lover flees in his underpants and his neatly hung suit is forced by Philemon to become a member of the household: as retribution, he insists that Matilda treat the garment as if he were living, eating and, indeed, sleeping with them.
The version seen at the Young Vic is more upbeat and less intimate than the French one. It's showier, noisier, with the musicians becoming part of the drama from time to time, and with audience members being cajoled to join the climactic party scene when Philemon hones his humiliation of Matilda. From it she dies. The Suit becomes a miniaturist tragedy, a tale at one level about sexist oppression, at another a metaphor for the mortal relentlessness of apartheid. With superb central performances from Kheswa - who sings beautifully - Nadylam and Jared McNeill as his pal, this show has warmth, humour and subtlety, resurrecting from the more modest French original an absorbing tale of a terrible time which Brook has a distinguished record in addressing.