Win Win |

reviews, news & interviews
Win Win
Win Win
Paul Giamatti turns cheerful against the odds in Tom McCarthy's film
Who is the weakest link? Paul Giamatti and Alex Shaffer in 'Win Win'
Surely, any film called Win Win and starring Paul Giamatti is being deeply ironic? After all, you don't expect the hangdog star of Sideways and Barney's Version to do the feel-good Hollywood thing, and it seems of a piece with Giamatti's baleful, ever-defeated demeanour that a scene of him jogging along should end with the actor coming to a panting halt.
Life isn't easy in the Job-like landscape in which Giamatti has specialised on screen, to the degree that a clanking boiler beneath his Win Win character Mike Flaherty's New Jersey office begins to sound doomily apocalyptic. Even his six-year-old daughter says "shit" (twice, as it happens, within the first 15 minutes), her expletive-prone reflexes doubtless gleaned from dad. The girl, one feels, knows whereof she swears.
So it comes as something of a real disappointment that writer-director Tom McCarthy believes fully in his title, even if numerous plot contortions have to take place in order to lead viewers towards the promised uplift. I like a happy ending as much as the next person, and it's giving very little away to point out that the closing shot is cheerful, yes, but does come at least at a financial price. What's disconcerting is that a film capable of making passing mockery of "happy land" should inhabit that same realm itself. One can't help but feel that Mike Flaherty, if pressed, would have trouble buying his own narrative.
The agent of Mike's salvation turns out to be a troubled teen called Kyle (Alex Shaffer), a sullen soul with an inordinate gift for wrestling who has travelled by bus from Ohio in search of his mentally ailing grandfather, Leo (Burt Young), whose affairs the impecunious Mike now handles. Cue dual family dramas in which the meltdown in Kyle's family - he doesn't speak to errant mum Cindy (Melanie Lynskey) - very nearly precipitates one in Mike's own. Except that Mike's wife Jackie (Amy Ryan) seems to change personalities on a dime, turning from reproachful nag one minute - she refers to her new basement tenant as "Eminem down there" - to ceaselessly empathic Rock of Gibraltar the next.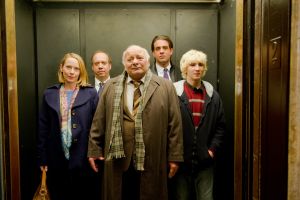 McCarthy occasionally retrieves the quirky, idiosyncratic comic vein that made his film debut, The Station Agent, such a joy, not least during those sections in Win Win given over to Agent alumnus Bobby Cannavale (pictured in group shot second from right), here playing a pal of Mike's who hates his own philandering wife almost as much as the withdrawn Kyle despises his mum. (Women aren't exactly exalted in this movie.) Currently appearing on Broadway to explosive effect in The Motherfucker With the Hat, Cannavale allows real sweetness to underpin his rage, his celluloid roar at the night sky a dry run for what he is currently accomplishing on the New York stage eight times a week.
McCarthy's 2007 film The Visitor brought star Richard Jenkins an Oscar nod for Best Actor, and he's too savvy a film-maker not to effect some grace notes on the time-tested formula by which the problem child ends up teaching a thing or two to the adults in his midst. Jeffrey Tambor, mouth downturned, brings his inimitable deadpan to the part of Mike's admonitory colleague and fellow wrestling coach, and newcomer David Thompson is both funny and appealing as the athletic also-ran, Stemler, whose wrestling-ring panic is there to be put right by Kyle. Or not.
In fact, life's glummer prospects don't get much of a look-in, for all that the film claims to inhabit the hard-scrabble America of the moment where many are the Mike Flahertys who are falling by the wayside. "Hi, guys," this Mike chirrups at the entirely unearned finale, whereas you don't need to be a misery guts to feel that the winded jogger on view near the opening is where the so-so Win Win is at its most honest.
Watch the trailer for Win Win
One can't help but feel that Paul Giamatti's character, if pressed, would have trouble buying his own narrative
Share this article