Globe to Globe: As You Like It, Shakespeare's Globe |

reviews, news & interviews
Globe to Globe: As You Like It, Shakespeare's Globe
Globe to Globe: As You Like It, Shakespeare's Globe
Superb Caucasian ensemble playing in Georgia's Forest of Arden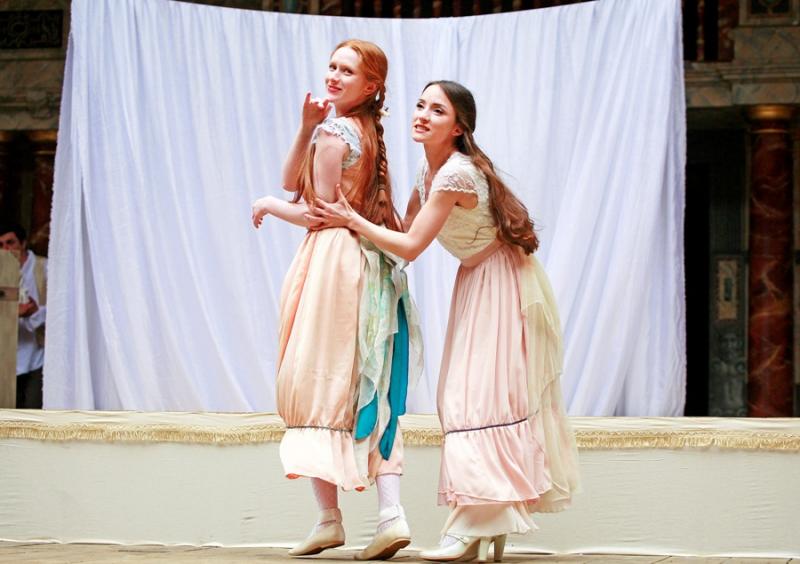 As You Like It in Georgian: Ketevan Shatirishvili as Rosalind and Nato Kakhidze as Celia gabble on at more than 90 words a minute
In the Globe to Globe season, the Caucasus is proving as fruitful a ground as any for new views on old texts. Georgia's Marjanishvili company, under director Levan Tsuladze, proved the region has a special style with their version of As You Like It, no less strongly than Armenia's King John had a couple of days earlier.
Tsuladze emphasised the ensemble nature of the action, using a small front stage space, and keeping actors on stage in the wings most of the time. It's played almost as a play within a play, complete with stage curtain for the court scenes, before we move into the forest, where the action became distinctly Chekhovian, giving an interesting melancholic counterpoint to the elements of circus, slapstick, music (both live, acapella choruses, and recorded) and the like that spoke so embracingly.
An on-stage promptress struggling to keep the company in the right place
It took itself very lightly, and I felt simply that this cast of 14, with plenty of doubling (the bad duke being the good duke), were actors deeply at home with this text. The cross-casting worked outstandingly, with the Jaques of actress Nata Murvanidze just right, and especially powerful in interchanges with Adam, also female (Ketevan Tskhakaia), who brought out an almost erotic quality in his/her interaction with Orlando (Nika Kuchava). This was no effete young "juve", but actually a bit of a dolt who had some growing up to do, and you could understand why this Orlando won the wrestling. Ketevan Shatirishvili as Rosalind and Nato Kakhidze as Celia gabbled at well more than 90 words a minute in their scenes that are sometimes played slowly and portentously.
The cast raced its way through the action with zest, hilarity, celebration, and often self-conscious campness (Onise Oniani as Le Beau stole the show whenever onstage). Design was loosely 19th century, initially in early scenes dominated by greys and white, moving in later scenes into more vivid colours; an on-stage promptress struggling to keep the company in the right place was reminiscent most of all of a train conductress from the good old days of the late British Rail.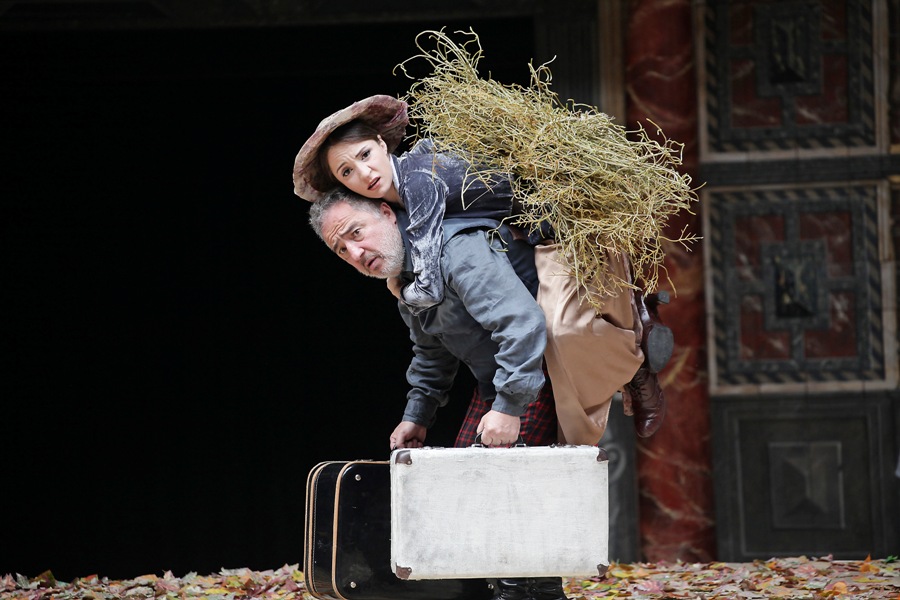 The smiling was there aplenty, but there were sighs too. The closing weddings were played among leaves - autumn, presumably - exquisitely crafted artificial ones from Tbilisi. It's an oak forest rather than a cherry orchard, but Chekhov would have approved. Jaques may have been briefly bundled away into a cupboard at the play's happy conclusion, but his/her view of life – the seven ages soliloquy communicated perfectly regardless of language understanding, to side-stage characters, rather than to the audience – spoke strongly. Not everything was right in the wider, happiness-register sense in this Georgian Arden. But how right it was to find it on the Globe stage.
The cast raced its way through the action with zest, hilarity, celebration, and often self-conscious campness
Share this article