Reissue CDs Weekly: Sandy Denny, Kevin Coyne, France Gall |

reviews, news & interviews
Reissue CDs Weekly: Sandy Denny, Kevin Coyne, France Gall
Reissue CDs Weekly: Sandy Denny, Kevin Coyne, France Gall
The former folk queen pushes towards AOR, raw solo performances from British cult figure and pitch-perfect Sixties yé-yé
The lady: Sandy Denny had moved away from folk rock by the time of her last album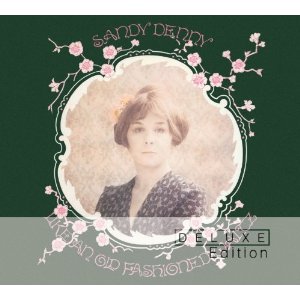 Sandy Denny: Sandy (Deluxe Edition), Like An Old Fashioned Waltz (Deluxe Edition), Rendezvous (Deluxe Edition)
Graham Fuller
Sandy Denny completists unable to drop a thousand to acquire the now scarce 2010 19-disc box set can fill their collections another way. They can add to their Denny-era Strawbs, Fairport Convention, and Fotheringay CDs last year's remastered The North Star Grassman and the Ravens, the melancholy 1971 masterpiece with which she launched her solo career, and these three newly spruced and expanded albums: Sandy (1972), another classic full of loneliness and yearning; the mellower, jazz-influenced Like an Old Fashioned Waltz (1974); and Rendezvous (1977), which pushed the former folk queen toward AOR the year before her death at 31.
Together, these discs offer the 28 original tracks and 53 demos, alternative versions, and live cuts. Owners of the box set will need them, too, since they contain previously unreleased material. Sandy boasts the jewels in the crown – the eight songs Denny huskily sang at a Brooklyn concert in 1974, among them haunting renditions of "Late November," "The Sea Captain," and "John the Gun," and an "acapulco" (as she quipped) version of Richard Fariña's "The Quiet Joys of Brotherhood."
All three records were produced, with increasingly lush brass-and-strings arrangements, by Denny's husband, Fairport alumnus Trevor Lucas, in a forlorn attempt to make her more commercially popular. Her exquisitely crafted songs, dense in pastoral and especially marine metaphors, were best when that great clarion voice was accompanied by Fairport's electric crackle and thrum, or by her own guitar or piano playing, as the sparer takes prove time and time again.
Still, glories abound: "Listen, Listen" (also sung gorgeously in French) and "The Music Weaver" on Sandy; the tortured "Solo" and the cover of "Whispering Grass" on Waltz; and Rendezvous's "Gold Dust" and "One Way Donkey Ride." Most sublime is the latter album's "All Our Days," Denny's ode to seasonal and human change – and an ethereal avian hommage, complete with orchestra, to Vaughan Williams. We shall not hear her like again.
Kevin Coyne: Nobody Dies in Dreamland

Kieron Tyler
As great British cult figures go, Kevin Coyne was never short of influential cheerleaders. In 1977, while the punk wars raged, John Lydon was open with his admiration for him and the equally idiosyncratic Peter Hammill. Coyne died in December 2004. His troubled relationship with alcohol is well known. This extraordinary release offers a side to the prolific Coyne that has never been aired before. Nobody Dies In Dreamland releases a tape recorded at Coyne's south London flat in 1972 at age 28, before his first solo album, Case History, was issued. Many songs are familiar ("Uggy's Song", "Need Somebody", "Evil Island Home", "Araby", "Marlene" and a few more), but this 19-track collection is a revelation. Raw, these solo performances have the taste of outsider music: unmediated, very edgy. Although blues is the jumping-off point and sometimes explicitly embraced, what's heard is closer to the wracked songwriting of American stylists like Willie Nelson or Townes van Zandt. A gem.
France Gall: Made In France - France Gall's Baby Pop
Graham Rickson
France Gall famously won the 1965 Eurovision Song Contest with Poupée De Cire Poupée De Son. Written for her by Serge Gainsbourg, the song still delights. Gall was never the most expressive of singers but she was perfect for this repertoire, the neat production values adding to the pleasure. Gainsbourg was a family friend, subsequently composing more material for Gall. Including the notorious "Les Sucettes" (later also recorded by Gainsbourg himself), with a smutty subtext which wasn't at the time recognised by the teenage singer. Made in France is a perfect introduction to the delights of France Gall; 22 brief songs of pitch-perfect Sixties yé-yé music. Much of the quirky fun comes from the contrast between Gall's chaste, upbeat vocal style and the increasingly elaborate arrangements. "Nefertiti" and "Chanson Indienne" are lovely examples; the gratuitous sitar on the latter still raising a smile. The remasters are bright and clear, the annotation and presentation exemplary. You even get a Japanese version of "Poupée De Cire Poupée De Son".
Watch Sandy Denny perform "Late November"
The albums were produced, with increasingly lush brass-and-strings arrangements, in a forlorn attempt to make Denny more commercially popular
Share this article