Royal Concertgebouw Orchestra, Haitink, Barbican Hall |

reviews, news & interviews
Royal Concertgebouw Orchestra, Haitink, Barbican Hall
Royal Concertgebouw Orchestra, Haitink, Barbican Hall
The visiting Dutchman delivers a Bruckner Five more about elucidation than awe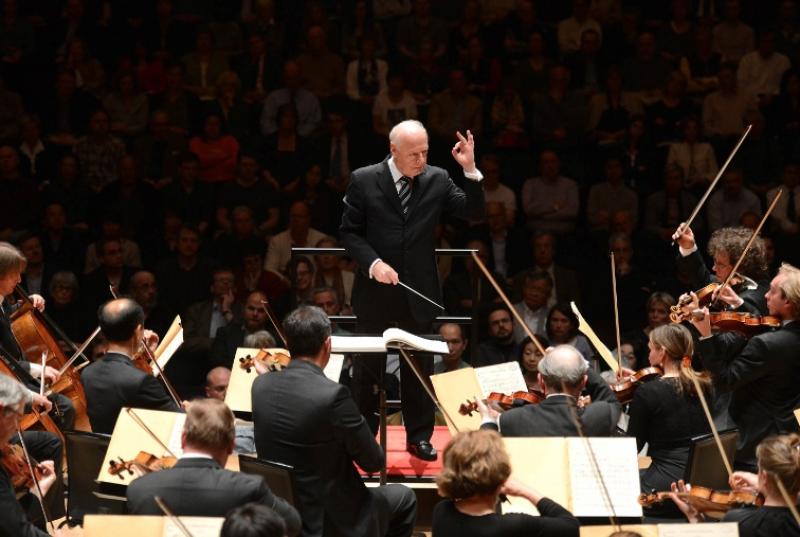 Bernard Haitink with the Royal Concertgebouw performing a home-spun Bruckner Five
The last night Haitink conducted at the Royal Opera House as musical director the staff wheeled on a moped as a leaving present. Ever since, his conducting has been inextricably linked to that mode of transport in my head. With Haitink, music-making has always seemed to be about getting from A to B in the most dependable, unfussy and often uninspiring way possible. For years, I haven't been able to see the point of him at all.
But last night's performance of Bruckner Five with the Royal Concertgebouw Orchestra made me realise that a straight, uncluttered approach (especially to Bruckner) is not completely unwarranted.
In fact it was rather compelling, which, to be honest, wasn't expected. The prospect of hearing Bruckner Five again after Claudio Abbado's pretty definitive statement earlier in the year didn't fill me with much excitement. I couldn't imagine what Haitink's easy manner (his recorded Bruckner cycles haven't ever interested) would bring to this most cold and complex of Bruckner symphonies. But that contrast - the uncomplicated Dutchman dealing with the most austerely intellectual music - was exactly what made the concert come alive.
The final quasi-fugal coming together became a glorious tapestry of the various traditions Bruckner tapped into
Bruckner is such an otherworldly kind of composer that it's very tempting to pump him full of jet fuel and ping him up to the stars. It's become more and more common for conductors to emphasise the extra-terrestrial oddness, to draw out the proto-modernist thinking in his writing and to imagine him as a composer of fantastical extremity. And it's an easier route to take. It's harder to make sense of him in human terms. It's harder to relate his enormous spans of musical time to something familiar. But that's exactly what Haitink did.
If he could do it with any orchestra, it would be with this one. The Concertgebouw are famed for a softness and gentleness of sound. They lack bite. Haitink worked with that. The opening movement was deliciously warm. Haitink seemed loath to emphasise the divisions or the strange changes of tack, and instead appeared keen to encourage an organic unity, albeit one full of local interest. The woodwind were allowed to inject plenty of personality into their interjections and were often given the chance to take the lead, guiding the strings and brass into and out of the stormy development.
What the slow movement lacked in brightness, it made up for in heat. It purred rather than glowed. It isn't Bruckner as I would always want him to sound but it was interesting and it worked. With Haitink jumping at any hint of lilt or swing, the Scherzo and Trio were always going to be a high point. Where you'd expect Haitink's home-spun style to come a cropper was in the grand vaulting of the last movement.
Other conductors approach this vast construction site of sound in such a way that each musical phrase is carefully swung into place through precision craning. Haitink saw every individual moment as an event in itself, with a history, a context and a heartbeat. As a result you had a human bounce to every bar. In Haitink's hands the final quasi-fugal coming together became a glorious tapestry of the Renaissance, Baroque and Romantic traditions that Bruckner fuses in this work, an apotheosis that was more about elucidation than awe. A moped's eye-view that's not to be sniffed at.
Haitink saw each individual moment as an event in itself, with a history and a context and a heartbeat
Share this article