Interview: Film composer Ilan Eshkeri |

reviews, news & interviews
Interview: Film composer Ilan Eshkeri
Interview: Film composer Ilan Eshkeri
The man who wrote the scores for Coriolanus, Kick Ass, Stardust and Young Victoria on the tricks of his trade
Ilan Eshkeri: 'film music is one arena when large audiences will accept quite avant-garde or bizarre music'
At his studio near White City in West London (he did say it was Notting Hill) Ilan Eshkeri's is adding a scratchy cello to a key moment in Ralph Fiennes film of Shakespeare's Coriolanus. It's the moment the inhabitants of Rome realise that Coriolanus, an exile, is about to attack them.
It is, he says of the suitably ominous sound, "bent out of tune, weird – I'm getting into the sounds of breathing, I like a lot of dirt." In the studio is his producer Steve McLaughlin, and there are a couple of assistants bustling around.
Although not (yet, anyway) a household name, it's a fair bet that you will have heard some of Eshkeri's music on films like Young Victoria, Ninja Assassin, Telstar, Kick Ass, Layer Cake or Stardust. Numerous award nominations have been showered on him – from BAFTA to Ivor Novello. Unlike some film composers – Philip Glass or Michael Nyman come to mind – Eshkeri's style varies widely from film to film. "In some ways it would be good to be instantly recognisable – good for business in that it's an obvious brand. But I don't think I'd like to find myself going over the same things over and over." He adds modestly: "Of course, Glass will go down as one of the most significant composers of our time and I doubt very much that I will." He says that for that "film music is really just helping telling the story. The ideal thing can be to be invisible – although maybe have them humming it when they leave the cinema."
He'd love to do a thrash metal score. 'You're talking to someone who was a big Metallica fan'
He suspects the virtue of originality at all costs may in any case be over-rated, recalling an A-level teacher's advice "I was worried the music I was writing wasn't original enough. He said that a lot of people spent so much time trying to be original that they forgot to write any music." Eshkeri's music is certainly distinctive and eclectic, and reflective of period and ambience. One of the most enjoyable aspects for him is researching the background for the films; for Young Victoria, he explored the history of waltzes of the time. "We had to give the idea that Victoria wasn't this dowager dressed in black but was a mischievous, cool, beautiful young woman. The waltz was the fashionable dance of the time".
For Centurion, Neil Marshall's film about the ill-fated Ninth Legion's attempts to wipe out the Picts in Caledonia in the second century, Eshkeri researched ancient Scottish music, going up on a jaunt to the Highlands where he discovered the Carnyx, an old instrument made of a pig's head "that made the kind of scary sounds you might have heard through the fog".
Eshkeri's compositions reflect his own wide musical background. From being brought up in a classical music household (an Israeli father and French mother who loved to play the piano music of Chopin) he got into Public Enemy and NWA in his teens. Then he "completely shifted and got obsessed with grunge from Seattle" and was briefly in a school rock band before getting very interested in film music. He studied both English literature, which came in handy for discussing Shakespeare with Ralph Fiennes, and music at Leeds University. By the time he was 18 he was already acting as assistant on films for composers such as Edward Shearmur, who wrote the score for Miss Congeniality and Johnny English. He recalls "making tea in Abbey Road" and "having some real world experience, which was more valuable than my academic education".
While some of his teachers at university were advocates of atonal, 12 tone music, it was also a time were "more tonal composers like Arvo Pärt and Henryk Górecki were being rediscovered". Of the more hard core modernist composers like Pierre Boulez he says: "I wouldn't listen to them for fun, but now I see a lot of value in composers like that – film music is one arena when large audiences will accept quite avant-garde or bizarre music such as quite a lot of the music I'm composing for Coriolanus, for example. Think of the music in films like The Shining."
Apart from "obvious choices" like Ennio Morricone and John Williams, Eshkeri's favourite film composers include John Corigliano, who provided some memorable scores, notably for The Red Violin, and his student Elliot Goldenthal, who wrote the claustrophobic music for Alien 3 and Titus. Eshkeri rates Goldenthal's "mad ideas – he does things like have four people with scissors around a mike, and records that. He's an inspiring figure."
Eshkeri points out the modern film composer's job is not just composing but pulling the music together. "I did some music recently that required some Irish folk tunes. It would be mad to compose new folk tunes so I found an angelic folk singer and worked with her – asking her what tunes she might know that would go with a particular scene. I might slow it down or whatever to fit". Another example was on Kick Ass. Despite Eshkeri's flirtation with rock music at school he preferred to get in Scott Shields, who played in Joe Strummer's last band as guitarist. "I could play the chords but he has a rock attitude, which the score needed." He says that the film composer's job is to get the job done "by hook or by crook". So is there anything he wouldn't do? A thrash metal score? "Love to," he smiles. "You're talking to someone who was a big Metallica fan."
While it's clear that much of his work is thrilling and he is reluctant to "take us down a dark path" he says the increasing constraints on budgets are resulting in difficulties in keeping the quality high. "I'm not sure where it started. Perhaps because of the file-sharing that's happened there is a feeling that music is free and there is a perception that music has no value."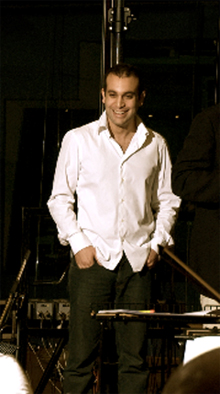 He thinks that music is often "the emotional heart of a film. Without an emotional performance it doesn't mean anything". As part of that, "I go to great lengths to make the performances real. If I can't have live musicians I might use real synths but the audience can tell if it's fake and lacks authenticity". He will use sample libraries to make a demo, but only "so that we can record it a later point." He does however think that if it gets to the point that the majority of films get seem on iPhones or similar devices then "you are devaluing the whole art form".
Another aspect to his job is, he says frankly, the ability to be something of a politician, dealing with the powers-that-be on a film. "I've been working on a film where I'd have different cues and notes from the Director, the Studio Exec, the Producer – and they all conflict." This becomes especially trying when they want the music produced fast. In general, working on artier films like Coriolanus does give more freedom, although even then he doesn't get to make the final decision. "There was one scene I thought needed a cue, a character . There was a wide–shot of one of the characters walking across a landscape – it's where you'd normally expect music – but Ralph insisted it should be just the sound of the birds and the wind expressing his isolation."
A more fundamental quality has to be that of empathy. "If I'm looking at the screen and the person is having the best day of your life you have to think what that is like." Even for somewhat unsympathetic characters like Joe Meek in Telstar, he has to get inside the character's head. "He was a slightly hateful character but you try and get the audience to sympathise with his insanity," he says. "I was imagining the music in his head which was more interesting and romantic than the music he actually managed to produce." It's an approach that has some dangers. "When we did the fourth Hannibal Lecter film and you spend three months imagining what a serial killer must feel, you do start to take those emotions on board."
For switching off he has recently taken up surfing, especially after spending a lot of time in L.A. doing Ninja Assassin (although he does say he prefers to stay in London). He hopes to have time to do some non-film composing and says a Violin Concerto is "nearly finished" – performing too, is something he hasn't had much time for, including the plan to perform some film scores live with the Cinematic Orchestra.
The job does have compensations – such as the time he did an arrangement for Annie Lennox of "Sweet Dreams" for orchestra. It was "rather complex, there are actually three bass lines going on". She came round and started singing it, "at which point I went slightly weak at the knees". It's a job, he says, for people who don't like regularity "and I really don't like regularity."
Film music is one arena when large audiences will accept quite avant-garde or bizarre music
Explore topics
Share this article