Le Quai des brumes |

reviews, news & interviews
Le Quai des brumes
Le Quai des brumes
Jean Gabin and Michèle Morgan give love a chance in the benighted Le Havre of a French poetic realist classic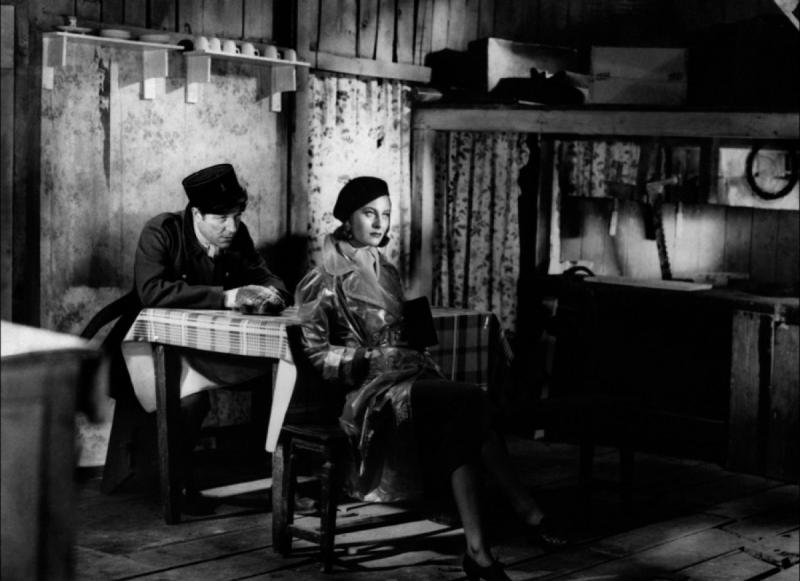 Chance meeting: The deserter (Gabin) and the ward (Morgan) in 'Le Quai des brumes'
"Atmosphère…atmosphère," the tart played by Arletty barks at her boyfriend-pimp on a canal bridge in Marcel Carné's 1938 Hôtel du Nord.
She was furious with him for wanting to go fishing for a change of ambience, but the famous line – which later prompted the star to launch a perfume called Atmosphère for charity – might have been screenwriter Henri Jeanson's insider dig at Carné's
Le Quai des brumes
(
Port of Shadows
), which had been released to rapturous acclaim and huge business earlier in the year. Unfolding on the dank, fogbound streets and jetties of charcoal-smudged Le Havre – and in the ultimate bolt hole, planted on a benighted tract of waterside wasteland, for the existentially damned –
Le Quai des brumes
is not so much thick with atmosphere as sick with it.
A sublimely melancholy story of alienation and doomed love starring Jean Gabin at his greatest and the revelatory Michèle Morgan (who at 17 was exactly half his age), it was the third collaboration between Carné and the brilliant, anarchic poet-screenwriter Jacques Prévert – dubbed "the film poet of revolt" by Ado Kyrou – who would eventually make eight great films together, seven in the poetic realist school that dominated French cinema from the mid Thirties through the mid Forties and forges a link between the German Kammerspielfilm and American film noir.
Zabel, we're not surprised to learn, has been putting the moves on Nelly
Defining poetic realism has been a tough nut for movie scholars to crack, but simply put it was a lyrical response to the fatalism and decay that was perceived to have engulfed the French working class and lower-middle class in the years leading up and during the war. Films made in this mode both captured the tides of social and political divisiveness and augured the agony of occupation and collaborationism. Alongside Jean Renoir's Popular Front-influenced Le Crime de Monsieur Lange (1936), his Zola adaptation La Bête humaine (1938) and Carné and Prévert's Le Jour se lève (1939), Le Quai des brumes sits at the apex of the movement.
It is an urban fairytale, adapted from a Pierre Mac Orlan novel, with a virgin, a shopworn prince, the beast he must rescue her from, and an impotent rival thrown in for good measure. An army deserter who has bitter experiences of killing people in Tonkin (northernmost Vietnam), world-weary Jean (Gabin) hitches a lift into Le Havre one night with a vague idea of finding a ship to take him abroad. Falling in with a drunk, he is led away from the city centre with its prowling military personnel to a harbour-side dive run by the former traveler Panama, a garrulous angel in a white suit.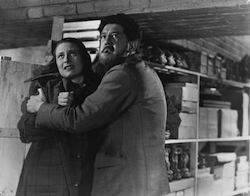 Among the lost souls who show up there is an iconoclastic painter – perhaps Prévert's comment on the isolated role of the artist – who eventually bequeaths Jean his civvies when he drowns himself, and Zabel (Michel Simon), a cultured fancy-goods retailer, who has mysterious packages he wants to lose and is looking for Nelly, his teenage ward. The craven fallen bourgeois Lucien (Pierre Brasseur) and his crew of callow gangsters try to smoke out Zabel to get information from him about an associate who's gone missing. In a backroom, Jean chances upon Nelly, who is the missing guy's girlfriend and has run away from Zabel, who, we're not surprised to learn, has been putting the moves on her (Morgan and Simon pictured above).
Jean catches sight of Nelly standing by a window in a see-through raincoat and a beret, faked dispassion written all over her face – the kind of great, iconically accessorized entrances grave-face dreamgirls don't make anymore. Slowly, trustingly, the two get to know each other over the course of day. In the moral murk, amid such sordor, love gleams. The raincoat rematerialized as the plastic mac sported by Joan Bennett's mercenary tramp in Scarlet Street (1945), Fritz Lang's noir remake of Renoir's La Chienne (1931).
Nelly isn't a whore, though, but a virgin in need of Jean's protection from the lusting Lucien and the odious Zabel (whose characterization smacks of anti-Semitism). She isn't a virgin by the end of the picture; Eugen Schüfftan's lambent morning-after shot of her in Jean's bed all but banishes the gloom. Jean has also found a companion in the 1938 edition of Uggie. What's more, a ship is leading for Venezuela, and Jean, with a new identity and passport, can be on it. When he gets there, he will send for Nelly. And, come September, it's impossible that France and Britain will sell out Czechoslovakia to Hitler at Munich.
Jean has also found a companion in the 1938 edition of Uggie
Carné was grossly undervalued by the Cahiers du cinéma critics in the Fifties, his visualizations of Prévert's screenplays considered mere embellishments of the writer's imagistic scene-setting and pithily beautiful dialogue. But he placed the camera unerringly and moved it imaginatively, bringing quietly poetic cadences to the charged realism. He was also a great director of actors, even if that meant getting out of the way of old hands like the formidable Simon, Édouard Delmont, who played Panama, and Raymond Almos, who played the drunk. In his and Prévert's hands, Le Quai des brumes' hopeless love story offered a pessimistic analysis of a society in which class is pitted against class, families are incestuous, the bourgeoisie is decadent, and imperialism turns every poilu into a killer. No wonder the atmosphere is tainted.
The newly restored Le Quai des blumes is on limited release
Eugen Schüfftan's lambent morning-after shot of Nelly in Jean's bed all but banishes the gloom
rating
Share this article