CD: She Makes War - Little Battles |

reviews, news & interviews
CD: She Makes War - Little Battles
CD: She Makes War - Little Battles
Accomplished second album for London-based multi-instrumentalist Laura Kidd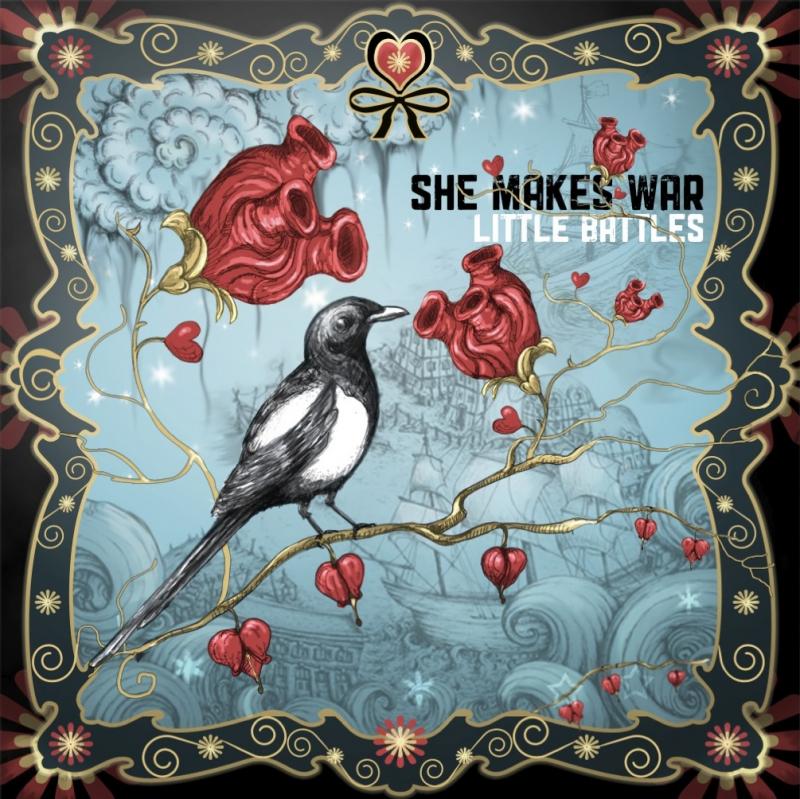 She Makes War combines dreamy vocals with claustrophobic loops and violent guitars
Alright, I admit it - I fell halfway in love with multi-instrumentalist Laura Kidd, the London-based artist known as She Makes War, from the first time I met her heavily made up panda eyes in the Groundhog Day-esque horror video for "Exit Strategy". It's not quite a title track, as the only little battles Kidd is fighting are the ones that punctuate the wrong sort of relationship's implosion, but as a stage-setter it'll do nicely.
Be it the stage make-up, the pseudonym or the titles like "Minefield" and "Shields and Daggers", there's an edge to Kidd's music; defensive layers built up around a voice that could so easily be played for the fragile. Kidd is a multi-instrumentalist who builds her work on record and on stage around claustrophobic loops and violent guitars, combined with found sounds from the artist's global travels. Underneath it all the vocals wouldn't be out of place on some wide-eyed Japanese dream-pop record, but they can switch to steely and immutable with the flick of a switch or the tap of a pedal.
"Exit Strategy" stands out of course, with its lurching, lo-fi videogame backbeat and sullen singsong refrain, making the sweet contrast of the harp-driven and string-laden "Butterflies" all the sharper. With its innovative use of loops and subtle beat-boxing "Delete" invents electronic a cappella before Kidd leads a solemn four-piece choir in a bitter hymn to the lost girls of Mexico.
If that all sounds a bit too heavy-going, past session work with artists as varied as Fame Academy's Alex Parks and trip-hop vocalist Tricky has instilled in Kidd an appreciation for the pop hook, which she uses to full effect in songs as diverse as the grungy "Magpie Heart", the sparse "Done and Said" and the delicate, acoustic "Blue".
Kidd heads out on tour with Chris T-T, who provides the haunting piano backing on album centerpiece "In This Boat", later this month. I'm promoting the Glasgow show, so do come along and swoon.
Kidd also produces and directs her own promo videos - check out "Exit Strategy" below
The vocals wouldn't be out of place on some wide-eyed Japanese dream-pop record, but they can switch to steely and immutable with the flick of a switch
rating
Share this article