Into the Abyss: A Tale of Death, A Tale of Life |

reviews, news & interviews
Into the Abyss: A Tale of Death, A Tale of Life
Into the Abyss: A Tale of Death, A Tale of Life
Werner Herzog tackles the death penalty as only he can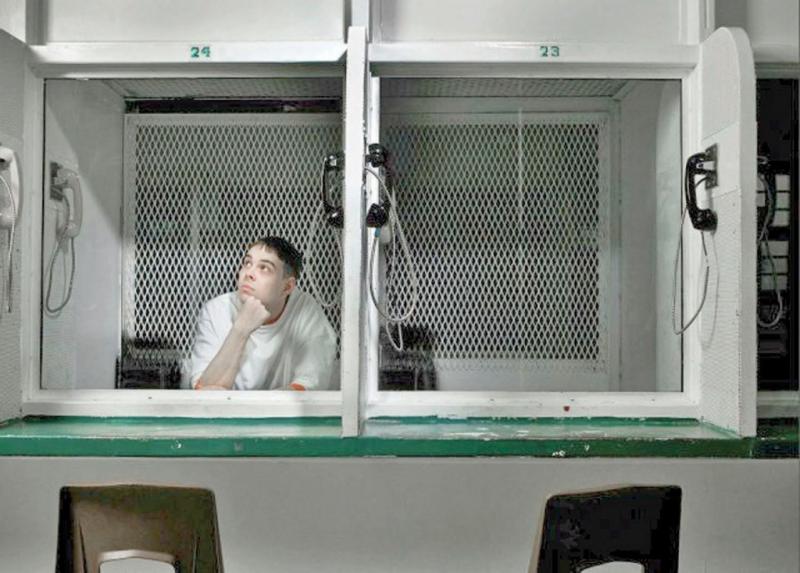 An anxious Michael Perry just days before his execution in 'Into the Abyss'
Into the Abyss sees celebrated German filmmaker Werner Herzog take a sharp turn away from those marvels of early man he so magnificently captured in the stereoscopic Cave of Forgotten Dreams to the shocking violence of which humanity is also capable, here both greed-fuelled and state-sanctioned.
It's a documentary which takes as its focus a multiple homicide and is both an anatomy of a (triple) murder and a passionate, if frequently askew, petition against the death penalty.
Wearing his anti-capital punishment stance proudly from the outset, Herzog delves into the 2001 murder of Sandra Stotler, her son Adam and his friend Jeremy Richardson in Montgomery, Texas. Their killers were Michael Perry and Jason Burkett (pictured below right) - at the time both 19 - who were known to the victims. The motivation for the murder is believed to have been robbery, as two vehicles were stolen. Both men were convicted of capital murder and, while Burkett was sentenced to life in prison, Perry was condemned to death. Herzog's film incorporates chilling police crime scene footage - shot at the time - alongside interviews with the perpetrators, those who knew the convicted men and their victims, and those with unique insight into state executions.
Herzog's characteristically idiosyncratic approach is charming and takes us in unexpected directions, adding colour and even humour to this most sombre of subjects. When the Reverend Richard Lopez - a "death house" chaplain - talks about how he likes to enjoy the natural world while out on the golf course, Herzog asks Lopez to "please describe an encounter with a squirrel." This leads to a touching reflection on how precious life is and Lopez's frustration about not being able to save the lives of those he attempts to bring comfort to: "I cannot stop the process for them, but I wish I could." The film also features an astonishing coup: the repentant confessions of Fred Allen, a former corrections officer who - by his own estimate – assisted in over 125 executions, before he suffered a remarkable change of heart.
Herzog speaks to both Burkett and a soon-to-be-executed Perry. He tells the latter that he feels, "destiny has dealt you a bad deck of cards" but also that, "I may not like you", which seems to wound Perry. Perry isn't especially sympathetic and is in denial regarding his part in the crimes - though the evidence against him seems compelling. Yet he shows intelligence when talking about his mounting depression and beams a wide, goofy grin as he first takes a seat to be interviewed. He's a complicated, contrary character but seems - his crimes of a decade ago apart - anything but monstrous. Into the Abyss was originally intended as a profile of several death row inmates and the additional profiles have been made into shorter TV films, under the collective title Death Row. The series is currently showing on Channel 4.
Stylistically, Into the Abyss is difficult to fault; this seasoned and ingenious documentarian and his regular director of photography, Peter Zeitlinger, treat the film itself as an investigation, with the probing camera mimicking the crime scene footage, looking for clues that are long gone - except in the faces of the perpetrators. There are moments when the subjects are just left with their own thoughts, as in the case of Jeremy Richardson's brother Charles (pictured above left), which seems to bring out something more than words can elicit. Herzog's own musings routinely enrich the film, for example when Delbert Burkett, father of Jason (a long-term prisoner himself), makes a telling mistake in describing his son's release date (rather than 2041, he says it's 1941), Werner sensitively observes, "Time is probably different for you in here."
Herzog's case is compelling, his contribution on the subject more than welcome, and he draws convincing anti-death-penalty testimony from opposing ends of the execution process. Sometimes, however, his agenda clouds his judgment. For example, his decision to cut, somewhat sentimentally, to footage of Perry when the bereaved Lisa Stotler-Balloun describes how watching his execution brought her some much-needed closure (her mother and brother were murdered by the Perry and Burkett) feels rather insensitive.
Some have compared this honourably intentioned, deeply impressive documentary to Truman Capote's seminal non-fiction novel In Cold Blood, and the crime itself is certainly comparable – a multiple murder, motivated by robbery sending shock waves through a small community. Despite the similarities in this and aspects of the probing presentation, Capote wrote his story at an icy remove (he conducted detailed interviews with both perpetrators after their convictions and is believed to have befriended one of the culprits, but does not personally feature); in Into the Abyss Werner Herzog, with his distinctive voice and unmistakable brand of questioning, is very much present.
Into the Abyss is in cinemas from Friday
Death Row is currently showing on Channel 4 at 10pm on Thursdays
Watch the trailer for Into the Abyss
Herzog's own musings routinely enrich the film
rating
Explore topics
Share this article