Opinion: Awards - aren't you sick of them? |

reviews, news & interviews
Opinion: Awards - aren't you sick of them?
Opinion: Awards - aren't you sick of them?
This obsession is insane, corrupt and spoils my fun. And the year is stuffed full of them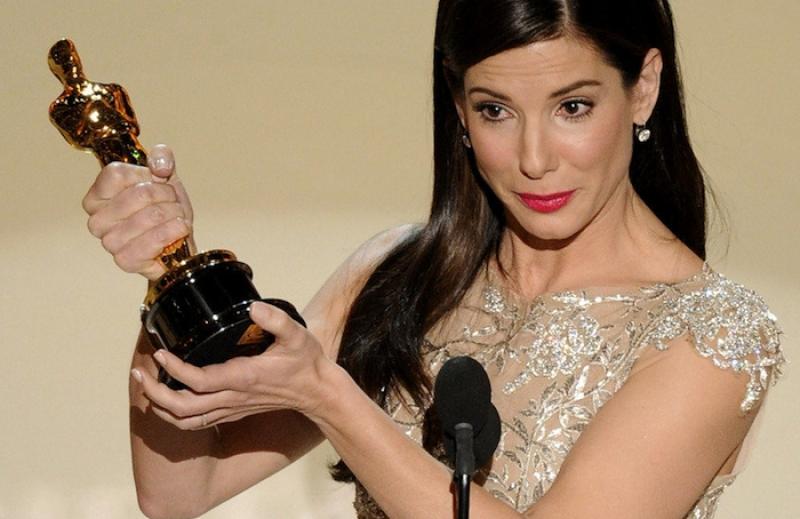 In whose opinion? Sandra Bullock, 2010 Oscar winner, our nomination as Worst Actress to win Best Actress Oscar
Sorry if I haven't seen you since New Year, darling, but I've been non-stop. Last night it was the whatsonstage.com awards, I'm in LA next weekend for the Oscars of course, and I ruined my Jimmy Choos at the Globes - such a riot! I had to pop into a couple of dull old Critics Circle awards, but there's only wine, lovey, and at least Melvyn's South Bank do gives you a decent dinner. Was so hungover I had to positively skulk at the National Television Awards the next night.
God knows how I stitched myself together for the BAFTAs last week. At least the Brits were less starchy, but they
drink
so much and you can't refuse. After the Oscars I'll dry out a bit before the Oliviers, so worthy, darling, but you can't cut them. Still I think I'll miss the Royal Television Society, too insider really, and just catch a bit of Cannes before the Classical Brits...
Seriously - there are probably PRs and agents who live like this, who sweep actors, creatives, audiences and media in front of them on a vast current of insane hot air all shouting about Five-Times-Winner or Multi-Nominated etc. But who cares?
Who, with any honesty, cares? As the ballerina Sylvie Guillem memorably said when receiving the Nijinsky Award for World's Best Ballerina in 2001 from Prince Albert of Monaco, prizes are despicable and corrupted by PR hype, and lead to a supermarket culture in art. Her Ricky Gervais moment predated his subversive antics at the Golden Globes by a decade.
Does anyone else think it is strangely Groundhog Day-ish to see, within four or five weeks, the same trail of actors and directors trot up red carpets to receive four or five varieties of metalware that allegedly will end up in their toilets? What does it do for you, the spectator, to be told that this or that has been judged "the best", as you plop down in your cinema chair with your Maltesers and Coke?
Awards are a contagious disease, spreading indiscriminately, destroying brain cells and good sense
There are those many culture-vultures, though, who resent not being told in advance what to go and see so that they can tick it off their list. There are also the insecure, quivering people who hope to be opinion-formers (critics) and industry-shakers (agents and producers), longing to have their own take become the majority view, no matter by what means - the Hollywood foreign press who nominated The Tourist at the Golden Globes must have blushed crimson at Gervais's jibe that they'd only done so because the film's PR gave these D-list hacks the once-in-a-lifetime chance to get close with Angelina Jolie. It was terribly unkind.
But if any award possesses any distinction, it depends upon the quality of the judgments behind it. This is why the Golden Globes are so widely mocked, because unlike the 6,000+ Oscar voters (ie everyone who is anyone in Hollywood), the Globes are a puny little band of 90 (gasp) foreign journos, most of whom don't even speak English as a first language. Yet nothing is more exposing of the vacuousness of the film world that instead of the Globes being trampled down and exterminated by the righteous, they're puffed up ever more as the warm-up act to the Oscars. They help the Oscars, minnows fattening sharks, PR feeding on PR. The magazines couldn't do without the Golden Globes in grim old January - there's nothing else going on.
Sea-green incorruptibility, though, is impossible in movieland. After all, the original Academy of Motion Picture Arts and Sciences was set up by Louis B Mayer in 1927 precisely with the mission to improve the public image of a fractious industry. So why should anyone think it's about quality rather than image now?
No, the trouble is that awards are a contagious disease, spreading indiscriminately, destroying brain cells and good sense. The trickle-down effect of the Oscars is that quiet, subtle corners of art that are undermined by an awards culture (such as dance, as Guillem pointed out) feel forced to fight for attention by setting up schemes of their own. Even classical music at the Critics Circle is feeling roped reluctantly into the feeding frenzy, despite its members knowing that all sense and sensitivity cries out against it. But it's those bludgeoning PRs who demand it, and their bosses, the big industry labels who don't care how faulty the judging is as long as they get more sales. Which means, as long as their products win.
So I started to count the awards - by gum, you can hardly go by a Sunday this time of year without another set of them. I polled my expert colleagues on theartsdesk and came up with a comprehensive diary of the performing arts awards dinners (and glass-of-wine schmoozettes) you can attend this year if you know the right people in theatre, film and TV.
We also pooled our considerable experience as awards judges and panellists to give you a Cred rating for each - if you take the slightest notice of any of it.
We also, for a diversion, offer you the antidote to Oscars.
The Worst to Win an Oscar
This has three awards: Worst Film to Win Best Film Oscar / Worst Actress performance to win Best Actress Oscar / Worst Actor performance to win Best Actor Oscar.
We can start you off in all categories:
Worst Film Oscar nominees: Rocky (1976), Titanic (1997), Forrest Gump (1994), The Sound of Music (1966), Shakespeare in Love (1998)
Worst Actress Oscar: Sandra Bullock (The Blind Side, 2010), Gwyneth Paltrow (Shakespeare in Love, 1998), Loretta Young (The Farmer's Daughter, 1947), Kate Winslet (The Reader, 2009)
Worst Actor Oscar: Tom Hanks (Forrest Gump, 1994), Jack Lemmon (Save the Tiger, 1973), Dustin Hoffman (Rain Man, 1988)
Please add your suggestions in the comments box and perhaps on Oscar night we'll present our own Special Worst Awards.
And now read our handy guide to the awards year - with credit ratings and quality of dinner (as applicable).
Awards Breakdown
January: US Film Critics Awards
For: Film
Judges: The National Society of Film Critics: 61 professional film critics on major US newspapers.
Kudos: The NSFC rarely agree with the Oscars, often giving Best Film to a foreign film. Their awards are considered by many critics a more honest and highbrow critical evaluation. In their view The Social Network was superior in almost every category to The King's Speech, except for Geoffrey Rush's supporting performance.
Cred: 5/5 over there, respected over here
January: The Golden Globes
For: Film and TV
Run by: Ostensibly the Hollywood Foreign Press Association, but longtime allegations have swirled that it is controlled by the powerful Hollywood PR industry playing on the susceptibility of the HFPA to profile-raising.
Judges: 90 members of the HFPA, a predominantly non-English-speaking and international bunch with only four UK members listed.
Kudos: The Globes traditionally hope to second-guess the Oscars, with about a 60 per cent agreement rate. But they split film into "drama" and "comedy/musical" categories, which enables double rations of awards. Still, win a Globe, odds are you're on for the Oscar.
Cred: Ricky Gervais's mockery of the "Golden Bribes" caused outrage and amusement in equal measure. Lawsuits are current, making scabrous allegations of fraud and bribery between HFPA members and the industry. But only losers pay any attention to that.
Jan-Feb: Critics' Circle Awards
For: UK-wide theatre, film, dance
Run by: The Critics' Circle, a loosely invited grouping formerly of national newspaper critics, now gratefully including bloggers and fans who have the time and urge to run it.
Judges: Vary considerably between artforms, depending on their criteria for membership and the structure of the artform: ie how easy it is to get press tickets to see the range of works being judged, and how accessible geographically the events are. Theatre, being London-centred, is predominantly judged by the critics of national newspapers, and the awards have a well-established standing since they began in 1989, but the range of work judged is UK-wide overall.
Film and dance awards don't command the same credibility because of the inconsistency of the membership and the low proportion of working professional critics. Film awards are mainly labelled "British" (though this has caused disputes with the Irish film industry) and run in conjunction with the British Film Institute, aimed to promote the UK industry. The voting CC members must have gained a professional living from writing about film for a year or more, so the definition is very broad of who can vote.
Dance's diffuse structure and distribution lead to apples-and-pears comparisons between regional UK companies and companies seen only in London, and to which press tickets are scarce. As with the Grammys in the US, too few of the voters have seen all the work to judge the "National Dance Awards", organised closely with ballet fan websites. But so urgent is the wish to have awards that blind eyes are turned.
Classical music long refused to do awards, but claims to be going to produce some from this year, for instrumentalists, singers and composers/conductors, with an emphasis on under-30s talent.
Kudos: Useful in theatre, seized upon desperately in dance for PR, virtually ignored in film.
Cred: 3/5 for theatre, 2/5 for film and dance.
January: South Bank Sky Arts Awards
For: Theatre, opera, dance, musicals, tv, classical music, pop, visual arts
Run by: Sky (taking over from ITV)
Judges: "The only awards show of its kind in the world, featuring the full spectrum of the classical and contemporary arts", spearheaded by Melvyn Bragg. While the SBS was broadcast on ITV its "off-beat lists", in Bragg's words, reflected the content of the show. The range of awards tends to offer an arbitrary pick 'n' mix of cultural goodies, rather than the more specialised like-with-like judging of other awards.
Kudos: MOR Everyman's guide to good nights out, a must for chatterati who aspire to be dinner-party culture vultures. And a good dinner it is.
Cred: 5/5 if you live in Islington, 1/5 for the rest.
January: National Television Awards
For: TV viewed in the UK
Run by: ITV, who initiated it in 1995
Judges: A popularity contest chosen by the public. Awards are for "most popular", rather than "best".
Kudos: Adds to the existing profile of mass popular performers. So Ant & Dec win presenter 10 years in a row, while EastEnders and Coronation Street traditionally battle it out in soap wars.
Cred: The only number that counts is 6.5 million viewers this year. On the slide from last year's 7.9million, and under half the 14.5million rating for 1997.
February: BAFTAs
For: Film, television and video games
Run by: The British Academy of Film and Television Arts, a charity supporting the industry
Judges: All the 6,500 members of the charity, up to 5,000 in the UK and 1,500 in the US. Founded 1947 with David Lean as chairman, with the mission "to recognise those who had contributed outstanding creative work towards the advancement of British film." Lean donated royalties from Dr Zhivago and Bridge on the River Kwai to the society when it merged with TV in 1958.
Kudos: High, the British Oscars in film terms - though the video games awards scheme has worried film and TV followers.
Cred: An invincible 4/5
February: Grammy Awards (US)
For: the whole range of music in the US, from popular to classical
Run by/judges: Awards established in 1958 by the National Academy of Recording Arts and Sciences, to which all producing labels and managements belong.
Kudos: Though there are thousands of voting members, there is simply too much music released for a meaningful number to hear and compare, and the labels' nominations dominate. The Grammys are widely described either as the music industry's Oscars or a nakedly commercial mass TV event for the benefit of record labels and promoters rather than creative artists.
Cred: Said winner Maynard James Keenan of progressive metal band Tool: "I think the Grammys are nothing more than some gigantic promotional machine for the music industry. They cater to a low intellect and they feed the masses. They don't honor the arts or the artist for what he created." But Bono, initially a strong critic, likes them better nowadays for their highlighting of all kinds of music.
February: Brit Awards
For: New music in the UK
Run by: The British Recorded Music Industry
Judges: Around 1,000 panellists, include artists as well as critics and industry figures. The Classical Brits are run separately in May.
Kudos: Big commercial shindig, the UK equivalent to the US Grammys, and fun TV. It gets big stars like Rhianna and Cheryl Cole to the event, and everyone is cheerfully complicitous with its basic function to sell more records via TV.
Cred: A dodgy 2.5/5.
February: whatsonstage.com Awards
For: London West End theatre
Run by: The whatsonstage.com website in conjunction with the major West End theatre groups.
Judges: "The only theatre awards judged by theatregoers"... "the people who actually pay for their own tickets and for shows they really want to see." They log on to nominate and to vote, and all effort is made to prevent cheating and organised lobbying, but... Sponsored by West End theatre groups as a populist antidote to the more selective Oliviers.
Kudos: A good night out, with an up-yours-to-the-critics popular atmosphere.
Cred: Last night's winners speak for themselves: David Suchet, Zoe Wanamaker, Legally Blonde, Yes Prime Minister, Wicked, Les Misérables... but the nominations can be intriguing and interesting.
February: The Oscars
For: Movies
Run by: The Academy of Motion Picture Arts and Sciences, aka the Hollywood movie industry, with vast lobbies at work throwing dollars everywhere to get their films released at the optimum time to be seen by judges and to buy winning media coverage.
Judges: The AMPAS voting members number "more than 6,000 motion picture professionals", the great majority based in the US but including international members. The three actor governors are nominee Annette Bening, past winner Tom Hanks and Henry Winkler.
Kudos: The best you can buy. The biggest TV exposure anywhere. Your name or client in front of millions in every corner of the globe. The famous statuette is made of britannia metal, a pewter-like alloy which is then plated in copper, nickel silver and finally, 24-carat gold - the metaphor of gold paint on base metal being a fairly apt one.
Cred: 5/5 if you win. (But see our poll for The Worst to Win an Oscar)
March: Olivier Awards
For: London theatre, with glancing mentions for opera and dance
Run by: The Society of London Theatre (SOLT), embracing West End and independent theatre
Judges: "A mixture of distinguished industry professionals, theatre luminaries and members of the public", comprising four panels: Theatre, Opera, Dance, Affiliates (smaller, off-West End venues). The Opera, Dance and Affiliates panels have three anonymous members each, plus two members of the public selected by interview. The Theatre panel includes the views of SOLT members in drawing up a shortlist, from which the panellists choose the winners. During the year they watch all the shows: this year 120 theatre productions, 50 dance shows, 25 operas etc.
Kudos: Winners get bronze statuettes of Sir Laurence Olivier as Henry V - the very image of authority, with a thorough judging system if rather Masonic air of secrecy. The UK equivalent of the US's Tony Awards (see June). A new three-year sponsorship deal with MasterCard runs to 2014, and the BBC will carry a live four-hour broadcast on both TV and Radio 2 - so it had better be a good show.
Cred: A magisterial 4/5 for theatre (though weirdly evasive for dance - two designers and a drummer are the three nominees)
March: Royal Television Society Programme Awards
For: TV programmes.
Run by: The Royal Television Society, set up in 1927 to. The RTS Journalism Awards are on 23 February, specifically for TV journalism.
Judges: "The integrity of the judging system is based on the high calibre of the jurors drawn from across the television community to ensure a wide and balanced spread of perspectives… a system that is internationally recognised as fair and even-handed," say the RTS. The Programme awards panel this year is chaired by Lorraine Heggessey, former head of BBC One and Talkback Thames, the Journalism Awards panel chaired by former Sky News boss Nick Pollard. Unglamorous but thorough, separate panels home in on craft, education, student TV, sports and innovation as well.
Kudos: Low-profile, with little media exposure, but much prized as recognition by peers.
Cred: A closely focused 5/5.
Thursday 19 May: The Ivors (also known as the Novellos)
For: Song-writing
Judges: The 2,000+ members of BASCA, the British Academy of Songwriters, Composers and Authors, who also run the British Composers Awards. Academy Fellows include John Adams, John Barry, Don Black, Pierre Boulez and Johnny Dankworth.
Kudos: The prestige award with a classy, music-industry-not-media feel. "The Ivors are proper awards that consider all the work that goes into songwriting", says past winner La Roux.
Cred: A well-tuned 5/5
May: Classical Brits
For: Classical music (ish)
Run by: The British Recorded Music Industry (BPI) - see the Brits in February
Judges: The public votes online for the best album, a popularity contest.
Kudos: Everyone likes to be popular, particularly classical artists hoping to get more bums on seats for their opera/Lieder performances by making a crossover album that becomes a supermarket hit.

Cred: 0/5. But Katherine Jenkins will almost certainly sing on the night.
Sunday 12 June: Tony Awards (US)
For: Broadway theatre
Judges: New York theatre critics, but with a fair bit of nudging from the heavily commercialised theatre industry, leading to many accusations that it's a stitch-up for large theatre groups. Named after Antoinette Perry, an actress and moving light in the awards' beginnings in 1947.
Kudos: The top New York theatre awards, judging many specialist categories and often rewarding British performers on Broadway. The only awards that ensure higher ticket sales. A big feather in the cap of British winners like last year's Douglas Hodge, Catherine Zeta-Jones, Terry Johnson, Michael Grandage and Alan Ayckbourn.
Cred: 4/5 (or 2/5, depending who you talk to)
August: Kerrang! Awards
For: Rock music
Run by: Kerrang! rock music magazine.
Judges: Invited critics and industry figures.
Kudos: Key to the rock industry, and much loved. And renowned for being one of the best, craziest parties in town
Cred: An unpretentious 3.5/5
September: Mercury Music Prize
For: A single album released in the UK and Northern Ireland. Theoretically classical albums qualify too, but it's almost always a new music winner.
Judges: A "selected panel of musicians, music executives, journalists and other figures in the music industry in the UK and Ireland" announce the nominated albums announced in July, which generally boosts sales for two months before winner announced in September.
Kudos: Tries to be hipper than the Brits, more critically rated, if a bit Dad-down-with-the-kids.
Cred: A smooth 3/5
September: Emmy Awards (US)
For: US television
Run by: The US Academy of Television Arts and Sciences
Judges: Members of the above
Kudos: The awards for TV from its peers, the equivalent of the Royal Television Society awards in the UK. British programmes often do well, particularly for acting and documentaries.
November: Theatre Management Association Theatre Awards
For: Regional stage productions and tours
Run by: The Theatrical Management Association, the trade association for regional theatres
Judges: Usually small panels of national newspaper critics who see the majority of touring work around the UK as part of their job.
Kudos: Solid and much valued recognition for creative theatre and touring work beyond London's dominant razzmatazz. But very little media attention paid to it, more's the pity.
Cred: A quietly prized 4/5
November: Evening Standard Theatre Awards
For: London theatre and musical theatre
Run by: The Evening Standard since 1955.
Judges: A small invited panel of judges generally of high standing in theatreland.
Kudos: The awards, founded in 1955, have a regard outranking that of the paper itself due to the Standard's history as London's evening paper hand in hand with London theatreland. Winners take home a smart Grecian-style statuette designed by sculptor Frank Dobson.
Cred: A media-savvy 4/5