Blank City |

reviews, news & interviews
Blank City
Blank City
A ramshackle oral history of Downtown Manhattan's post-punk No Wave cinema
Deborah Harry as the character Blondie in 'Unmade Beds' (1976), Amos Poe's homage to the French new wave
Céline Danhier's Blank City is a useful but slightly frustrating primer on the grass-roots No Wave cinema movement that blossomed in New York's East Village and Lower East Side in the post-punk era of the late Seventies and early Eighties. Hyper-energized and calculatedly ramshackle – thus echoing its subject matter – the documentary traces the emergence of the sync-sound super-8 filmmaking craze from the alternative art and music scene oriented around the CBGB rock club on the Bowery. Did you know that Jim Jarmusch was once in a band, the Del-Byzanteens, which supported Echo and the Bunnymen and New Order?
Danhier got terrific access to onscreen luminaries like Lydia Lunch, Deborah Harry, Ann Magnuson, Steve Buscemi, Patti Astor (pictured below in Eric Mitchell's Underground USA), John Lurie, and Thurston Moore, and such filmmakers as Mitchell, Amos Poe (who kickstarted No Wave with his 1976 punk movie The Blank Generation), Lizzie Borden, Becky Johnston, Betty Gordon, James Nares, Jim Jarmusch, Sara Driver, Scott B, Beth B, John Waters, Vivienne Dick, and Susan Seidelman.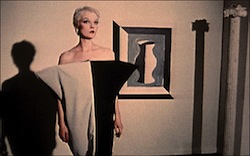 Sometimes funny, always nihilistic, No Wave eventually morphed into the satirical shock-heavy Cinema of Transgression fostered by Nick Zedd (its manifesto-writer), Richard Kern, and star and arch-provocatrix Lunch before declining during the eras of Reaganomics, MTV, and AIDs. It was around long enough to forge a link between the countercultural cinema of the Sixties and the independent movement that began in earnest in 1986.
This is one of those movies whose audience is pre-determined. Copious clips from such rigorously unpolished landmarks as Poe's Unmade Beds and The Foreigner, Mitchell's Kidnapped, Gordon's Empty Suitcases, Borden's Born in Flames (its World Trade Center terrorism theme bizarrely prophetic), Zedd's They Eat Scum, Jarmusch's Permanent Vacation, and Kern's video for Sonic Youth's "Death Valley '69" will not impress anyone with an interest in production values or necessarily convert the unconverted. It's worth noting that the majority of these films were not made for mass audiences but for friends and fellow scenesters.
Although Blank City bring up such crucial precursors as Jonas Mekas, Jack Smith, Shirley Clarke, and Robert Frank, first-time director Danhier is less interested in placing No Wave in firm historical or aesthetic contexts than in capturing the almost desperate energy with which the No Wave filmmakers seized their moment. Nares offers a little evolutionary history, however, when he observes how No Wave filmmakers "took from underground and experimental cinema to make a darker cinema reflective of darker times".
The director Michael Oblowitz admits his values went out the window when he partied with celebs like John Belushi
Judging by the rooms where they were recorded, some of the interviewees appear to have heeded the call of upward mobility, though that is human nature. By the same token, the rat-and-roach-infested, rubble-strewn neighbourhoods that provided a backdrop to many of the films have been gentrified, a trend initiated by Mayor Ed Koch that helped suck the life from No Wave. Casandra Stark (Mele), who directed two of the most lyrical No Wave films, recalls how she was brutally evicted from her building when it was needed for redevelopment.
The anecdotes reveal the extent to which the filmmakers' vérité, home-movie style efforts were made on minuscule budgets, often with the help of crime. Lurie manufactured a robbery at his apartment to finance a film from the insurance payout. Mitchell stole electricity from his neighbour Lurie's apartment. Ex-groupie Lunch says she was inspired less by fellow artists and musicians than by the people "I was trying to bamboozle or trick or rip off or hustle".
Nares explains how, pretending to be interested in renting an opulent apartment, he surreptitiously undid a window catch, breaking in that night with his actors and camera to film part of his high-camp Roma '78 there. Some of the filmmakers lived in virtual poverty. At the time Poe made Unmade Beds, he was living on welfare and taking care of his and his wife's newborn because the wife was in a mental hospital. It was, he recalls, the best of times and the worst of times.
They couldn't last. The media ruinously discovered New York's hitherto self-contained boho culture, leading to its crass commodification, while fame and riches beckoned some. The director Michael Oblowitz admits his values went out the window when he partied with celebrities like John Belushi.
Lurie says he hates "to this day" Jean-Michel Basquiat, the late artist (featured in Downtown 81), who went from sleeping on Lurie's floor to espousing the coolness of wealth: "That attitude ruined a lot of things." A happier epitaph to Blank City is provided by Nares when he thoughtfully remarks that the renegade films made by himself and his colleagues "had some kind of integrity that went beyond appearance".
Below: a clip from Blank City
Subscribe to theartsdesk.com
Thank you for continuing to read our work on theartsdesk.com. For unlimited access to every article in its entirety, including our archive of more than 10,000 pieces, we're asking for £3.95 per month or £30 per year. We feel it's a very good deal, and hope you do too.
To take an annual subscription now simply click here.
And if you're looking for that extra gift for a friend or family member, why not treat them to a theartsdesk.com gift subscription?