Heaven 17, Corn Exchange, Brighton |

reviews, news & interviews
Heaven 17, Corn Exchange, Brighton
Heaven 17, Corn Exchange, Brighton
Eighties old hands muster electronic pop bubbles with vivid life in concert
Wednesday, 01 December 2010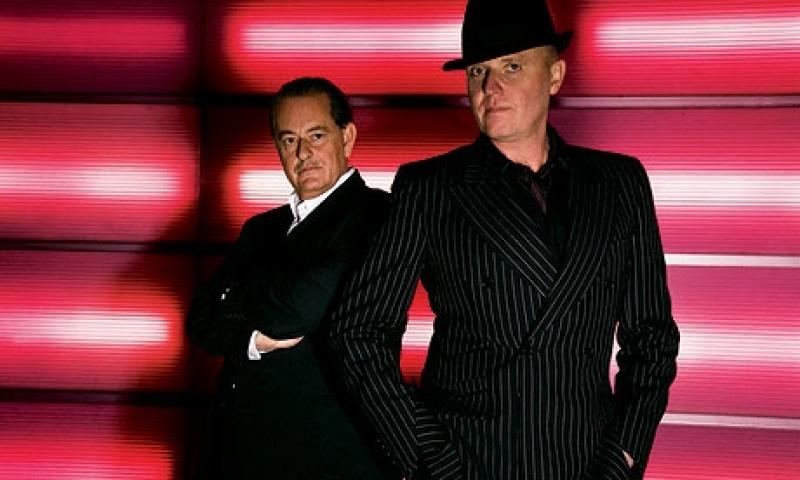 Heaven 17, looking every inch the arch Eighties revivalists
Heaven 17 are an underrated group. Sidelined by electro-pop festishists and too egg-headedly wordy to be embraced by Eighties kitsch afficionados, they're easily best known for their 1983 hit "Temptation". Last night they played this late in their set - of course - but before the encore. Not the recognisable single, mind, but a percussive work-out redolent of pumping Italo-house.
It remains a cracking song, whichever version they chose to play, an epic gospel-tinged duet between singer Glenn Gregory and backing vocalist Billie Godfrey, the latter's thin frame belying potent lung-power. However, "Temptation" is merely one shiny moment in a gig that celebrates a solid body of work, much of which has been somewhat sidelined by pop's canonical arbiters of hip oldies.
Heaven 17 came into being when Ian Craig Marsh and Martin Ware left the Human League and got together with their old Sheffield pal Gregory. They are currently on a tour celebrating 30 years since their debut album Penthouse and Pavement which they play in its entirety. The genial Gregory, in a grey suit, has lost his shock of blond hair and grown ruddy of cheek, while Ware, ensconced behind his keyboard, looked less easy onstage but slowly relaxed as the concert progressed. Ian Craig Marsh dropped out of the picture four years ago and has become the band's resident mystery ever since (well, you try Googling him).
Heaven 17 perform "Penthouse and Pavement" in 1981 (apparently without Martin Ware):
The gig began with the very Eighties "(We Don't Need) This Fascist Groove Thang" which showcased outrageous slap-funk from bassist Julian Crampton. The band - bass, guitar, drums, Godfrey, Gregory, and Ware - then tackled the first side of the vinyl album, interspersed with a cabaret break where Gregory taunts Ware with the Human League's "Don't You Want Me" strummed on an acoustic guitar. "I could have written that," deadpanned Ware, insouciant. "Then I'd be rich." The second side of the album is stronger and energised the audience with unstoppable singalongs "Let's All Make a Bomb" - the only pop song successfuly to utilise the word "designate" - and "Height of the Fighting", a loose blueprint for much contemporary electro-house. Penthouse and Pavement ends with a cheeky song about the arrogance of Christianity's belief in eternal life called "We're Going to Live for a Very Long Time". On the original vinyl the final groove of the song is locked so that the words "for a very long time" go on forever. Gregory successfully encouraged the crowd to repeat the phrase in imitation.
After Penthouse and Pavement, Heaven 17 let rip with their small raft of hits. "Crushed by the Wheels of Industry" was particularly noteworthy, combining WHAM!-like "whoo-whoo"'s with a satirically ambiguous paean to nine-to-five slogging. Then the band disappeared before returning to play a forgettable new song but, just when some started putting on their coats, everything stopped dead with a balladic take on The Associates' song "Party Fears Two". Associates singer Billy Mackenzie, a friend of the band, commited suicide in 1997 which added poignancy but it was really down to a showstoppingly simple combination of Ware repeatedly playing the central keyboard motif and Gregory revelling in his white soul voice. It's something that shouldn't have worked, that should have been naff and cheesy, but was actually powerfully affecting. They ended, however, by revisiting Ware's previous band, the Human League, and the 1978 debut single "Being Boiled" in all its raw synthesised glory. Compared to most of the set it's caustic, and consequently the perfect way to round off the evening.
Heaven 17 are a much better live act than most might anticipate. I hope they return in a couple of years to celebrate three decades since their other notable album, The Luxury Gap, but in the meantime they've given their fans some meaty musical memories to chew over.
Explore topics
Share this article